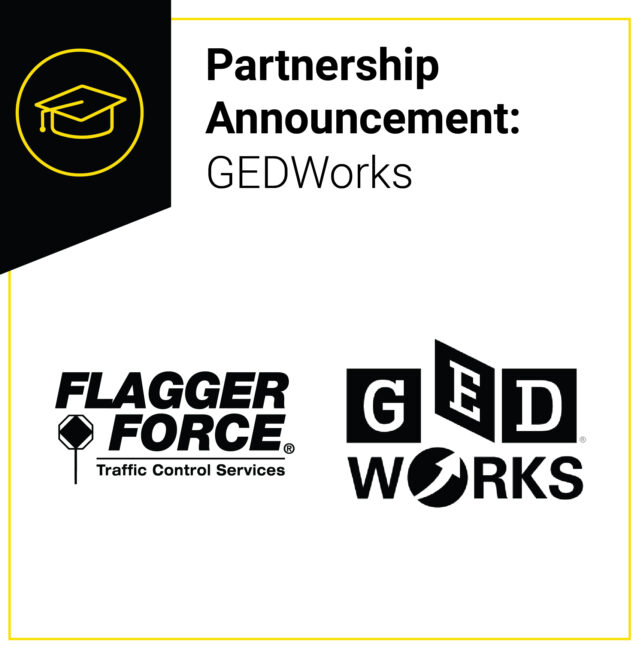 Flagger Force, an industry-leading, short-term traffic control company serving the eastern United States, is proud to partner with GED Testing Service to offer GEDWorks™, a free, all-inclusive program for employees who want to earn their GED credentials. Active employees are eligible for GEDWorks™ during their employment with Flagger Force. This program is offered online and accessible to all employees across the company's service area.
Flagger Force's partnership with GED Testing Service is a testament to the company's dedication to workforce development. By providing career development resources, such as GEDWorks™, Flagger Force strives to empower employees to pursue a path of personal and professional growth and advancement starting from day one.
"As a company that values supporting and developing its' people, this program aligns with our mission to cultivate a team of leaders and learners and provide growth opportunities to our entire workforce," said Shea Zwerver, workforce development manager at Flagger Force. "By offering the GEDWorks™ program at no cost to employees, we are helping make education accessible to all of those interested," added Zwerver.
The GEDWorks™ program is designed to meet the unique needs of working adults who aspire to earn their GED credentials. The program includes everything employees need to prepare for, and pass, the GED test. Participants are given access to a personal advisor, one-to-one tutoring, online GED study materials in English and Spanish, practice tests, and free GED tests. Personal advisors are a key component of the GEDWorks™ program. Advisors act as coaches and motivators and hold students accountable for earning their GED. GEDWorks™ participants are 40 percent more likely to earn their diplomas than students who study independently.
"We are excited to be partners with Flagger Force and help strengthen their workforce talent. Obtaining a high school equivalency diploma is a critical stepping-stone for employees, and we are glad to be a part of helping members of Flagger Force's team achieve their educational goals," said Vicki Greene, president of GED Testing Service.
About Flagger Force
Flagger Force® is recognized as an industry leading, short-term traffic control company in the eastern United States. The company was founded in 2002 by entrepreneurs with a handful of employees; one pickup truck; and the equipment needed to control traffic. Today, Flagger Force establishes safe work zones with its crew centric model with an employee base of 1,900 full-time professionals. Their safety standards are embraced by industry stakeholders and allow them to continuously expand their geographic reach. Flagger Force has the best-in-class resources and expertise to help support the nation's infrastructure, utilities, and other service industries. For more information, visit FlaggerForce.com.
About GED Testing Service/ GEDWorks™
The GED test has opened doors to better jobs and college programs for more than 20 million graduates since 1942. The GED test is accepted by virtually all U.S. colleges and employers. As the creator of the one official GED test, GED Testing Service has a responsibility to ensure that the program continues to be a reliable and valuable pathway to a better life for the millions of adults without a high school diploma. GED Testing Service is a joint venture between the American Council on Education and Pearson.