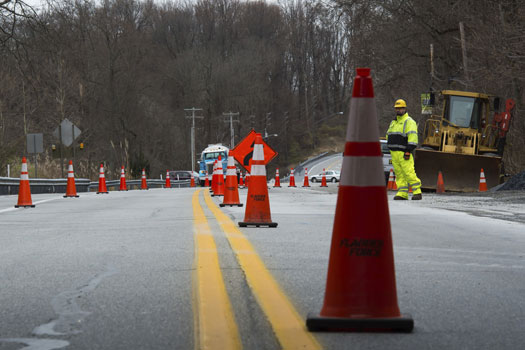 Advanced Traffic Control
Certain jobsites require advanced flagging operations and traffic control, which is often the case in towns and cities where traffic arrives in multiple directions or where traffic from multiple lanes converges.
Due to the volume, speed and complexity of traffic situations, multiple flaggers in close communication are required. Adequate signage and advances in traffic flow patterns help minimize traffic disruptions and keep construction crews safe while giving them the space and time to do their jobs.
Advanced flagging operations include: multiple lane closures, busy intersections, traffic circles, highway ramp and merging lane restrictions, other situations where traffic volume, speed and roadway complexity render roadwork dangerous.
No two jobsites are the same, we take the time and care to analyze the unique nature of your project and plan the advanced traffic control services that suit.
Communication Is the Key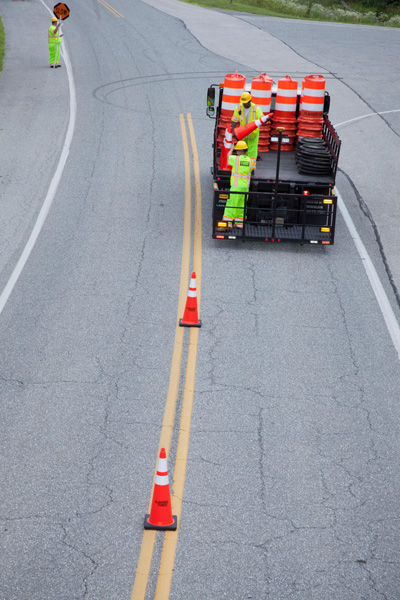 Due to the number of different parties present on a jobsite, communication is key. Effective communication must take into account the traveling public, pedestrians, and all workers present on the jobsite. For our Flagger Force field crew controlling traffic, communication occurs on several levels:
Between Flagger Force employees: Our flaggers need to maintain constant contact — verbal or non-verbal. We train our traffic flaggers to be clear and concise in their communication. They're always aware of what other flaggers are doing, which reduces the safety risk of miscommunication. For example, they must always know which lane of traffic if flowing at all times.
Between flaggers and road construction teams: During more complex setups there are many moving parts from busy traffic patterns to the movement of multiple pieces of construction equipment. Clear lines of communication and standard procedures are reviewed during the pre-job safety discussion. Our flaggers are trained to carefully observe the movements of construction activity and efficient traffic flow through the work zone. In keeping communication open between our flaggers and your construction crew, we can adapt to changes and ensure everyone is aware of modifications to traffic flow and direction.
Between flaggers and public traffic: To keep traffic moving safely through road construction sites, our flaggers use proper traffic control procedures and devices. They ensure they are highly visible day or night wearing new and clean personal protection equipment meeting or exceeding all safety requirements. Our flaggers are trained to make appropriate eye contact and verbal and non-verbal communication with the motorists and pedestrians to safely guide them through the work zone.
When your road construction site requires advanced flagging operations, you can count on Flagger Force. We have the onsite expertise and experience to find a solution for any size operation. We deploy our best practices that are proven to keep traffic flowing as safely as possible.
Flagger Force is a true industry leader in traffic control. Our safety driven culture pushes us to continuously improve our traffic control services and find new ways to deliver high-quality advanced flagging services.
"The Flagger Force Operations team has done a great job at providing me consistency on my job site this week. I appreciate all the hard work."
- Owen Crouse, Foreman, Riggs Distler
"Today, Flagger Force did an excellent job on our work zone. I was very impressed with their level of professionalism and knowledge in traffic control. They did some great work."
- Phil Vigue, Foreman, Cianbro Corp.
"The crew from Flagger Force did a great job today. These two were professional, patient, and pleasant to work with."
- Charles Curtis, Foreman, Verizon
"Flagger Force has some of the best crews. They are always attentive, listen to what is needed and they all have been a pleasure to work with."
- Donnie Hoffer, Foreman, Brubacher Excavating
"Flagger Force employees are polite, courteous, and very professional. It is always nice to have them on our site."
- Scott Gates, Foreman, UGI
"Our Flagger Force crew did an outstanding job today. I am impressed with the quality of the level of service they provided. They were safe, courteous, and were a pleasure to have worked alongside of our crew."
- Steve Krizan, Foreman, BGE-Underground
"The crews at Flagger Force are great to work with. We had a complicated rolling slowdown and they had the operation down to a science. I am very pleased with the job they performed."
- Andrew MacPherson, project manager, CW Wright Construction
"The crew with my team today was outstanding. My employees made sure to tell me how knowledgeable, polite, and hardworking each member of this crew was throughout the day."
- Damon Barbour, Supervisor, Reg Operations Line & Sub, West, Potomac Edison
"I want to thank Flagger Force for providing us with an outstanding and professional crew. The dedication your employees show on the road is very gratifying knowing they are the ones protecting our crew. Thank you for keeping us safe."
- Shane Satterwhite, foreman, Pike Electric