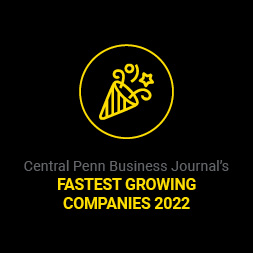 Industry-leading, short-term traffic control company celebrates continuous growth through innovative leadership, dedicated professionals, and a commitment to keeping communities moving.
HUMMELSTOWN, PA. – Flagger Force, an industry-leading, short-term traffic control company serving the eastern United States, is proud to announce Central Penn Business Journal has selected their business as one of the Fastest Growing Companies in 2022. Flagger Force has been recognized as a Fastest Growing Company since 2012, making this the 10th consecutive year the company has received the award.
"As Flagger Force prepares to celebrate its 20th anniversary in September, we are honored to be recognized by the Central Penn Business Journal. We are proud to be headquartered in central Pennsylvania and attribute our consistent growth to being steadfast in our Safety-Driven® passion and commitment to quality," said Mike Doner, president and CEO at Flagger Force. "Over the past 20 years, our growth has been fueled by our dedicated traffic control professionals, investing in innovative technology for communications and safety, and fostering strategic partnerships with our clients and community organizations," added Doner.
The Fastest Growing Companies award recognizes overall revenue growth. Companies are ranked according to growth over a three-year period, with both dollar and percentage increases taken into consideration. The ranking formula, coordinated by SEK CPAs & Advisors, leads to the recognition of both large and small companies. Eligible companies must have revenue of at least $500,000 in each of the fiscal years ending in 2019, 2020, and 2021; show revenue growth in 2021, as compared to 2019 (a three-year period). Additionally, companies must be headquartered in Adams, Cumberland, Dauphin, Franklin, Lancaster, Lebanon, Perry, or York counties.
Since conceptualizing the thought of a professional traffic control company in 2002, Flagger Force has grown to over 1,900 employees, who manage over 500 active work zones daily. Following growth across Pennsylvania and surrounding states including Maryland and Virginia, Flagger Force continued to expand to meet the need for quality traffic control solutions, growing south into North Carolina, South Carolina, Alabama, Georgia, and Florida. Today, Flagger Force's continued growth is powered by the following:
A Focus on Employee Development – Flagger Force has focused on finding the best talent and promoting these individuals within the organization. The company has been strategic in their recruiting efforts for their entire footprint, but especially in local markets to ensure applicants are given advancement opportunities. The company's internal referral programs and workforce development partnerships have expanded their network of possible candidates who are ready to work and committed to being traffic control professionals.
Transformational Technology – Investments in transformational technology have allowed Flagger Force to evolve from a regional office focus, which would manage the company's daily operations and employee needs, to a crew-centric model, which makes each of the 600+ work zones managed by traffic control professionals the hub for all operations. With the use of an internal communications app, ITZ, Flagger Force employees effortlessly connect each other to celebrate achievements, review courses for continuous learning, and obtain important information all using a mobile device. This efficiency gain has allowed the company to invest heavily in field supervision resulting in stronger client and employee experiences.
Expansion of Services to Meet Clients' Needs – The need for professional short-term traffic control is expanding every day. Flagger Force continually looks for new opportunities to expand their services and leads the industry in developing safety standards to meet the needs of utility and infrastructure clients across the eastern United States.
"Our steadfast commitment to our employees, clients, and technology over the past 20 years has contributed to not only our growth, but also our consistent recognition by the Central Penn Business Journal as a Fastest Growing Company in the mid-state," said Doner.
About Flagger Force
Flagger Force® is recognized as an industry leading, short-term traffic control company in the eastern United States. The company was founded in 2002 by entrepreneurs with a handful of employees; one pickup truck; and the equipment needed to control traffic. Today, Flagger Force establishes safe work zones with its crew centric model with an employee base of 1,900 full-time professionals. Their safety standards are embraced by industry stakeholders and allow them to continuously expand their geographic reach. Flagger Force has the best-in-class resources and expertise to help support the nation's infrastructure, utilities, and other service industries. For more information, visit FlaggerForce.com.
About Central Penn Business Journal
Central Penn Business Journal is the leading source of business news and information in Central Pennsylvania for the past 38 years. In addition to breaking news daily on its multimedia news site at CPBJ.com, it publishes a biweekly print edition. Central Penn Business Journal publishes various special focus sections on topics like real estate and construction and mergers and acquisitions in addition to the yearly Book of Lists. It also hosts 10 annual events, including Women of Influence, Reader Rankings, Fastest Growing Companies and Best Places to Work in PA, to recognize excellence and provide leadership opportunities. In addition, Central Penn Business Journal facilitates monthly webinars bringing local experts from the business community together to discuss current topics and trends. Its Digital Marketing Solutions helps customers with social media, search engine marketing and optimization, retargeting, email marketing and more. Central Penn Business Journal and its sister publication, Lehigh Valley Business, which covers business in the Lehigh Valley, are part of BridgeTower Media, one of the country's leading business-to-business media companies with more than 40 print and digital publications in more than 25 U.S. markets.