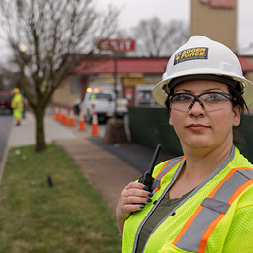 Although there was less traffic on the roads due to the global coronavirus pandemic in 2020, fatal crashes increased throughout the nation. The National Highway Traffic Safety Administration (NHTSA) reported 16,650 people died on roadways in the first six months of 2020.
This is one reason why Flagger Force and their employees are recognizing National Work Zone Awareness Week (NWZAW), April 26-30, and imploring motorists to slow down and avoid distractions while traveling on the roadways.
Jackie McVey, area supervisor for Flagger Force, says, "Over the past five years working in the field, I have witnessed first-hand how distracted drivers can be. Whether it is talking or texting on the phone, managing GPS, or changing the radio station, there are so many ways to take attention away from the road. My own near-miss experience is something I still think about. My son could have lost his mother that day."
She adds, "In 2019, a vehicle entered a work zone while my co-worker and I were monitoring a job site. Everything happened in a blink of an eye, and we were lucky that the car just barely missed us. I immediately thought how fortunate I was to have been able to avoid that distracted driver and go home to my family. NWZAW is an opportunity to promote safety in and around construction job sites to ensure we all can go home at the end of the day."
NWZAW is an annual spring campaign organized by the American Traffic Safety Services Association to encourage motorists to drive safely through work zones. This year's theme is "Drive Safe. Work Safe. Save Lives.," and will be hosted by the Michigan Department of Transportation. Last year, the state saw two fatalities and four struck incidents within a week of each other due to speeding and reckless driving. These occurrences could have been prevented.
"Our employees continue to report witnessing motorists focusing on their cell phones instead of the road conditions while passing through our work zones" says Mike Doner, president, and CEO of Flagger Force. "We all have someone that wants us to return home safely at the end of each day. We urge drivers to be patient while driving and specifically when approaching work zones as we help to improve the infrastructure of our neighborhoods, so they are safer and more reliable for years to come."
The most recent statistics show rates of fatalities are increasing:
The National Work Zone Safety Information Clearinghouse reports 135 worker fatalities in 2019, versus 124 in 2018.
NHTSA reports 3,142 people were killed by distracted driving in 2019, versus 2,841 people in 2018.
The Governors Highway Safety Association states that phone use while driving, particularly calling and texting, is one of the most common distractions reported.
Flagger Force stays committed to continuing to educate drivers about the hazardous conditions in work zones. These safety messages urge drivers to:
Slow down;
Avoid distractions, such as texting and driving; and
Obey all posted signage.
Doner adds, "As our communities return to pre-pandemic levels of travel we must remind ourselves of the increased safety concerns of essential employees working to keep our roadways safe for motorists."
For more testimonials from Flagger Force employees about the importance of arriving home safe for their families, check out our "Who I Come Home To" video series. For safety facts, information, and more content, follow us on social media: Facebook, LinkedIn, Instagram, and YouTube.
For more information about NWZAW, please visit FlaggerForce.com/Safety
###
Flagger Force Traffic Control Services® is recognized as an industry leader in traffic control. In 2002, the company was founded by entrepreneurs with a handful of employees; one pickup truck; and the signs, stands, and cones needed to control traffic in a work zone. Today, Flagger Force establishes safe work zones with a fleet of over 1,100 vehicles and 1,800 full-time employees. Their quality and safety standards have been embraced by industry stakeholders and has allowed them to continuously expand their geographic reach, throughout the eastern United States. Flagger Force is headquartered in Hummelstown, Pennsylvania and has the resources and expertise to help support the nation's infrastructure, utilities, and other service industries. For more information, visit FlaggerForce.com.