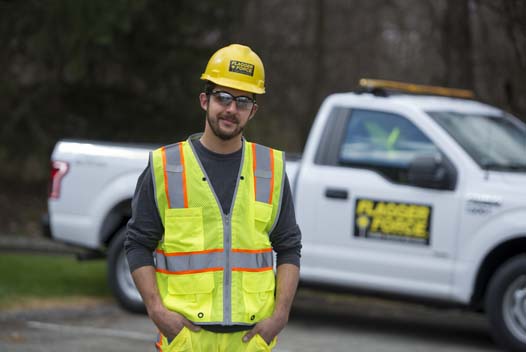 No matter what brings you to Flagger Force initially, new hires quickly understand this is an opportunity to become part of something bigger, something important. We are here to protect lives. And more than "just a job," this is a real opportunity for a long and fulfilling career protecting and serving others.
Our services are valued by our partners and we continue to grow to meet the demand for our services. The foundation of work is built on our strong safety culture. Our clients will not work with anyone who does not value safety – so it's imperative that we are Safety-Driven in everything we do.

The growth Flagger Force has experienced over the past 10 years is remarkable and is a testament to our hard work and dedication. Substantial growth requires our employees to have individual leadership abilities and the capacity to apply our specific standards in new and often uncertain circumstances. For instance, it takes a clear and confident mindset to maintain good safety standards on roadways with unpredictable motorists. It also takes that same level of confidence inside our office facilities and Operations Service Center to work effectively with our teams in the field.

If you are up for a fulfilling challenge where you play a key role in keeping communities safe, creating jobs, and supporting the improvement of our nation's infrastructure we have a place for you at Flagger Force.
Advance Your Career
We value investing in and developing our employees and promote entirely from within for our positions in the field.
Entry Level: Crew Member
Crew Members are responsible for controlling traffic safely through work zones using appropriate equipment and communication. They will assist a Crew Leader in setting up and managing work zones. Crew Members will also be paired with a Field Specialist for on-site training and support. This is our entry-level position in the field.
Crew Leader
Crew Leaders are responsible for setting up basic flagging operations, including all cones and signage in work zones. They actively participate in controlling traffic in work zones. Crew Leaders take the initiative to meet with clients for a pre-job brief and they are responsible for a company vehicle, equipment, and a fuel card.
Advanced Crew Leader
Advanced Crew Leaders are responsible for setting up basic flagging operations and complex work zones, which may include shifting lanes, merging patterns, and complex intersection work. They assist with TMA and stake body jobs as well as other larger projects. Advanced Crew Leaders actively participate in controlling traffic in work zones, meet with clients for pre-job briefs, and are responsible for a company vehicle, equipment, and fuel card.
Field Specialist
Field Specialists offer one-on-one guidance to all Field Employees, including identifying Field Employees for additional training and promotions, or providing extra support in the field. Field Specialists conduct truck inspections, and safety observations, and write daily reports that help bridge the gap between the office and the field.
Instructor
Instructors are certified to the highest state DOT traffic control standards, and most hold other specialty qualifications in traffic safety. Instructors have received additional education in "train-the-trainer" formats and are continuously improving their materials and presentations to keep the Flagger Force Academy classes engaging and the information as up-to-date as possible.
Safety Professional
Safety Professionals are responsible for ongoing improvement of safety policies, and procedures and for enforcing Flagger Force's safety standards. Areas of improvement are identified through Safety 'Pro' site visits, incident investigation, and Field Employee input. Once opportunities for improvement are identified, the Safety Professional works to proactively prevent incident occurrences across all operations.
"KUDOS to our crew for their work in Atlantic City, NJ! They did an awesome job for the client. The Atlantic City Police Department was very impressed with their work as well."
- Chris Plute, Flagger Force Area Supervisor, Since 2014