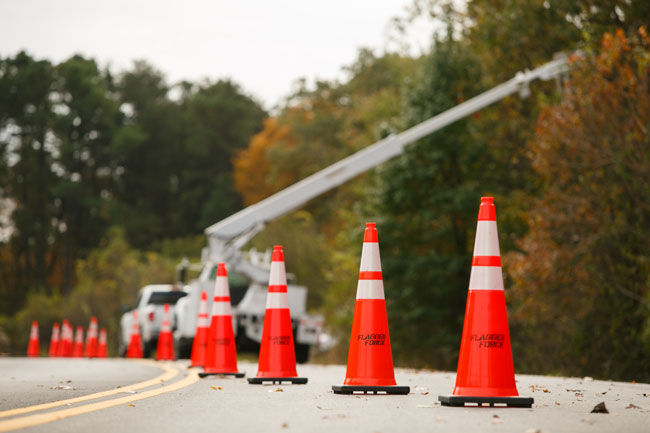 Traffic Control Service Capabilities
Traffic control encompasses a great many things. Quality traffic control is about the details. The unique situations within the application of work zone setups require specific care and attention. As an industry leader, Flagger Force has the experience and knowledge to apply the right traffic control solution to your job site. With over
1,600 employees
we offer the size and scope to handle any traffic control situation.
We've spent years developing our Flagger Force Academy® to train our employees in safe, high-quality traffic control services. We can quickly and effectively respond to your temporary traffic control service needs, expectations, and project requirements. No two traffic control projects are alike, which is why we take the time to discuss your project with you, visit your site to better understand the situation. We will put together a qualified team for your job that includes crew members, crew leaders, advanced crew leaders supported by teams of field specialists, safety professionals, and quality specialists across our operational footprint.
We don't leave anything up to chance and want to ensure safe work conditions and passage for the traveling public, as well as construction crews and our own employees. We offer four unique control service capabilities, divided by the type of specialized service required:
Standard Flagging Operations: Standard flagging operations typically involve alternating traffic flows through a single lane of traffic. We train our flaggers to pay close attention to both the volume and speed of traffic so they can coordinate and adjust to the needs of construction crews and their equipment for a seamless, safe flow of traffic. Our best practices are based on the state standards to position flaggers at each end of a lane restriction, so each flagman can focus on the vehicles they're facing. Standard verbal and non-verbal communication allow flagmen to anticipate flow changes and allow construction crews access to their work zone while minimizing traffic delays.
Rolling Stop or Slowdown Operations: Unlike most standard flagging operations, rolling slowdown operations often occur on high-speed roadways. They often involve interrupting traffic in both directions to allow construction crews to perform activities such as pulling cables or wires across the roadway. We provide our crews the right tools and key safety equipment — such as truck mounted attenuators. Field teams work together to safely stop traffic while allowing construction crews to finish their work and then release traffic to its normal flow as soon as safely possible.
Do Our Capabilities Suit Your Needs? Get A Quote Today.
Get A Quote
Advanced Operations and Setups: Advanced traffic control services often include several advanced or complicated aspects that require additional coordination and planning, such as closing multiple lanes, diverting traffic on high-speed roadways, or controlling traffic around workers in a busy city street or intersection. Our flagmen anticipate traffic and construction crew movements and provide clear guidance to people passing through the job site. We have developed best practices for each type of complex Jobsite and train our employees through our Flagger Force Academy, our dedicated safety training program.
Emergency Response Teams: Not all temporary traffic control situations are planned, which is why we offer service 24/7/365. At any moment, you can contact our friendly and helpful team, and we will work with you to find a quick, safe, and satisfactory traffic control solution. We can send a single crew or multiple crews to respond to incidents ranging from a water main break to a massive weather event. When a roadway emergency occurs, let Flagger Force handle the traffic control because we have the capacity and density required for a variety of emergency jobs.
Contact Flagger Force today for more information on the temporary traffic control services we can provide.
"The Flagger Force Operations team has done a great job at providing me consistency on my job site this week. I appreciate all the hard work."
- Owen Crouse, Foreman, Riggs Distler
"Today, Flagger Force did an excellent job on our work zone. I was very impressed with their level of professionalism and knowledge in traffic control. They did some great work."
- Phil Vigue, Foreman, Cianbro Corp.
"The crew from Flagger Force did a great job today. These two were professional, patient, and pleasant to work with."
- Charles Curtis, Foreman, Verizon
"Flagger Force has some of the best crews. They are always attentive, listen to what is needed and they all have been a pleasure to work with."
- Donnie Hoffer, Foreman, Brubacher Excavating
"Flagger Force employees are polite, courteous, and very professional. It is always nice to have them on our site."
- Scott Gates, Foreman, UGI
"Our Flagger Force crew did an outstanding job today. I am impressed with the quality of the level of service they provided. They were safe, courteous, and were a pleasure to have worked alongside of our crew."
- Steve Krizan, Foreman, BGE-Underground
"The crews at Flagger Force are great to work with. We had a complicated rolling slowdown and they had the operation down to a science. I am very pleased with the job they performed."
- Andrew MacPherson, project manager, CW Wright Construction
"The crew with my team today was outstanding. My employees made sure to tell me how knowledgeable, polite, and hardworking each member of this crew was throughout the day."
- Damon Barbour, Supervisor, Reg Operations Line & Sub, West, Potomac Edison
"I want to thank Flagger Force for providing us with an outstanding and professional crew. The dedication your employees show on the road is very gratifying knowing they are the ones protecting our crew. Thank you for keeping us safe."
- Shane Satterwhite, foreman, Pike Electric
Need A Quality Traffic Control Partner?