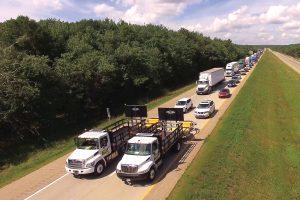 Rolling Slowdown Traffic Control
Traffic control on highways, freeways and interstates is nothing like in-town traffic control. Due to the high volume of traffic and fast speeds, highway traffic control requires a unique approach to ensure safety of traffic and construction crews.
Our years of experience at Flagger Force have allowed us to fine-tune our rolling slowdown traffic control services.
Our many years of experience allow us to fine-tune our rolling slowdown traffic control services. We apply intelligent control in terms of:
Safety: Safety is the most important part of every job we tackle. We care about the safety of the general public passing through the job site, the construction crews doing their jobs, as well as our own Flagger Force crews. Rolling slowdown traffic control often brings vehicles down from highway speed to a full stop, which requires ample warning and space in case of inattentive drivers. We include the necessary signage, along with our handheld flags and signs.
Work Conditions: Construction crews working in rolling slowdown conditions are typically pulling cable, wires, or fiber across large highways. They require time and space to do their job properly. When rolling slowdown traffic control is planned properly, we can maximize working efficiency and allow crews to get the traffic going again quickly. We work with construction project managers to determine the frequency and duration of traffic interruptions to accommodate crew and traffic needs.
Laws and Regulations: Due to a combination of federal and state laws applicable to temporary traffic control on highways, we tailor each rolling slowdown traffic control service to local laws and regulations. Differences between states can include distances for signage, number, and position of flaggers and even the size and location of signage. Our Flagger Force team knows the different requirements for the region and make sure to apply the correct solutions depending on your location. Our goal is to provide safe, efficient, and law-abiding traffic control at your job sites, so you can focus on the job itself.
Quality: We strive to offer high-quality services for rolling slowdown traffic control. Due to the nature of stopping traffic on highways and interstates, any errors in traffic control can cause major disruptions to regular traffic and transports. When traffic flow control isn't well managed, drivers can become impatient, which can cause accidents. Our crew members, leaders, and supervisors are trained to communicate with verbal and non-verbal methods and anticipate evolutions in traffic flow. They'll maintain close contact with road construction crew members and work to adapt to any situation that might arise.
A rolling slowdown traffic control project presents many unique challenges. At Flagger Force, we employ our years of experience and offer safe solutions that give construction crews adequate time to get the traffic flowing again.
Contact Flagger Force today and tell us about your traffic control project. We'll take care of your traffic control needs, no matter the size, scale, or duration.
"The Flagger Force Operations team has done a great job at providing me consistency on my job site this week. I appreciate all the hard work."
- Owen Crouse, Foreman, Riggs Distler
"Today, Flagger Force did an excellent job on our work zone. I was very impressed with their level of professionalism and knowledge in traffic control. They did some great work."
- Phil Vigue, Foreman, Cianbro Corp.
"The crew from Flagger Force did a great job today. These two were professional, patient, and pleasant to work with."
- Charles Curtis, Foreman, Verizon
"Flagger Force has some of the best crews. They are always attentive, listen to what is needed and they all have been a pleasure to work with."
- Donnie Hoffer, Foreman, Brubacher Excavating
"Flagger Force employees are polite, courteous, and very professional. It is always nice to have them on our site."
- Scott Gates, Foreman, UGI
"Our Flagger Force crew did an outstanding job today. I am impressed with the quality of the level of service they provided. They were safe, courteous, and were a pleasure to have worked alongside of our crew."
- Steve Krizan, Foreman, BGE-Underground
"The crews at Flagger Force are great to work with. We had a complicated rolling slowdown and they had the operation down to a science. I am very pleased with the job they performed."
- Andrew MacPherson, project manager, CW Wright Construction
"The crew with my team today was outstanding. My employees made sure to tell me how knowledgeable, polite, and hardworking each member of this crew was throughout the day."
- Damon Barbour, Supervisor, Reg Operations Line & Sub, West, Potomac Edison
"I want to thank Flagger Force for providing us with an outstanding and professional crew. The dedication your employees show on the road is very gratifying knowing they are the ones protecting our crew. Thank you for keeping us safe."
- Shane Satterwhite, foreman, Pike Electric