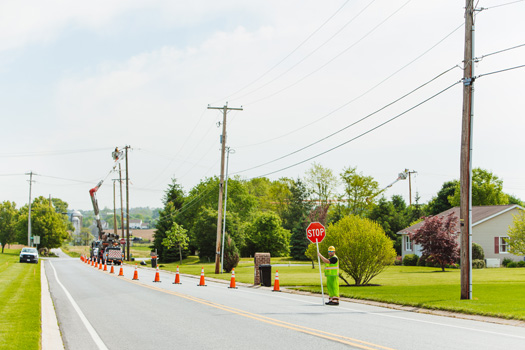 Flagger Force Traffic Control Services has been recognized as an industry leader in short term traffic control services since 2002. Our company was founded by entrepreneurs Michele Doner and Mike Doner. They
began with just a handful of employees and one pick-up truck that contained the signs, stands, and cones needed. Today…
Flagger Force is establishing safe work-zones throughout the entire Mid-Atlantic
region with approximately 900 trucks on the road, providing career opportunities to over 1,600 full-time employees. Flagger Force has 11 operating locations, including their corporate headquarters in Hummelstown, Pennsylvania. Our clients have embraced our quality and safety standards, which has allowed us to expand our geographic reach rapidly.
As a traffic control company, we are committed to education, innovation and technology to improve work-zone safety for everyone on our region's roadways. We manage over 500 work zones on a daily basis. Our number one priority is to ensure everyone makes it home safely; this includes our employees, clients and the motorists traveling through our work-zones.
We have strong partnerships with both state and national policy makers which allows us to assist in shaping traffic control standards, based on our deep knowledge of the industry and experience in the field.
Our mission is to share our passion and Keep Our Communities Moving through quality work, creation of jobs in Pennsylvania, Delaware, Virginia, and Maryland, career development, and giving back to the places we live and work. Flagger Force is certified by the Women's Business Enterprise National Council (WBENC), recognized for consistent growth by INC Magazine and is among ENR Magazine's Top 600 Specialty Contractors.
"The King of Prussia dispatchers have done a great job at providing me consistency on my jobsite this week. I appreciate all the hard work."
- Owen Crouse, Foreman, Riggs Distler
"Today, Flagger Force did an excellent job on our work zone. I was very impressed with their level of professionalism and knowledge in traffic control. They did some great work."
- Phil Vigue, Foreman, Cianbro Corp.
"The crew from Flagger Force did a great job today. These two were professional, patient, and pleasant to work with."
- Charles Curtis, Foreman, Verizon
"Flagger Force has some of the best crews. They are always attentive, listen to what is needed and they all have been a pleasure to work with."
- Donnie Hoffer, Foreman, Brubacher Excavating
"Flagger Force employees are polite, courteous, and very professional. It is always nice to have them on our site."
- Scott Gates, Foreman, UGI
Need A Quality Traffic Control Partner?