National Work Zone Awareness Week is a good time to remember that distracted driving is one of the biggest dangers for people who work on or near America's roads and infrastructure. While statistics and data remind us that distracted driving is a deadly threat to both drivers and people with jobs in work zones, a personal story is also a powerful reminder of the impact of small mistakes.
Jackie McVey is the mother of a preschooler who loves trucks. "My son always wants to come to Flagger Force with me," she says. "He always asks, 'Can I go to work with you in your work truck?' and I have to tell him, 'No, sorry. You can't.' He's at that fun age."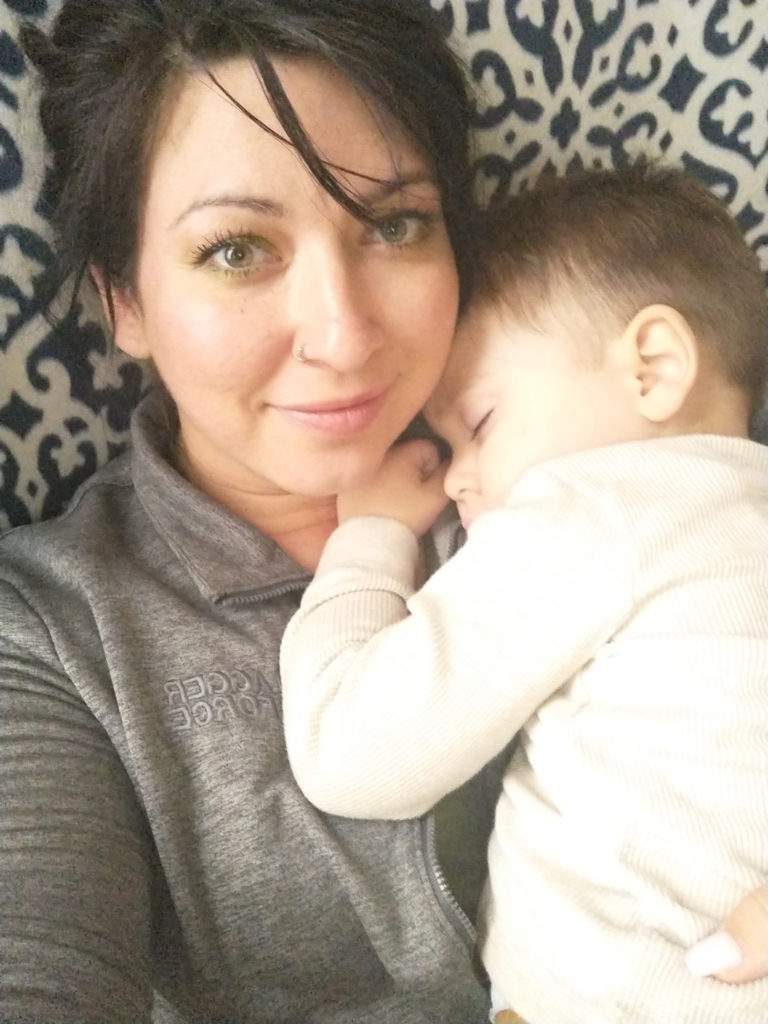 This young mom has been with Flagger Force since 2016. Her military experience familiarized her with good safety practices, but her Flagger Force training has taken safety to the next level. Jackie's work zone safety training was a lifesaver in 2019.
Work Zone Safety Couldn't Prevent This Near Miss, But It Saved Lives
Jackie was working in a work zone at the top of a hill on a high-volume road. The team had a passing lane opened before the work area to allow traffic to shift into the left lane where traffic would flow. "My crew member and I were standing a couple hundred feet away from where our client was working on the shoulder of the road," Jackie remembers, "so we were probably 14′ away from moving traffic."
Although Jackie, and everyone in the work zone, were following all of Flagger Force's work zone safety protocols, they quickly found themselves in danger. "We saw a car swerve," she recalls, "and it hit the safety cone that was right in front of us. The car swerved again, coming to a complete stop, inches away from hitting the client's vehicle."
"We were all kind of shook," Jackie notes. "Had we been just a couple steps forward, we would have been struck by that car. I started walking toward them, but they pulled out of the work zone. It all happened within a few seconds."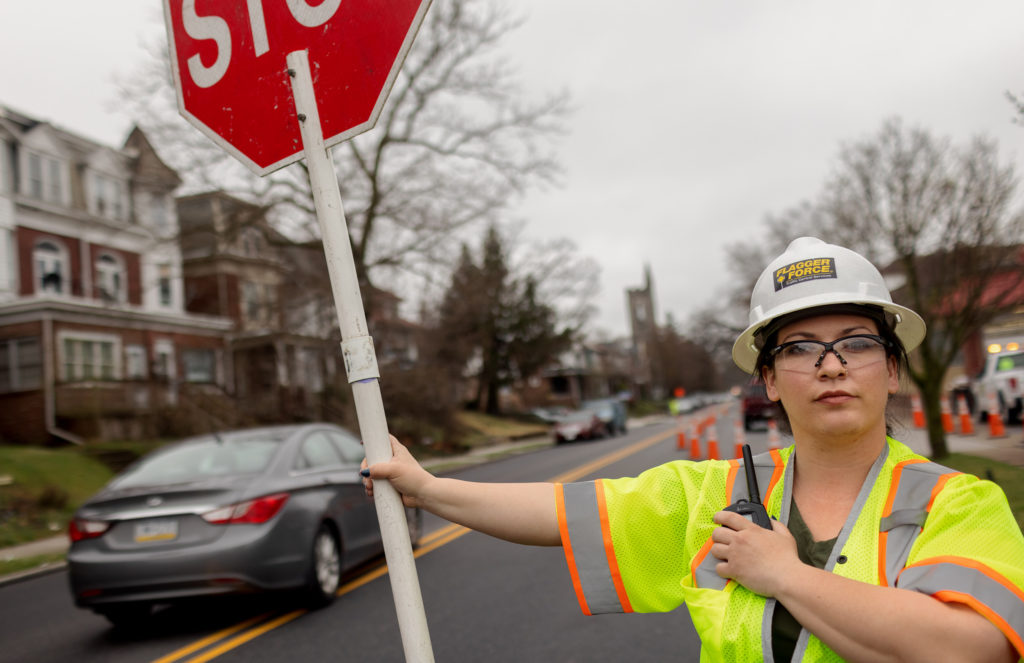 Lessons to Remember During National Work Zone Awareness Week
Jackie McVey's work zone safety training helped protect her from the effects of distracted driving. She emphasizes, "I'd had a lot of time to assess safety issues, and I grew up that way too. It has become second nature. Standing on the shoulder was one way I stayed safer. I also take care to walk on the shoulder side–not toward or between vehicles." She adds, "I also maintain a safe distance from the clients' vehicles. In this near miss, I was aware of what was behind us. Although we had extra distance between us and oncoming vehicles, we were still monitoring traffic. There can be no complacency."
Jackie McVey knows that distracted driving is an ever-present threat, and stays alert. "Every day is a different challenge. There's never two days that are the same. It keeps you on your toes, which also helps me stay aware."
Jackie also sees how distracted driving can endanger lives, including her own. "I see a lot of cell phone usage. But people also get distracted by what we're doing in the work zone and can become focused on a bucket or moving a pole." She emphasizes, "In my near miss a few years ago, I think that may be what happened to that driver. They had merged safely, but as they got closer to us, they somehow got distracted and swerved into the work zone. I think they were paying more attention to the machinery than to the people in the work zone."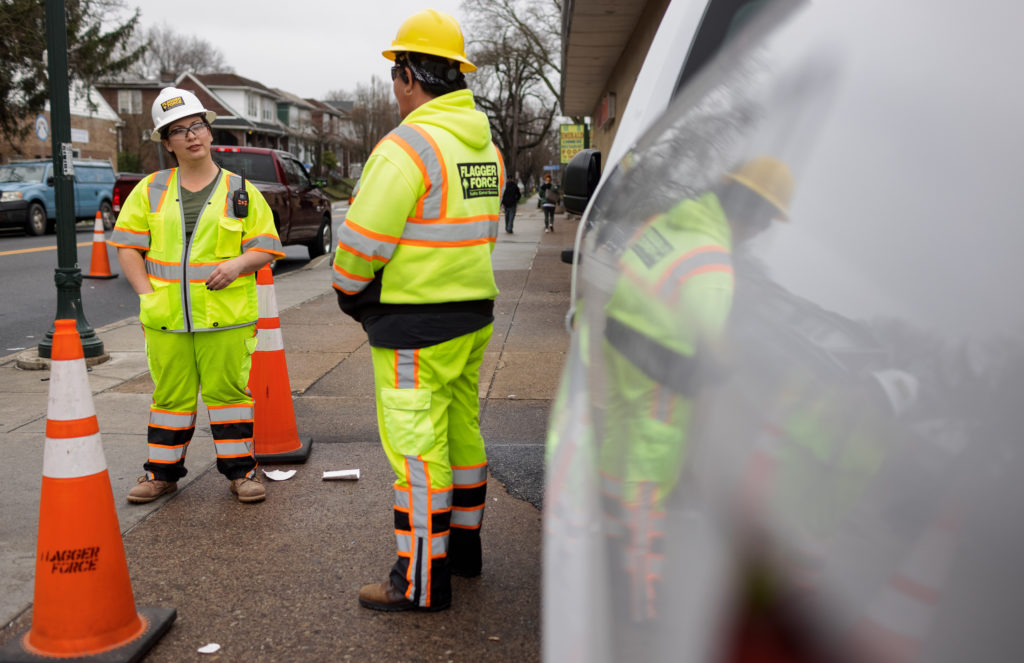 Stay Aware, Save a Life
Unfortunately, Jackie's experience was not an isolated incident. Inattentive motorists are responsible for one in four car accidents in the United States. The Center for Disease Control and Prevention (CDC) reports that distracted driving kills nine people and injures another 1,000 people in the U.S. each day. During National Work Zone Awareness Week, Flagger Force asks that drivers stay aware to save a life. Pay special attention to work zone safety, and think about the dangers of distracted driving. Remember that the lives of people like Jackie McVey are at risk.
Want to learn more about distracted driving? Check out these resources:
Driving Tips for Safer Traveling
Drive Safe! Tips from Driving Pros
Distracted Driving Threatens Work Zone Safety
Stow Your Smartphones to Increase Work Zone Safety
Summary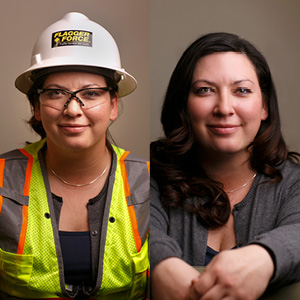 Article Name
Distracted Driving Danger: a Near-Miss Story
Description
Distracted driving is a deadly threat to drivers and people working in work zones. Read a powerful reminder of the impact of small mistakes.
Publisher Name
Publisher Logo