When it comes to driving distractions, smartphones top the list. Using any type of cell phone, navigation system, or digital device while driving increases the likelihood of an accident, but using smartphones in a work zone is especially dangerous.
The National Highway Traffic Safety Administration reported that 3,142 people were killed in accidents caused by distracted driving in 2019. That's a 10% increase from the previous year. And 25% of all of 2019's traffic deaths happened in work zones.
Safe work zones require both skilled flaggers and alert drivers. In fact, distracted drivers are one of the biggest dangers for flaggers and road crews. Drivers using cell phones, even when using them handsfree, often zoom through work zones, miss critical safety signals, and are more likely to create potentially deadly situations for road workers, other drivers, and even themselves.
While many drivers now understand how important it is to use hands-free devices, research shows that any kind of phone use can diminish your focus in a work zone. Researchers from Dalhousie University in Nova Scotia report that driving with hands-free phones is as dangerous as driving with handheld devices. This study, and others like it, show that both types of phone use result in an increased likelihood of accidents, additional operating errors, and slower reaction times.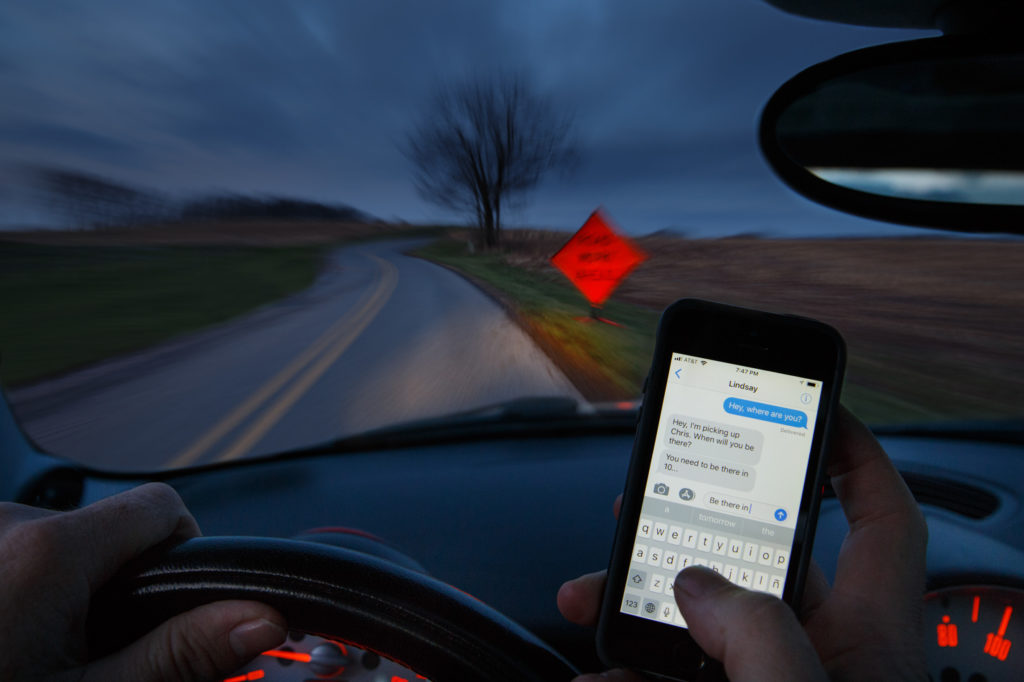 What Happens When a Driver Loses Focus in a Work Zone?
A recent study reported that distracted drivers are 29 times more likely to be involved in an accident in a work zone. That's why Flagger Force spends so much time coaching our flaggers to assess if they are distracted. We also train our flaggers to create an "escape plan" when drivers are drifting towards them.
The most common work zone accidents are rear-end collisions. The U.S. Department of Transportation advises, "Dedicate your full attention to the roadway. Avoid changing the radio station, using a mobile phone, eating, or other distractions that can remove your concentration from the road."
Many State Laws Increase Work Zone Safety, but are They Enough?
The dangers of texting and driving are well known. To date, the use of handheld phones has been the focus of legislation in many U.S. states. While the center of attention has been on texting and driving, many states now have laws prohibiting handheld cell phones while driving.
States banning handheld cell phone use for drivers include Arizona, California, Connecticut, Delaware, Georgia, Hawaii, Illinois, Maine, Maryland, Massachusetts, Minnesota, Nevada, New Hampshire, New Jersey, New Mexico, New York, Oregon, Rhode Island, Tennessee, Vermont, Virginia, Washington, West Virginia, D.C., Puerto Rico, Guam, and the U.S. Virgin Islands.
Other states have banned any cell phone type for drivers under 18, whether handheld or hands-free. Arkansas, Arizona, Colorado, Connecticut, Delaware, Georgia, Hawaii, Illinois, Iowa, Kansas, Kentucky, Louisiana, Maine, Maryland, Massachusetts, Minnesota, Nebraska, New Jersey, North Carolina, North Dakota, Idaho, Oregon, Rhode Island, Texas, Utah, Vermont, Virginia, West Virginia, and D.C. ban all cell phone use by teen drivers.
Some states restrict handheld and hands-free cell phone use for drivers with limited experience or restricted licenses. However, no state currently bans drivers from using hands free cell phones while driving. But change may be coming; many European nations are considering bans on all phone use, handheld or handsfree, and some U.S. states, including Michigan, South Carolina, Utah, and Ohio, are considering enhanced cell phone use restrictions while driving.
Stow Your Phone, Save a Life
Despite legislative efforts, distracted driving incidents are on the rise. However, when drivers stow their phones and focus on the road, they significantly improve their ability to drive safely. And safe driving can save a life in a work zone.
Want to learn more about distracted driving? Check out these Flagger Force articles.
Deadly Digital Driving: Distracted Driving Due to Cell Phone Usage
Cognitive, Visual, and Manual Driving Distractions
Drive Safe! Follow These Tips From the Safety Pros
Summary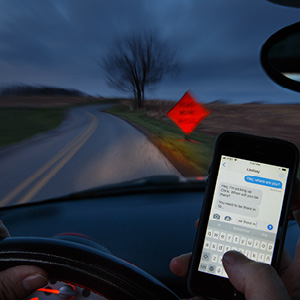 Article Name
Stow Your Smartphones to Increase Work Zone Safety
Description
When it comes to distracted driving, smartphone usage tops the list. Many state laws increase work zone safety, but are they enough? 
Publisher Name
Publisher Logo