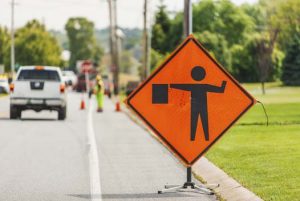 Since 2002, Flagger Force set out with the intention to elevate traffic control services into a true profession and we have done that.
For some it might start out as "just a job." Or simply a love of being outdoors. But no matter what brings them here initially, new hires quickly understand this is a chance to become part of something bigger. Something important. We are here to protect lives. And more than "just an outdoor job," this is a real opportunity for a long and fulfilling career serving others.
Our Energizing Mission
To protect our people, our clients and the public
To share our Safety-Driven passion with others
To serve with integrity and professionalism
To cultivate a team of leaders, providing opportunities for growth
To be respected as an industry leader in safety education and work zone management across the nation
Our Shared Values
Leadership – A dedication to willingness, initiative, perseverance and caring
Integrity – Speaking and living the truth in an authentic manner
Respect – A commitment to honoring the diversity of others with dignity
Trust – Counting on ourselves and each other to give our best every single day.
Our Compelling Vision
To Fulfill a Greater Purpose, We exist to make a difference, We believe what we do matters
…and to that end we express that purpose as "We Keep Our Communities Moving"
Together as Flagger Force, we strive not only to make our roadways safer, but also to keep our communities moving. We hire. We educate. We empower. And we give back. We are the faces of our clients on jobsites allowing them to focus on restoring the power, repairing the bridges, and keeping the water flowing. And yes, we keep people moving on the roads too – getting them where they are going, safely. It isn't just a community – it's our community and we're proud to keep it moving with everything we do.
"The Flagger Force Operations team has done a great job at providing me consistency on my job site this week. I appreciate all the hard work."
- Owen Crouse, Foreman, Riggs Distler
"Today, Flagger Force did an excellent job on our work zone. I was very impressed with their level of professionalism and knowledge in traffic control. They did some great work."
- Phil Vigue, Foreman, Cianbro Corp.
"The crew from Flagger Force did a great job today. These two were professional, patient, and pleasant to work with."
- Charles Curtis, Foreman, Verizon
"Flagger Force has some of the best crews. They are always attentive, listen to what is needed and they all have been a pleasure to work with."
- Donnie Hoffer, Foreman, Brubacher Excavating
"Flagger Force employees are polite, courteous, and very professional. It is always nice to have them on our site."
- Scott Gates, Foreman, UGI
"Our Flagger Force crew did an outstanding job today. I am impressed with the quality of the level of service they provided. They were safe, courteous, and were a pleasure to have worked alongside of our crew."
- Steve Krizan, Foreman, BGE-Underground
"The crews at Flagger Force are great to work with. We had a complicated rolling slowdown and they had the operation down to a science. I am very pleased with the job they performed."
- Andrew MacPherson, project manager, CW Wright Construction
"The crew with my team today was outstanding. My employees made sure to tell me how knowledgeable, polite, and hardworking each member of this crew was throughout the day."
- Damon Barbour, Supervisor, Reg Operations Line & Sub, West, Potomac Edison
"I want to thank Flagger Force for providing us with an outstanding and professional crew. The dedication your employees show on the road is very gratifying knowing they are the ones protecting our crew. Thank you for keeping us safe."
- Shane Satterwhite, foreman, Pike Electric