There are more than 600 skeletal muscles in our bodies—to help us bend, lift, squat, and pivot. We also use many of those muscles to complete a wide variety of tasks in the workplace. Whether we're bending down to place cones on the road, moving boxes, sitting at a desk, maintaining machinery, or picking up a huge trash bin, we rely on healthy muscles to get the job done.
When our muscles fail us, injuries can occur. According to the Bureau of Labor, 80% of workplace injuries involve muscles in the lower back, and many of those injuries are associated with manual tasks. The risk for pulled muscles, twisted ankles, and sprains increases in jobs that require employees to complete hours of repetitive twisting and lifting throughout their shifts. Even standing for hours presents its own set of difficulties.
While professional athletes know to start workouts with a series of stretches, employees aren't always so careful. Maintaining a healthy workforce begins in the first few minutes of a shift. When getting ready to start the day, it's essential to make sure employees take the time to prepare for physical challenges, big or small. That's why more and more companies are encouraging the institution of exercise warm-ups as part of their culture.
Why is Preventive Care so Important?
It's smart to do everything you can to protect employees from the kind of injuries that can result in lost time, or even force them into another job. Helping your team members warm up for work is a relatively simple but an effective way to reduce injuries on the job. Stretches and preventative care should be a part of your safety culture.
Stretching and warming up are often underestimated, but these activities have many benefits. They reduce the risk of injury and accidents by improving balance, enhancing muscle coordination, and even reducing fatigue. Warm-ups release fluids that reduce joint degeneration over time. Stretches can also improve the effectiveness of the body's nervous system—resulting in a more alert workforce with quicker reflexes.
Case Study: Using Science and Technology to Educate
Republic Services is an industry leader in U.S. recycling and non-hazardous solid waste disposal. Republic Services offers domestic non-hazardous solid waste and recycling services for commercial, industrial, municipal, and residential customers. They make nearly five million pickups per day for their 14 million customers around the country and operate 349 collection operations; 207 transfer stations; 190 active landfills; 91 recycling centers; seven treatment, recovery, and disposal facilities; 11 saltwater disposal wells; and 75 landfill gas and renewable energy projects across 41 states and Puerto Rico.
While the solid waste industry continues to move toward more automation, physical exertions are still required of their drivers, operators, and technicians. That's why Republic Services has built a safety culture that changed movement patterns to change movement behaviors for over 36,000 employees. Over the past 10 years, that culture has resulted in safety performance that has been 40% better than the industry average, based on Occupational Safety and Health Administration data.
Keeping a large and diverse workforce ready to work is a complicated endeavor with many moving parts. Republic Services and Dr. Tom Renner, owner of Corporate Injury Management Associates, have worked together to develop a preventive care system that focuses on movement training.
Based on performance science and rehabilitative medicine, the company uses Instinctive Movement Systems designed to prevent injuries from occurring on the job. While many assume that injuries occur because of lack of flexibility, it's more likely that they are the result from a lack of neuro-muscular balance. Employees are trained to rethink movement patterns in ways that break bad habits and reduce injuries.
Employees can receive the training face-to-face or through a series of short, segmented videos housed on the Republic Services web portal. Giving training options makes the program more efficient while it prepares the staff for the tasks ahead. These safety videos demonstrate the proper ways to complete stretches and suggest routines designed to help with a variety of functions and activities. The program also offers alternative options and adaptations based on the needs of the workforce.
Republic Services' Movement Program demonstrates that it's possible to create behavioral changes in ways that work toward a corporate goal of reducing injuries. They've empowered their employees to re-train themselves to move in better ways on the job and in their day-to-day lives.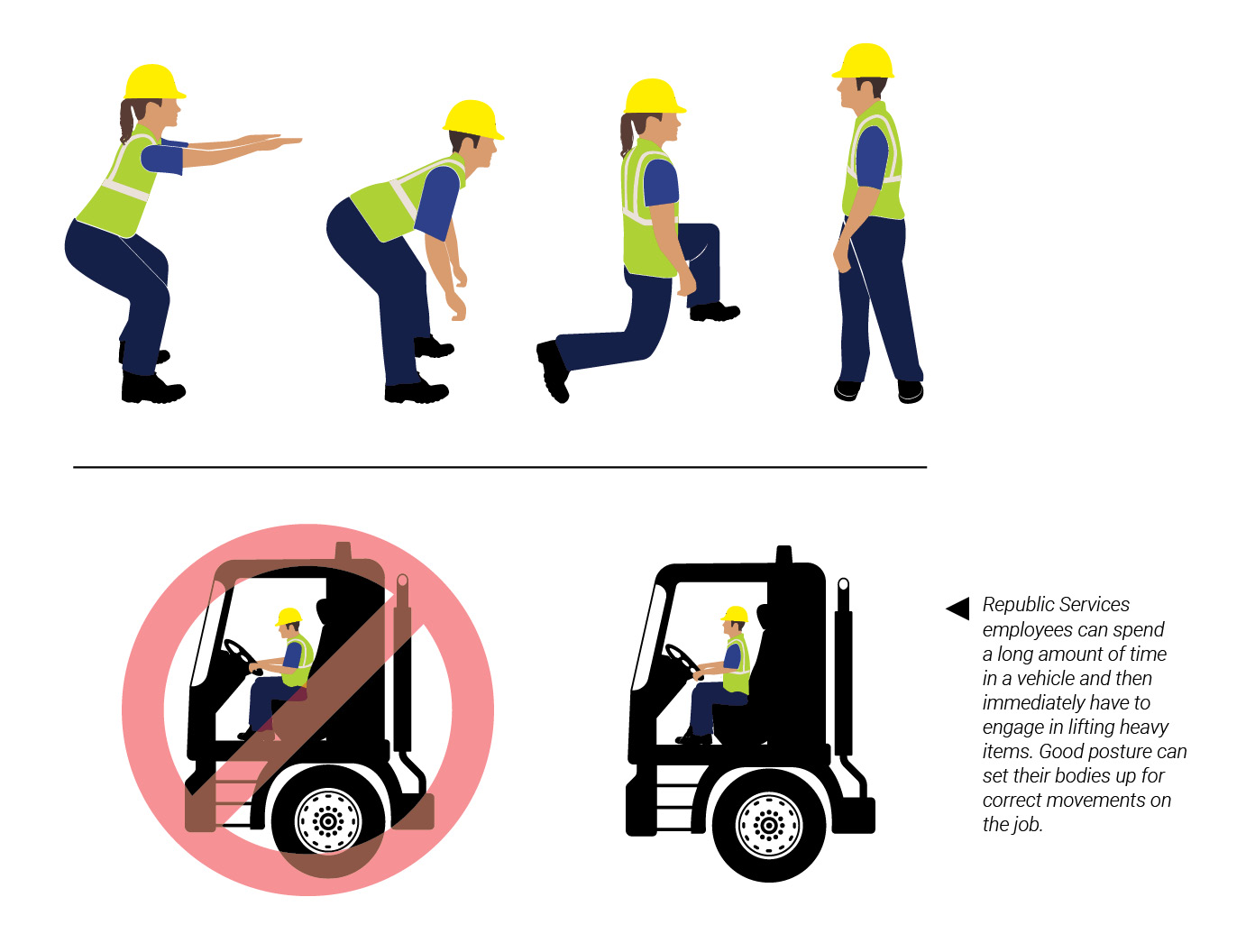 Case Study: Preparing the Body For the Day
As traffic control professionals, Flagger Force's job is to keep our communities moving. With safety as the foundation of their culture, they work hard to keep every one of their 1,700 employees out of danger while providing a safe space for clients and a guarded passage for motorists.
As a company founded on creating safe, quality works zones, Flagger Force knows that prepared employees are better at keeping their clients and the public safe. At the start of each day, their teams are encouraged to maintain fitness through a warm-up system that helps prepare their bodies for the work ahead. However, each job site presents unique challenges. That's why they research the job site location, conditions of the site, weather predictions, equipment needs, and the type of work the client will be doing in order to understand the nature of the work site. This informs their teams on what to expect so they can better plan for warm-ups, stretches, and exercises that will help to keep them limber and flexible throughout the day.
Before beginning work, Flagger Force employees warm up the muscles for tasks, like pulling cones out of the truck, standing for extended periods of time, and driving from one work zone to another. But many of their employees will be required to complete physical activities throughout the day, so stretches and exercises are recommended at regular intervals. For example, while actively flagging, crews are asked to complete periodic stretches to keep arms, necks, and legs nimble. This reduces stress on each part of the body and helps them stay alert and relaxed—improving reflexes and minimizing the chance of repetitive motion injuries, like shin splints, plantar fasciitis, or lower back pain.
Because so many of their employees are dispatched to work sites from their homes, Flagger Force provides videos to help them complete these exercises correctly—no matter where they are located. These videos can be accessed via an internal communications app and are available for a wide variety of activities and positions on and off the field.

Do you want to launch preventative care warm-ups in your workplace?
More and more organizations are embracing employee warm-ups. This practice is especially crucial for workforces that require a lot of movement or physical work. Here are some tips for getting started.
Start with a Physical Demand Analysis

While the right warm-up stretches and exercises can prevent injury, an ill-conceived plan not only wastes time, it may result in more injuries for employees. If you're ready to implement this kind of preventative safety program in your organization, the first step is to complete a physical demand analysis (PDA).

A PDA evaluates the minimum physical requirements for a particular job so that a specific warm-up routine can be developed for all the tasks involved. It's smart to have stretching routines that will warm up parts of the body that are used heavily throughout the day. Even small, repetitive motions should be evaluated.

Develop Warm-Up Programs and Movement Training Initiatives

Once the physical requirements of the job are thoroughly evaluated, work with a professional to develop an appropriate warm-up routine. According to industry expert Jeremy Verrillo, in a recent article in Incident Prevention magazine, the recommended time for warming up is around 10-15 minutes, spending two minutes on each body part.

Instead of guessing at the right warm-ups, bring in a professional who understands how to evaluate workplace movements, and have them create programs that are safe and effective for the demands of your workplace.

Offer Multiple Methods for Training and Teaching

Think about how your workforce learns and where they work to develop teaching tools to meet those needs. If you have a large factory staff that works on shifts, you may want to start a shift with a
warm-up routine and include stretches during the break period. If your team works in a variety of locations or on changing job sites, videos or apps may be a good option.

Tailor your training and programs in a way that makes it easy to participate, easy to understand, and easy to succeed.

For additional references, check out our article sources:
www.bls.gov/iif | incident-prevention.com/ip-articles | www.republicservices.com
Summary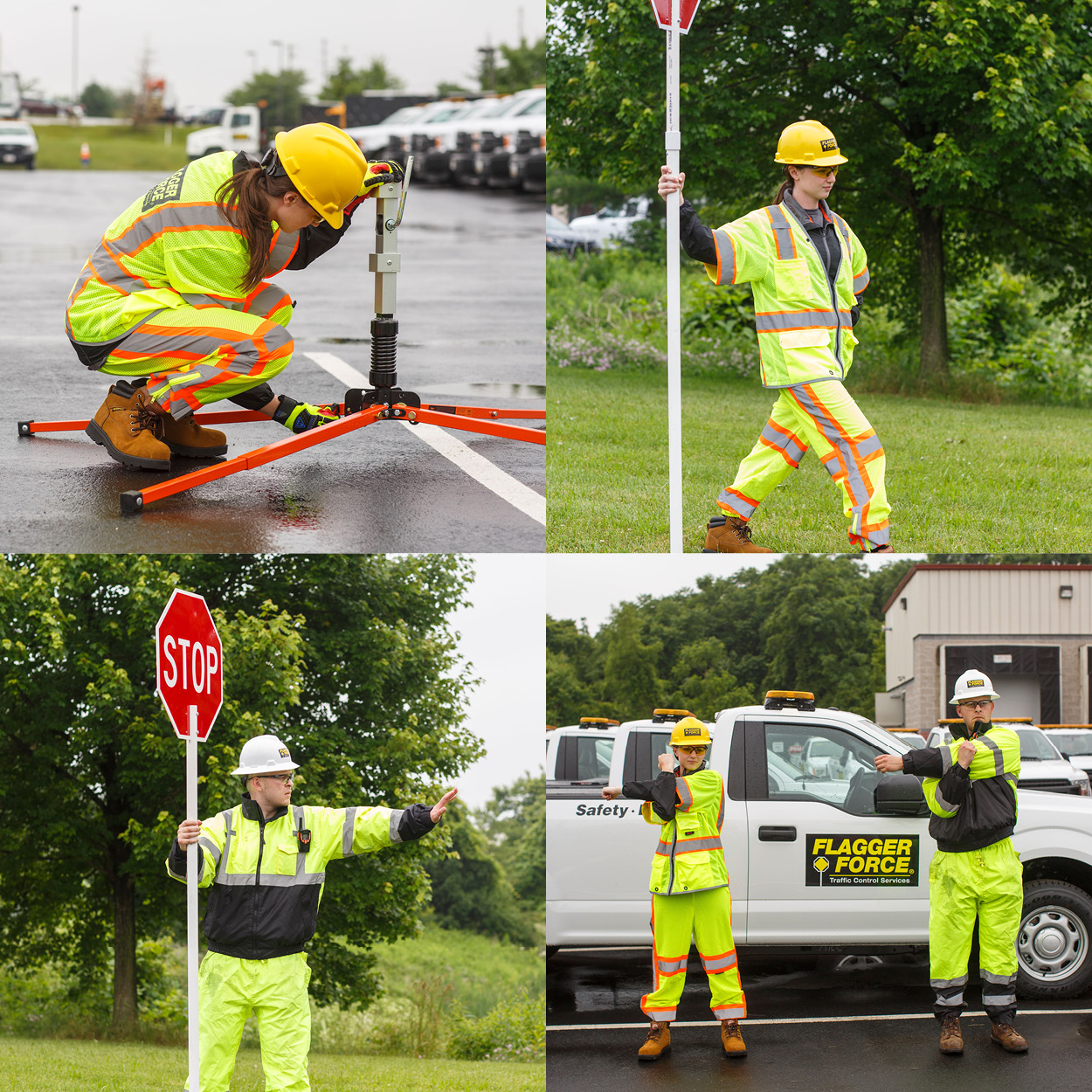 Article Name
Warm Up to a Safer Workplace
Description
There are more than 600 skeletal muscles in our bodies—to help us bend, lift, squat, and pivot. We also use many of those muscles to complete a wide variety of tasks in the workplace. Whether we're bending down to place cones on the road, moving boxes, sitting at a desk, maintaining machinery, or picking up a huge trash bin, we rely on healthy muscles to get the job done.