The coronavirus (COVID-19) crisis hit the world unexpectedly. Not only did it affect individuals, but it also impacted businesses and industries. All types of businesses needed to adapt quickly and will need to continue to adjust as the world returns to what we once knew as normal. Flagger Force recently asked professionals in the healthcare, construction, and safety industries to share the corporate challenges and victories they experienced during this trying time. We thank each of them for participating and for sharing their perspectives.
SHARON BURLESON | PHR, SHRM-CP, HR MANAGER
FAULCONER CONSTRUCTION COMPANY | CHARLOTTESVILLE, VA
ADAM A. FRIED | CHIEF EXECUTIVE OFFICER
ATLANTIC BUILDERS, LTD. | FREDERICKSBURG, VA
BETH J. HARRIS | OCCUPATIONAL HEALTH MANAGER
OSS HEALTH | YORK, PA
BOB HEGBURG | AREA DIRECTOR, SAFETY MANAGEMENT
ARTHUR J. GALLAGHER RISK MANAGEMENT SERVICES | HUNT VALLEY, MD
DALE LESINSKI | VICE PRESIDENT
DIVAL SAFETY EQUIPMENT | BUFFALO, NY
NATALIE SHAW | BUSINESS DEVELOPMENT MANAGER
WORKNET OCCUPATIONAL MEDICINE | HARRISBURG, PA
JEFFREY C. SOUTHARD | EXECUTIVE VICE PRESIDENT
VIRGINIA TRANSPORTATION CONSTRUCTION ALLIANCE (VTCA) | RICHMOND, VA

What was the biggest challenge for your company during this crisis?
SHARON In addition to policy changes and/or updates, we shared resource information on our employee assistance program and telehealth options through our medical plans; videos on how to make masks from household material and how social distancing works; video messages from our president, Jack Sanford; visual images relating to social distancing and wearing facial coverings; and a video from a construction worker who wrote a poem called "Dirt Digger" speaking to the essential work of construction workers across the country. The upcoming challenge we are facing is returning office employees to the workspace and are currently creating plans for a safe return.
ADAM We are a $100 million revenue homebuilding company with 100 homes now under construction in Prince William, Stafford, Spotsylvania, and Louisa counties as well as in Waynesboro, Virginia. Schedules were a challenge, but within a week of the quarantine orders, we had adjusted our 117-day construction schedules and added 20 days. This was to ensure that we did not have more than one trade partner company working in any home at any one time.
BETH Not only did we need to reschedule or postpone over 500 surgeries, but we also needed to have a long-term plan, a plan for recovery, and continue to adjust daily.
BOB We shifted to a 100% remote workforce in seven days. We deployed our comprehensive business continuity plan before the pandemic, which helped the organization adjust rather quickly.
DALE We put a heavy emphasis on education for our employees regarding COVID-19 for on-the-job and off-the-job. We wanted to have better-informed employees so they had lower anxiety and stress levels. Video updates also allowed us to control the communication, answer concerns, and give some updates on where we stood, how we made decisions, and where we are headed.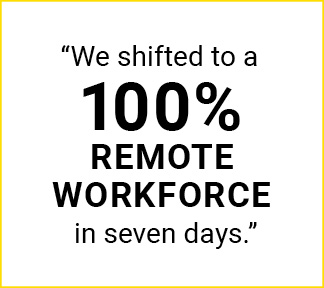 NATALIE We had to provide a safe environment for patients, our staff, and our providers, and still maintain a fully operational occupational medicine clinic. I don't think anyone can say they were 100% prepared for this type of a pandemic. Our clinical guidance and preparedness from our medical director, Dr. Lauer, started before COVID-19 hit the United States.
JEFFREY Our biggest challenge was to convince the governor that transportation/construction was an essential business. Virginia was able to engage in dialog with Gov. Ralph Northam as to why transportation and construction are essential, and he agreed. Unlike some other states, we have been able to keep working throughout the pandemic.
Can you share things about your team or company that inspired you during this pandemic?
SHARON Disinfectant and hand sanitizer solutions were in high demand with estimated delivery dates up to eight or more weeks. Our inventory would not sustain us during this pandemic. One of our assistant project managers, Andrew Cox, found a supply store with concentrated Lysol disinfecting solution and spray bottles. His quick thinking and actions translated into greater safety on our job sites. Understanding the importance of disinfecting shared equipment and vehicles, he and his wife (who was home from her teaching position), began to mix and bottle the solution. It was an example of how our employees actively seek opportunities to go above and beyond. We're proud to have such a great team member!
ADAM Our leadership team reacted quickly. We created a coronavirus task force that began meeting daily on March 10. By March 13, just three days later, the team had already made sure employees were no longer interacting with one another in the same spaces, and we closed our office and our model homes. I am proud of how we immediately took action to keep field leaders, trade partners, and customers safe.
BETH I have been so proud of the company and staff I work with and their ability to adapt to this situation.
DALE It is said that in tough times peoples' (and companies') characters are revealed—our people that worked from home supported our field teams. They even sent cards, letters, and videos to their fellow employees on the front lines serving our customers.
NATALIE OSHA respiratory medical clearances and respirator fit testing has been the number one concern and need coming from companies. We provided a team of technicians to perform over 200 OSHA respirator fit tests to a local government entity and for several healthcare facilities. Our technicians had to be in full hazmat protective gear, but they still jumped in without hesitation.
JEFFREY I was inspired by how the VTCA responded to this—immediately setting up a senior leadership team, establishing corporate practices, assuming a degree of seriousness, and being deliberate. I was also inspired by how our members responded. It required companies to be progressive and serious to protect the health and safety of their employees and the continuity of their business.
How has this crisis changed the way you work?
SHARON This pandemic taught us, very quickly, that we shouldn't bet against ourselves. As we navigated each step, we also learned that we had processes and technology in place that served as a solid foundation to move forward. We continue to re-adjust and re-invent as new guidelines or information are presented. This has been a total team effort and thus far, pretty seamless. I say this looking back, but I still remember the angst and worry during each step as each policy, procedure, and employee communication was created as we knew the burden was and still is on us to keep our employees, their families, and our communities safe.
ADAM We decided in mid-March to pay each of our employees an extra $1,000, which we felt would ease their minds as many experienced family members whose work was impacted. We continued to pay our 13 field employees an additional $1,000 each in their bi-weekly pay through May 31, 2020. We appreciated the additional risk that front line employees experienced while others worked from home.
BETH There is a dramatic change in the way patients and staff can move around the facilities. Plus, we have worked collaboratively with hospitals that would usually be seen as competitors to meet the needs of the community.
BOB As a risk consultant, 70–85% of my work was done in-person. I would spend four to six hours per day traveling. Today, I'm finding that through technology and virtual service strategies, I've been able to remain connected with far more clients and support their needs remotely.
NATALIE It has changed everything in our daily operations. I think we have all learned the importance of personal protective equipment, or PPE. It has been extremely difficult to source masks, gowns, and sanitizer. Preparedness in the future will consist of minimum PPE stockpiles.
JEFFREY You have to be ready for any situation. If you don't have a crisis plan, you need to have one. We believed that a long time ago and had a crisis communications plan in hand prior to the pandemic—VTCA was ready to act and react to this situation. We were able to respond quickly and nimbly and put all of these things in place, realizing that we had things we had to do as a company to protect VTCA, to keep VTCA running, and things we had to do on behalf of our members to keep our members working and working safely.

How do you see this pandemic impacting industry safety cultures in the next 6–12 months?
BETH I believe the screenings will continue. There will be alternative work methods, and more people will continue to work from home. There will be less international travel and a continued increase in the use of video conferences. We have learned to do more with less.
BOB I have seen a drastic improvement in the overall safety culture of companies. Executive, senior leadership, and management teams are much more engaged when communicating about safety to their employees.
DALE For our team (safety equipment manufacturing and safety training), occupational safety is already established and is part of the normal practices. For those who work in environments where safety is not as prevalent, these new habits and procedures may be more difficult to adopt or enforce.
NATALIE I see the safety industry in general taking on a larger role in emergency and disaster planning. The traffic industry will remain challenged with accepting cash toll payments and adhering to social distancing on road construction.
Summary
Article Name
Safety Industry Roundtable: "How We Coped with COVID-19"
Description
The coronavirus (COVID-19) crisis hit the world unexpectedly. Not only did it affect individuals, but it also impacted businesses and industries.