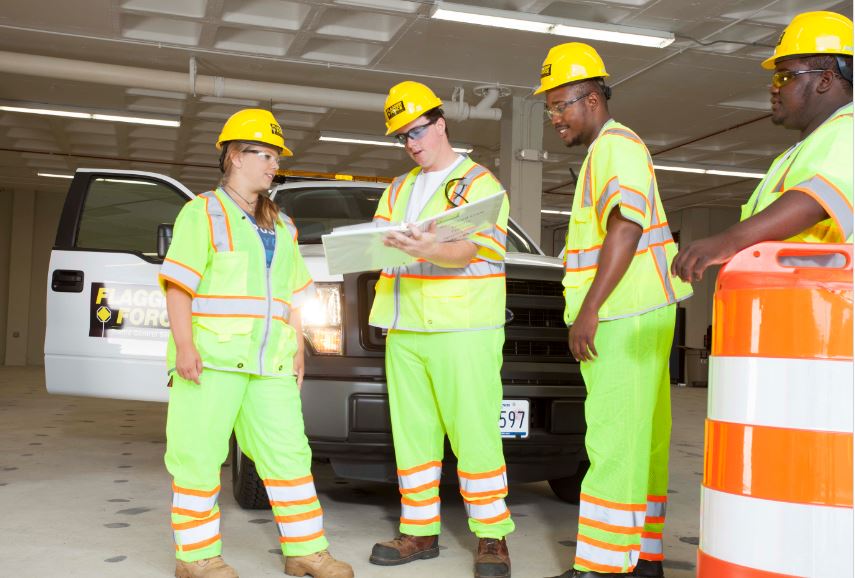 FREQUENTLY ASKED QUESTIONS
We've collected the most frequently asked questions from "What are your hiring requirements?" to "How do I check the status of my application?"
Read through the FAQs below to learn more about jobs and careers at Flagger Force.
What training do you provide?

Through the creation of our own training institution, the Flagger Force Academy, our team of educators and instructors have developed programs to give hard skills like; flagger certification, basic work zone and advanced lane closures etc. Additionally, they have established multi-level leadership development courses, these are meant to create a team of leaders at all levels within the organization to select and promote from within. We want to move forward with the same voice, common goals, as one unit, maintaining our leadership position as the most respected safety firm in the nation.

What positions are you hiring for?

Currently, we are hiring crew members in all markets. You are encouraged to apply by clicking FlaggerForce.com/Apply.

To view any office positions we have available, please visit https://flaggerforce.jobs.net/search.

Where are your positions located?

Our Corporate Office is located Hummelstown, PA, conveniently located between Harrisburg and Hershey, with easy access to Lancaster and York, PA.

Additionally, we have branch offices in:

Middletown, PA

Export, PA

King of Prussia, PA

Glen Burnie, MD

Ashland, VA

I'm interested in a Field Crew Member position, but I live more than an hour away from any of your branch offices. Can I still work for you?

Our Field Employees are dispatched from their homes, so your application will be routed to the branch office that provides traffic control services to the region that you reside in. You will be required to report to the branch for your interview, initial certification class and new hire orientation. Other than that, you will leave directly from your home to the work site!

Why is a valid Driver's License required?

We require a valid Driver's License because you are responsible for transportation to each assigned work site. Due to the nature of the work that our clients are doing, the work sites will change on a daily basis and they are frequently not on a public transportation route. Additionally, once you are promoted to Crew Leader, you will have a company vehicle to drive to and from your job assignments.

How do I apply?

To apply for a crew member position in Pennsylvania, Virginia, Maryland, Delaware, and New Jersey, please visit FlaggerForce.com/Apply.

To apply for a corporate or office position, please visit https://flaggerforce.jobs.net/search.

Do you offer internships?

Yes, we have internship opportunities available at our Corporate Office in Hummelstown, PA. Our internships are paid and preference is given to incoming Juniors or Seniors who are receiving credit for the internship.

We offer internships in the following departments:

Accounting

Business Development/Marketing

Human Resources

Safety

Information Technology

To apply for an internship, please email your resume and cover letter to corprecruiting@flaggerforce.com!

What are your hiring requirements?

For Field Crew Member positions, we require:

Age 18+

Valid Driver's License, Reliable Vehicle, Cell Phone

Ability and willingness to stand 8-12 hours per day

Ability and willingness to walk 1-2 miles per day

Ability and willingness to work in all types of weather conditions

Ability and willingness to lift 25-35 lbs throughout the day

Positive attitude, flexibility, and safety-oriented

Who do I contact to check on the status of my application?

We receive a high-volume of applications for our open positions and we make every effort to keep candidates apprised of their status in the process. Should you wish to inquire about your status, please call 1.888.312.3524.

How long do you keep applications on file for?

We keep applications on file for 1 year; however, if you were not initially selected for a position, we recommend reapplying should you have an interest in another position we have open.

What benefits does Flagger Force offer?

Flagger Force is pleased to offer a comprehensive Benefit Program, which includes:

Medical/Vision/Dental through Capital Blue Cross

Paid Time Off

Six Paid Holidays

Employee Assistance Program

Volunteer Time Off*

Voluntary Short Term and Long Term Disability

Voluntary Accident Insurance

Voluntary Term Life Insurance

Voluntary Hospital Confinement Insurance

Telehealth

401k with company match

*available to Operations and Corporate employees only

What advancement opportunities are available?

Flagger Force prides itself on developing its employees and offering offering opportunities for growth. Our positions in the field are filled 100% from within the company. Everyone in the field starts as a Crew Member and, through additional training and outstanding performance, are promoted into advanced positions such as:

Crew Leader

Advanced Crew Leader

Field Specialist

Quality Specialist

Safety Advocate

Employee Advocate

Branch Operations

Branch Management

Operations and Corporate staff enjoy opportunities for advancement as well. We offer opportunities to apply for internal positions as well as ongoing training in leadership, management and communication skills.

What if I have no Traffic Control experience?

Flagger Force doesn't require previous experience in the Traffic Control industry. We provide all applicable trainings and certifications that are required for our Field Employees to do their jobs safely and efficiently. Field Employees that have done exceptionally well at Flagger Force have backgrounds in Landscaping, Military, Construction, Customer Service, Emergency Services, etc., but no specific type of experience is required to apply or to be successful here.

I applied for a Field Position, how long until I will receive a phone call?

Due to the high volume of applications received for our Field Crew Member position, please allow 3-5 business days for your initial application to be processed and to be contact by a Recruiter dedicated to hiring for the region that you reside in. We have Recruiters located throughout our footprint who are excited to speak with safety-minded candidates like you!

How many hours per week is considered part-time?

Part-time is defined as working an average of 29 hours or less per week.

As a part-time crew member, what days of the week and hours am I expected to work?

Our busiest days of the week tend to be Monday – Thursday during the day, so if you have open availability at least 2 of those days, apply today! Generally, our day time job assignments start 7 am – 9 am and end 3 pm – 5 pm. Please note we cannot guarantee a set start or stop time.

Are part-time crew members eligible for benefits and incentive plans?

Part-time crew members are eligible to accrue paid time off but are not eligible for medical/health benefits or incentive plans.

Are part-time members eligible for promotions?

At this time, part-time crew members are not eligible to be promoted into crew leader positions.
We hope that you found these FAQs to be helpful. If you have more questions about our services, please explore our capabilities section, or feel free to contact us online.
"KUDOS to our crew for their work in Atlantic City, NJ! They did an awesome job for the client. The Atlantic City Police Department was very impressed with their work as well."
- Chris Plute, Flagger Force Area Supervisor, Since 2014