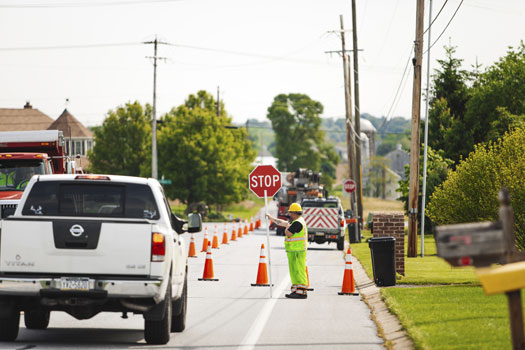 We've all been caught in stopped traffic due to a lane closure, or what we typically call a standard flagging operation. It's frustrating to wait, but a well-devised traffic control plan can help improve the flow of traffic and minimize the disruption. At Flagger Force, we provide
temporary traffic control
through flagging operations to ensure the safety and traffic flow through road construction sites.
We apply our experience and best practices to adapt to every job site, and we train every member of our traffic control team to anticipate traffic movements. They account for different types and volumes of traffic at different times of the day and week. Thanks to our safety-driven culture, we think about safety at all times, ensuring safe passage for the general public and safe working conditions for road construction crews and our own flaggers and workers.
A Detailed Approach
When you consult us for our standard traffic control services, we take the time to understand your requirements and expectations. We'll consider factors such as:
Time, date, and frequency of your work: Will your job require a lane closure? Will your job be mobile and require several setups and tear downs throughout the day? Will the work take place in an area that requires frequent changes in signage to address different road conditions as the work zone shifts to protect your workers? What part of the day and week will the work take place? Different parts of the day and week have changing traffic flow patterns that must be addressed with the appropriate types of flagger crews and work zone setups for the correct traffic control. For instance, will the work take place on a roadway subject to heavy commuter traffic during weekday mornings and evenings requiring additional flagging resources? We know the right questions to be asking and once we understand the requirements of your job site, we can plan for how many flaggers will be needed along with the necessary traffic control devices for the work zone to keep everyone safe and minimize the impact on traffic flow.
Types of traffic: Different traffic patterns pose different challenges and risks to construction and work zone crews. In other instances, construction crews may be required to move equipment across the traffic lane. In standard flagging operations, our traffic control professionals stay in close verbal and non-verbal contact with other Flagger Force team members, as well as with the construction crew to ensure safe coordination of traffic control. When we all work together, we minimize the disruption to traffic and allow roadwork crews enough time to safely and efficiently complete their jobs.
Legal requirements and practices: Standards concerning temporary traffic control services can vary from state to state. At Flagger Force, we are well-versed in the DOT requirements across the region and can tailor our procedures and signage to all standards and guidelines. We set up our flagging operations to ensure it is within legal compliance and meets all safety standards of the traffic control for your specific project.
We apply our experience and best practices to adapt to every job site, and we train every member of our traffic control team to anticipate traffic movements.
Leading the Way
We apply our best practices and industry-leading safety and quality approach to your flagging operation to offer a safe and efficient job site. We minimize the impact of traffic disruptions on local traffic, which in turn keeps the community happier and gives your road construction crews a more positive work atmosphere.
"The Flagger Force Operations team has done a great job at providing me consistency on my job site this week. I appreciate all the hard work."
- Owen Crouse, Foreman, Riggs Distler
"Today, Flagger Force did an excellent job on our work zone. I was very impressed with their level of professionalism and knowledge in traffic control. They did some great work."
- Phil Vigue, Foreman, Cianbro Corp.
"The crew from Flagger Force did a great job today. These two were professional, patient, and pleasant to work with."
- Charles Curtis, Foreman, Verizon
"Flagger Force has some of the best crews. They are always attentive, listen to what is needed and they all have been a pleasure to work with."
- Donnie Hoffer, Foreman, Brubacher Excavating
"Flagger Force employees are polite, courteous, and very professional. It is always nice to have them on our site."
- Scott Gates, Foreman, UGI
"Our Flagger Force crew did an outstanding job today. I am impressed with the quality of the level of service they provided. They were safe, courteous, and were a pleasure to have worked alongside of our crew."
- Steve Krizan, Foreman, BGE-Underground
"The crews at Flagger Force are great to work with. We had a complicated rolling slowdown and they had the operation down to a science. I am very pleased with the job they performed."
- Andrew MacPherson, project manager, CW Wright Construction
"The crew with my team today was outstanding. My employees made sure to tell me how knowledgeable, polite, and hardworking each member of this crew was throughout the day."
- Damon Barbour, Supervisor, Reg Operations Line & Sub, West, Potomac Edison
"I want to thank Flagger Force for providing us with an outstanding and professional crew. The dedication your employees show on the road is very gratifying knowing they are the ones protecting our crew. Thank you for keeping us safe."
- Shane Satterwhite, foreman, Pike Electric