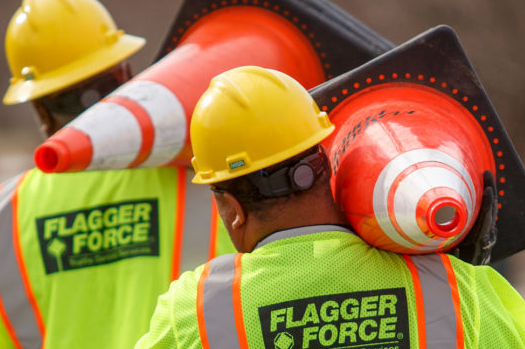 Frequently Asked Questions
We've collected the most frequently asked questions from "What is a work zone?" to "How do I know what type of traffic control I need?"
Read through the FAQs below to learn more about Flagger Force and the traffic control solutions we offer.
When did Flagger Force start?

Flagger Force was founded in 2002 with the first flagging operations beginning in 2003. One year later, Flagger Force began servicing clients using Work Zone Protection Crews, which included their first pick-up trucks supplied with the cones, stands, and signs necessary for safe work zone setups.

Can you do special events?

Yes, Flagger Force assists in traffic control for special events. Flagger Force keeps communities moving by providing service for special events through supporting small businesses and non-profits. Since these events are outside of Flagger Force's normal scope of business, a pre-construction meeting would be required prior to the day of the event to ensure the proper resources are dispatched. Pre-construction meetings are a value-add to our clients– free of charge.

Do you rent equipment?

Flagger Force does not rent equipment. Flagger Force's equipment is utilized in conjunction with the Service they provide. If any equipment or signs need to be left on the job site, Flagger Force will remain on-site to monitor the work zone and equipment/signs.

Do you perform long-term traffic control?

No, Flagger Force does not perform long-term traffic control such as lane diversions using class three barricades or "Jersey Barriers", etc. Flagger Force is recognized as an industry leader in professional short-term, intermediate traffic control such a flagging operations, rolling slowdowns, etc. with daily job lengths of 12 hours or less.

Are all your employees properly trained?

Flagger Force's average field employee receives 40 hours of training per year, and Flagger Force's more tenured and experienced field employees will receive an upwards of 72 hours per year! This far exceeds the required minimum for a certified flagger which is a 4-hour Flagger Certification class. Each of Flagger Force's training instructors is ATSSA and/or DOT certified and committed to instilling the importance of safety and teamwork in their trainees.

How safe are you?

Flagger Force prides themselves in sharing their Safety-Driven® passion with their employees, clients, and the general public. Flagger Force continues to lead its industry in providing the safest, quality work zones. The Flagger Force Academy® instills safe practices with each field employee and gives them the knowledge to set-up, maneuver through, and tear down work zones safely and by-the-book.

How fast can you dispatch traffic control to my job?

Flagger Force is a responsive company. We have a 24/7/365 operational capability and a two-hour emergency response time within their standard service area. In some cases, depending on the job site requirements, Flagger Force has the ability to respond even more quickly than 2 hours.

What do I need to setup an account?

To setup an account, you will need to contact Flagger Force's sales team. They will review the pricing applicable to your work and review the contract needed prior to doing business together. When done during normal business hours, this is a fairly quick process.

What is a work zone?

Work zones, not to be confused with work areas, is the area of the roadway beginning with our first advanced warning sign (i.e. road work ahead) and ending with our last advanced warning sign (i.e. end road work). Work area is where the client is performing the actual work.

What is a TMA?

A TMA is a truck-mounted attenuator. These trucks are designed to absorb high-impact collisions and are used as a protection vehicle while Flagger Force's field teams are setting up advanced warning signs on high-speed roadways, and are placed at the beginning of work areas to protect the client after the work zone has been established.

How do I know what kind of traffic control I need?

Prior to calling Flagger Force, you do not have to know what kind of traffic control is required. Flagger Force will gather information regarding your scope of work and determine what resources and set-up will be required to perform the job safely. For more complex set-ups and operations, Flagger Force may suggest additional planning; this can include scheduling a pre-construction meeting. Pre-construction meetings are a value-add to our clients– free of charge. A Flagger Force Field Specialist would meet you on-site to review the project requirements.

What information do you need to execute an order?

To execute an order, you will need to provide the Flagger Force Operations Center with the following information:

Your name, phone number, and the company you work for.
The company that should be billed or the owner of the project.
The Caller name and number
The foreman name and number
The date, work address, report time, special requests
Any invoicing information required?
Please provide any of the following…
PO Number, Job #'s, Job ID / Name, Prevailing wage Rates (if applicable), Daily Quote details (if applicable)

What are your rates?

There are a number of variables that go into determining a rates; please contact Flagger Force's Sales Team to find out what yours are.

What equipment do you have?

Flagger Force has a fleet of Ford F150 pick-up trucks, Truck Mounted Attenuators, Stake Body Trucks, Arrow Panels, Lighting Units, and Portable Changeable Message Boards.

How do I get a job with you?

If you're exploring a career path with Flagger Force, submit your application online here. A Flagger Force recruiter will be in touch within 5 business days. If you haven't heard from a recruiter, contact Flagger Force, and ask to speak to a recruiter.

Do you train your clients in flagging?

Flagger Force conducts external trainings. Flagger Force's Academy® training instructors have been known to travel. They will bring the classroom to you. This training consists of classroom and hands-on demonstration tutorials, take-home materials, videos, and proof of completion cards.
We hope that you found these FAQs to be helpful. If you have more questions about our services, please explore our capabilities section, or feel free to contact us online.
"The Flagger Force Operations team has done a great job at providing me consistency on my job site this week. I appreciate all the hard work."
- Owen Crouse, Foreman, Riggs Distler
"Today, Flagger Force did an excellent job on our work zone. I was very impressed with their level of professionalism and knowledge in traffic control. They did some great work."
- Phil Vigue, Foreman, Cianbro Corp.
"The crew from Flagger Force did a great job today. These two were professional, patient, and pleasant to work with."
- Charles Curtis, Foreman, Verizon
"Flagger Force has some of the best crews. They are always attentive, listen to what is needed and they all have been a pleasure to work with."
- Donnie Hoffer, Foreman, Brubacher Excavating
"Flagger Force employees are polite, courteous, and very professional. It is always nice to have them on our site."
- Scott Gates, Foreman, UGI
"Our Flagger Force crew did an outstanding job today. I am impressed with the quality of the level of service they provided. They were safe, courteous, and were a pleasure to have worked alongside of our crew."
- Steve Krizan, Foreman, BGE-Underground
"The crews at Flagger Force are great to work with. We had a complicated rolling slowdown and they had the operation down to a science. I am very pleased with the job they performed."
- Andrew MacPherson, project manager, CW Wright Construction
"The crew with my team today was outstanding. My employees made sure to tell me how knowledgeable, polite, and hardworking each member of this crew was throughout the day."
- Damon Barbour, Supervisor, Reg Operations Line & Sub, West, Potomac Edison
"I want to thank Flagger Force for providing us with an outstanding and professional crew. The dedication your employees show on the road is very gratifying knowing they are the ones protecting our crew. Thank you for keeping us safe."
- Shane Satterwhite, foreman, Pike Electric