National Work Zone Awareness Week (NWZAW) was held this past week, April 11 – 15, 2022. The annual national spring campaign, led by the American Traffic Safety Services Association (ATSSA), is held at the start of the season to encourage safe driving in work zones.
This year's NWZAW campaign, "Work Zones Are A Sign To Slow Down," was created to increase awareness around why paying attention to the posted signage is important to motorists and community members traveling on our roadways.
Flagger Force, an industry-leading traffic control company in the eastern United States, supported this year's events alongside our department of transportation, client, and industry partners, sharing messages to community members to, "Stay Alert. Stay Alive." while in work zones. We've collected the highlights of the week to share them with you!
Monday: Work Zone Safety Training Day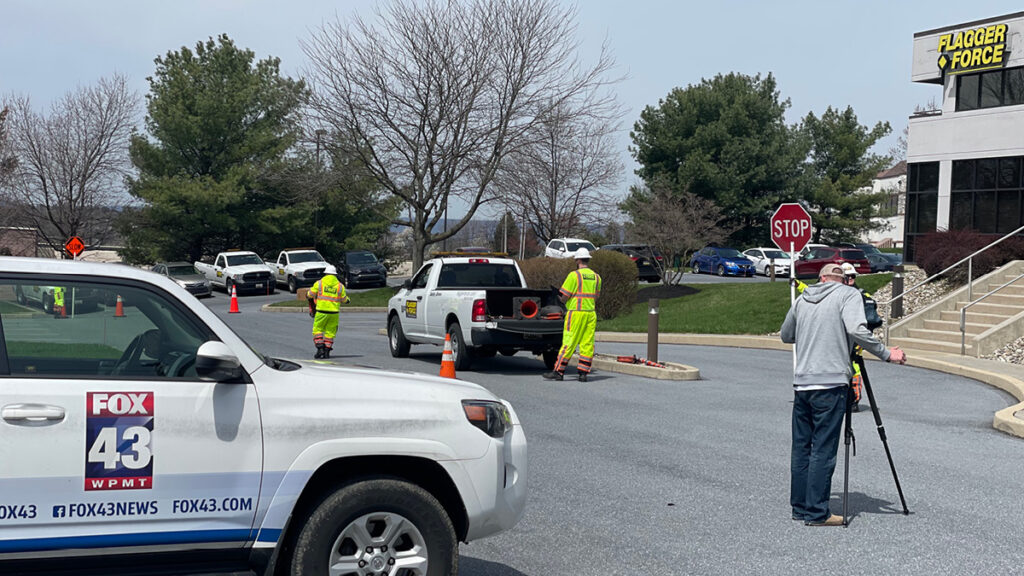 Flagger Force hosted a hands-on safety training to demonstrate a skills evaluation in Hummelstown, PA, for local media outlets. This demonstration displayed the training assessment in which all new employees must participate during their initial training, including the first few steps of how to safely set up work zones, which help motorists navigate through a pattern of signs, barrels, and lane changes.
"I wish National Work Zone Awareness Week was International Work Zone Awareness Week. Everyone should know to stay alert while behind the wheel while in work zones or any other time. We all want to go home at the end of the day, just like you."—Steven Jones, lead instructor, eastern Pennsylvania
Training participants included the Flagger Force safety and training team members from throughout the footprint.
Tuesday: Kick-Off Events
As a part of the national NWZAW kick-off event, several states hosted local media outlets to share important messages from transportation and government leaders, all with the consistent message: everyone wants to go home safe at the end of the day.
Maryland
Luke Lazar, Flagger Force vice president of risk and safety, joined our partners at the Maryland State Highway Administration (SHA) in Dixon, MD as speakers shared Maryland-specific statistics regarding incidents in work zones with attendees. Ronnie Wright, a Maryland Department of Transportation employee, shared his recent experience when a vehicle struck his truck-mounted attenuator, reinforcing with community members, "like everyone else trying to get home to their family at night, we're out here doing the same thing."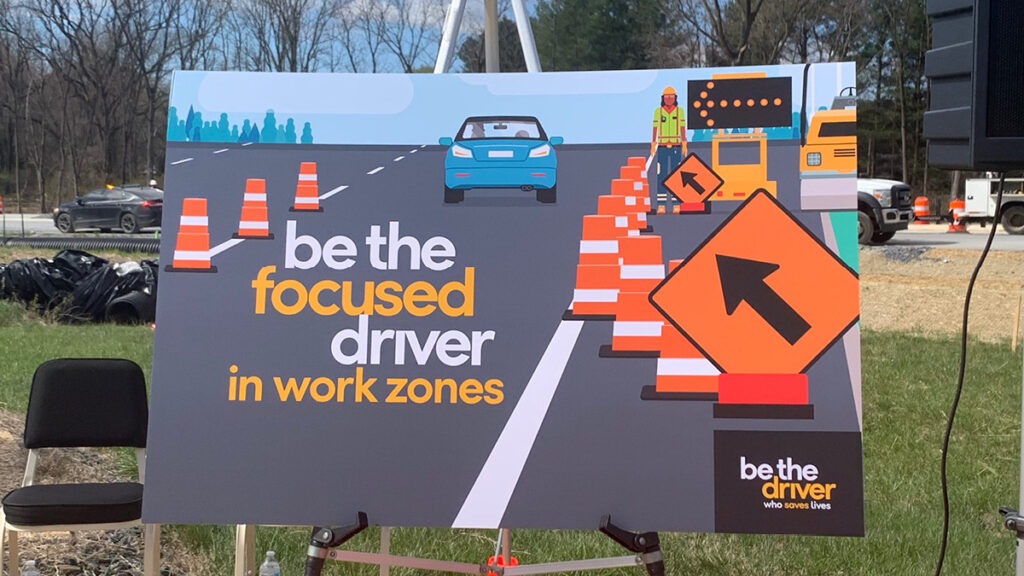 From 2016 to 2020, Maryland reports:
7,704 work zone related crashes, injuring 3,263 people
46 people lost their lives in work zone crashes
1 out of 2 people injuries killed or injured in work zones are motorists
1/3 of work zone crashes are rear-ended collisions
Leading causes of work zone crashes are:

Distraction
Speed; and
Following too closely
To view the press conference, check out the Maryland SHA Facebook page.
Virginia
Meanwhile in Virginia, the host state of NWZAW, the national kick-off event was hosted by the Virginia Department of Transportation (VDOT) at the Hampton Roads Bridge-Tunnel Expansion Project in Hampton. They also released a new work zone awareness video featuring employees of VDOT, sharing important safety messages. In 2021, the commonwealth of Virginia reported:
Fatalities increased by 155%
Crashes increased by 41%
Injuries increased by 20%
Speeding crashes increased by 35%
Distracted driving crashes increased by 27%
There were so many events throughout the nation that we can't capture them all! We encourage you to check out #NWZAW on Instagram to see how others kicked-off the week.
Wednesday: Go Orange Day
ATSSA identifies the Wednesday of NWZAW as "Go Orange Day." Wearing orange during NWZAW shows your support for work zone safety. From work zones to social media, traffic control professionals were supported with orange t-shirts, hats, and furry friends in orange.
At Flagger Force, our employees wore special "I Am Not A Cone" shirts that were shared throughout the company. Employees submitted safety messages leading up to NWZAW, which were utilized internally and on social media channels!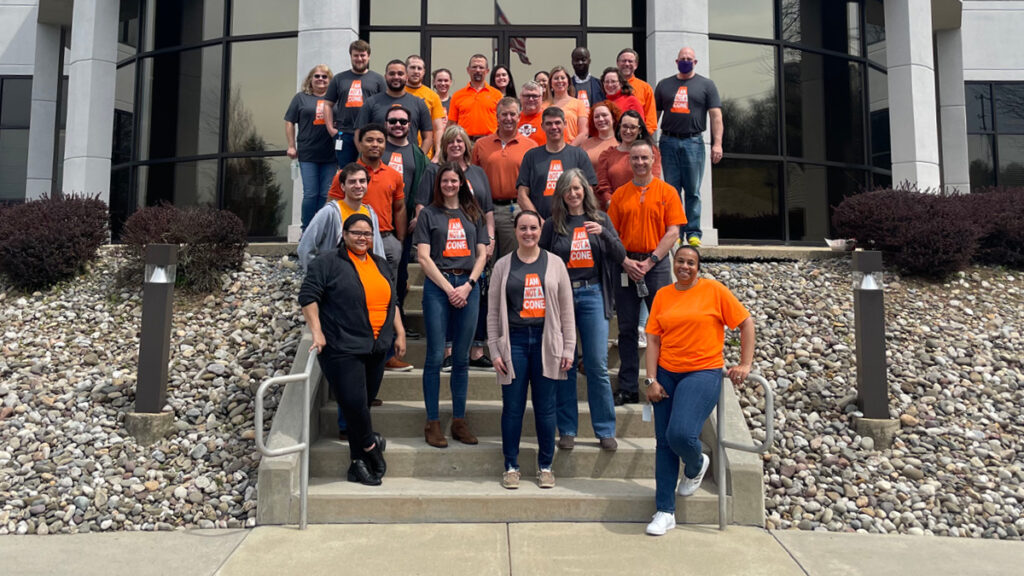 These shirts are a symbol that we do not wear orange in work zones, but highly-visible personal protective equipment (PPE) that helps keep roadway professionals stand out from the other features of the site that may be orange, like signs, cones, etc..
Orange in a work zone means caution or "watch out!" which is why you frequently see it used in high-visibility PPE and safety equipment. Our subconscious automatically associates orange with caution, particularly when coupled with contrasting colors and fluorescents. When in an active work zone, workers only have the orange cones and barrels to protect them from the passing vehicles on busy roadways. You will notice as you drive through a Flagger Force work zone, that our employees do not wear orange. Their PPE features fluorescent yellow and reflective tape to stand out amongst the other features of the work zone.
It's important for everyone to remember that people aren't cones, put away your distractions, and stay alert while behind the wheel.
Thursday: NWZAW Social Media Storm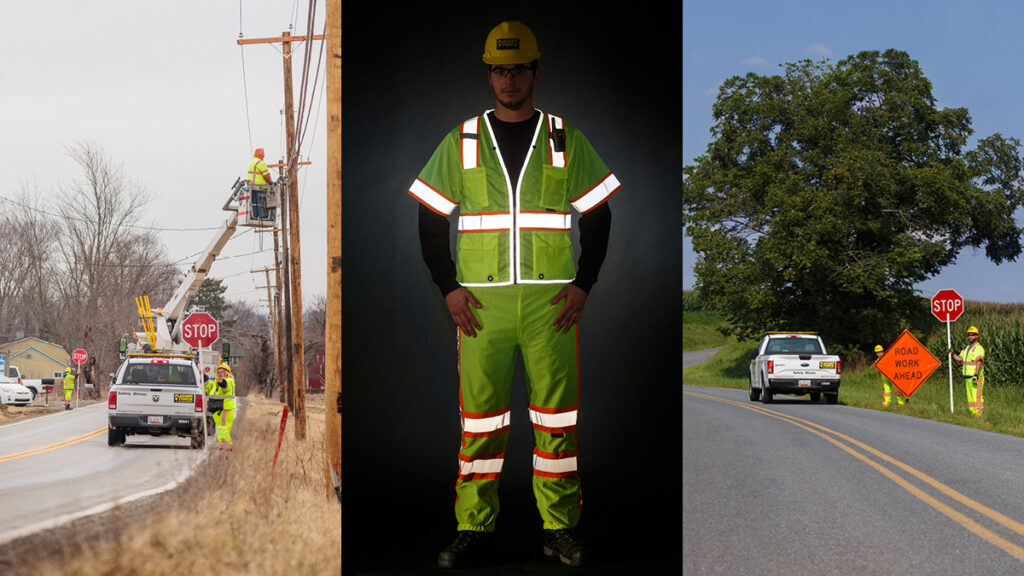 Flagger Force and our partners came together virtually on social media to share important safety messages from traffic control professionals to go viral with safety content. Through the power of Facebook, Instagram, LinkedIn, and YouTube, safety messages were shared to audiences with the hopes of raising awareness about the importance of safe driving in work zones.
A very special thank you to each of our partners for their continued support for work zone safety.
Friday: Moment of Silence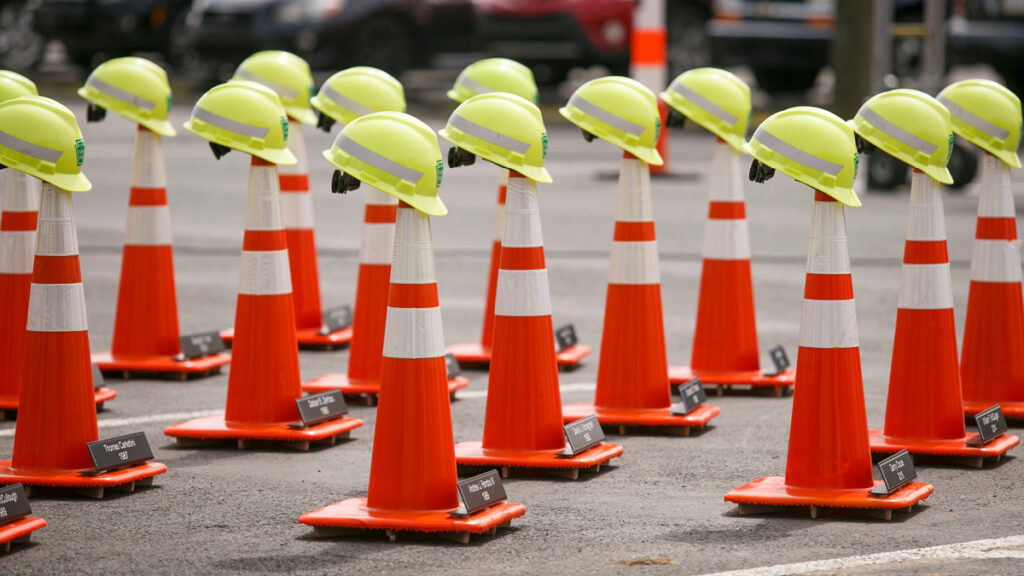 On the final day of NWZAW, we honor those who have lost their lives in a work zone incident. In 2020, there were 857 total work zone fatalities. These accidents did not have to happen. We can all come together to spread awareness and share important reminders for all motorists:
Slow down
Avoid driver distractions
Obey all signs
NWZAW is a yearly campaign
Looking for more information about NWZAW and how you can participate? Check out NWZAW.org for all the details.
Summary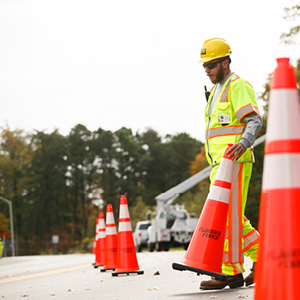 Article Name
"Work Zones Are a Sign to Slow Down"—National Work Zone Awareness Week 2022
Description
National Work Zone Awareness Week (NWZAW) was held this past week, April 11 – 15, 2022. Here's a recap highlighting of our efforts this year.
Publisher Name
Publisher Logo