At Flagger Force, we're focused on highway safety because that's where our team members work. They spend their days (and sometimes nights!) sharing the road with drivers. So, we want to keep them safe. To us, safe driving means safe work conditions—it's a win-win.
Now, if we're going to try to prevent traffic accidents, first we need to know what causes them.
Why Do Car Accidents Happen?
Most car accidents happen due to distractions and not paying adequate attention while turning or crossing an intersection, according to National Highway Traffic Safety Administration, who studied this issue in great detail and issued a report to Congress.
If the factors above do not surprise you, here are a few that might be. Most traffic accidents occur on clear days (74%), during daylight hours (71%), and very few accidents are caused by vehicle malfunctions—just 6.8%.
So, what does this add up to? It means that most car accidents are caused by something within the driver's control—paying attention and avoiding distractions.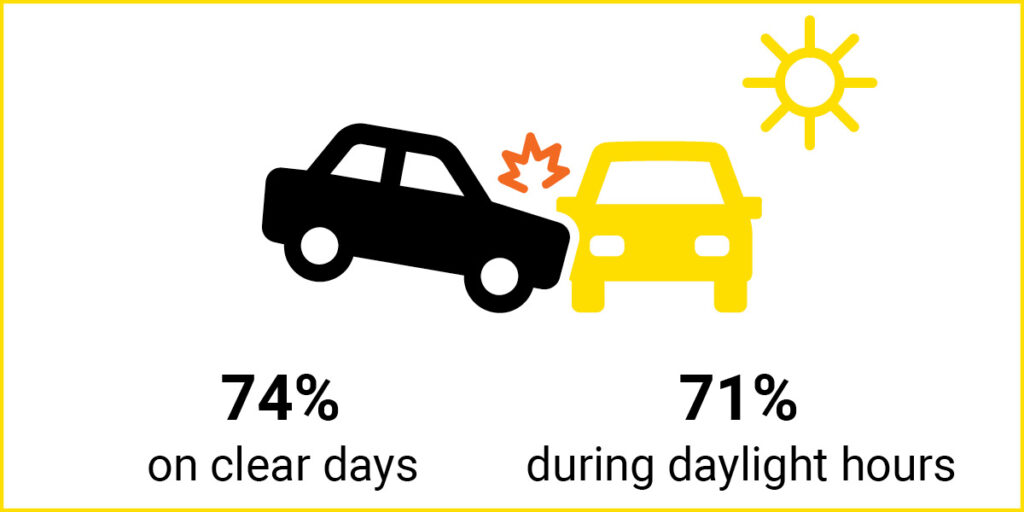 What's Our View of Safe Driving at Flagger Force?
Flagger Force team members spend a lot of time in work zones, and they also spend a lot of time behind the wheel. This year, our employees will drive approximately 15,000,000 miles! So, promoting safe driving is a critical part of our company's safety culture. Here's some perspective from our Flagger Force leaders:
Distracted Driving: "Distracted driving is one of the most dangerous things a person can do. It not only increases the driver's chance of having an incident, but it also puts everyone around in danger."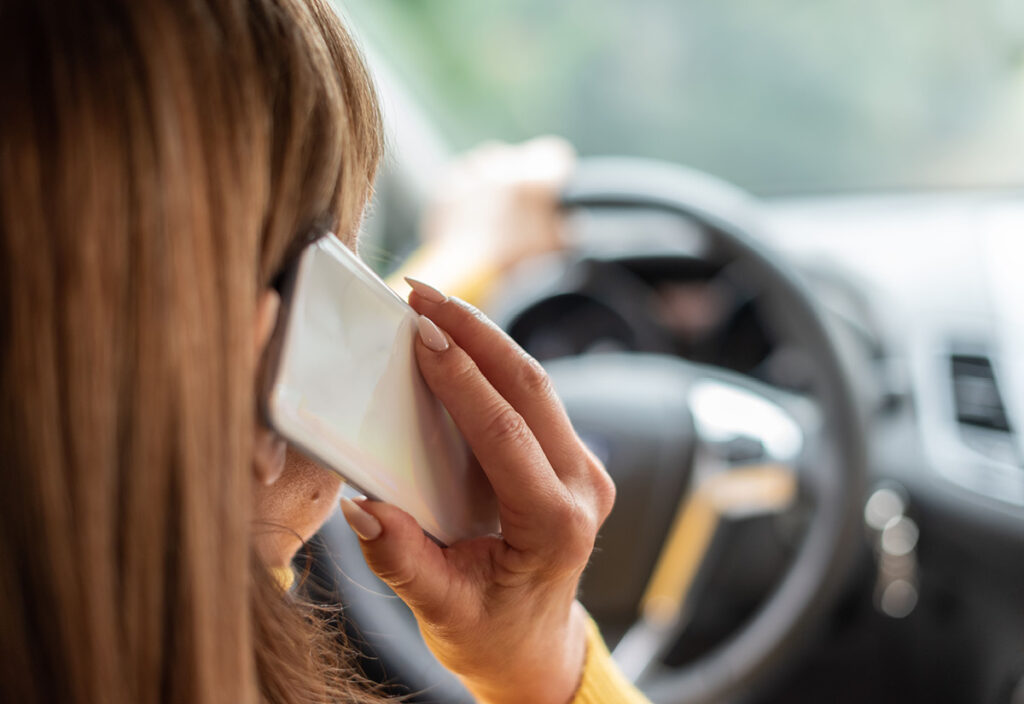 "Someone that's 'distracted,' is someone that has something in their hands, such as a drink, food, phone, make-up, or other item(s) that take their attention away from the task of traveling safely down the road. It includes folks holding pets and children. Plus, passengers can be included as distractions, listening to music, or other exterior influences, such as looking for street names. The exposure to a significant incident is tremendously increased if our drivers or other drivers are not completely focused on the task of driving."
In summary, "distracted drivers within our work zones present a significant risk of injury to our employees, contract partners, and themselves."
From "Distracted Driving" to "Active Driving:" What's the opposite of distracted driving—active driving. This is focused and safe driving. It starts with actively focusing your attention on a single task, driving. It involves creating space around your vehicle so that you have time to react to others.
And it's important to get into a mindset of active driving and stay there. If you find yourself losing focus or becoming distracted, you need to notice those distractions and address them. Pull over and reset. Then move forward, focused on the task at hand. Here are a few specific recommendations for practicing active driving:
Keep conversations light.
Reserve your phone for emergency use.
Avoid eating while driving.
Keep the radio at a reasonable level.
Practice defensive driving.
Driving Safety Tips from Nationwide Insurance
Insurance companies know a lot about traffic accidents because it's in their best interest to help their customers avoid them. So here are some safe driving tips from Nationwide.
Focus on Driving: Ignoring distractions while driving and maintaining focus on the road is key to driving safely. To keep focused while driving, you should follow these steps:
Keep 100% of your attention on driving—no multitasking.
Don't use your phone or any other electronic device while driving.
Slow down. Speeding gives you less time to react and increases the severity of an accident.
Practice Defensive Driving: Defensive driving is when motorists use accident-preventing techniques with a focus on driving safely. You may even be eligible for a defensive driving discount with your insurance carrier. To practice defensive driving:
Be aware of what other drivers around you are doing and expect the unexpected.
Assume other motorists will do something crazy, and always be prepared to avoid it.
Keep a two-second cushion between you and the car in front of you. Make that a four-second cushion in poor weather conditions.
Make a safe driving plan:
Build time into your trip schedule to stop for food, rest breaks, phone calls, or other business.
Adjust your seat, mirrors, and climate controls before putting the car in gear.
Pull over to eat or drink.
Secure cargo that may move around while the vehicle is in motion.
Don't attempt to retrieve items that fall to the floor.
Have items needed within easy reach—such as toll fees and garage passes.
Always wear your seat belt, drive sober, and drug-free.
Safe Driving Allows You to Expect the Unexpected
Ultimately safe driving is about avoiding distractions, staying focused, and expecting the unexpected. It's simple to understand but sometimes hard to remember to do. When the phone buzzes or that sandwich beckons, your focus can go out the window.
But what's important to realize is how much is at stake—your safety and health are at stake and not just yours but those with whom you share the road, including Flagger Force team members. So, the next time you get behind the wheel, make a safe driving plan because it's good for you and everyone else.
Summary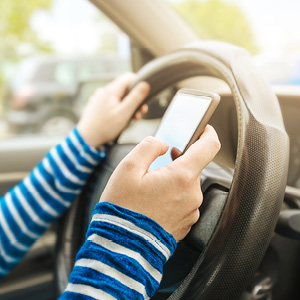 Article Name
Safe Driving: Pay Attention and Expect the Unexpected
Description
To us, safe driving means safe work conditions. Explore what causes accidents, safe driving habits, and tips on how to expect the unexpected.
Publisher Name
Publisher Logo