A rolling slowdown is an example of some of the most precise craftwork in the traffic control industry, requiring training, discipline, excellent choreography and communication. So what is a rolling slowdown? Sometimes referred to as a rolling roadblock, it is a method of temporary traffic control used to slow or stop traffic as a means of blocking it from a section of a roadway for a short period of time.
The rolling slowdown controls all lanes of traffic on a given roadway through the use of pacing vehicles. These vehicles coordinate their travel to create a gap in vehicle traffic so construction activities can safely be performed on or near the roadway. This traffic control method is for short-term work such as wire pulls (see October 2016's issue of On the Move), placing bridge beams, and other large construction maneuvers. Of course, anytime a section of roadway is impacted in this way, traffic delays are inevitable. Accurate and efficient execution of a rolling slowdown is critical.
'TMAs' ARE THE TOOLS OF THE TRADE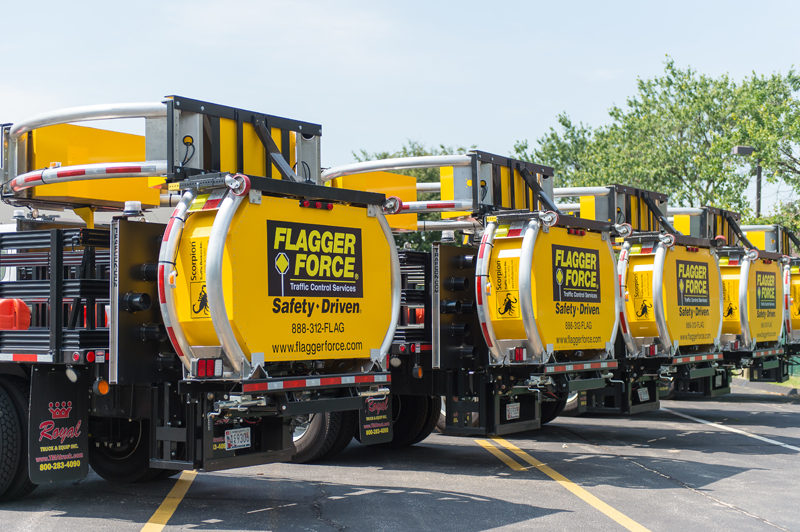 A pacing vehicle is typically created by modifying a flatbed truck specially designed to hold a truck-mounted attenuator (TMA) in the rear to function as a crash cushion in the event another vehicle would strike it. These vehicles are also fitted with braking systems and additional weight to counter a potential impact. TMAs are used in several traffic control applications, but rolling slowdowns are certainly the most dynamic.
"Flagger Force makes use exclusively of the Scorpion Attenuator, built by Traffix Devices, a leading manufacturer of TMAs. The Scorpion is widely considered to be the best and safest attenuator on the market by many industry experts. It exceeds industry test parameters, as well as having been tested for side-impact situations. As safety is of paramount importance for workers and the driving public, new, well-maintained units like this are what we look for in evaluating equipment for a rolling slowdown," says Andrew Roberts of Royal Truck & Equipment.
PLANNING & COMMUNICATION
Clear planning and communication are the hallmarks of a quality rolling slowdown operation. This process starts with a comprehensive pre-construction meeting detailing all the contractors and regulators involved, along with project logistics, including the location of on-ramps and turn around locations.
"What makes the difference between a bad job and a good job is the pre-planning. We want to see our traffic control partners engage in the initial planning stages so they understand our job. What really impresses me is when they send a project manager on-site and in person to do the walk-through well in advance of the job's start time. That kind of commitment gives me confidence so I can focus on the actual work at hand," says Hank Bayes, a safety manager at Fiber and Cable Specialists Inc.
THE WORK ZONE SETUP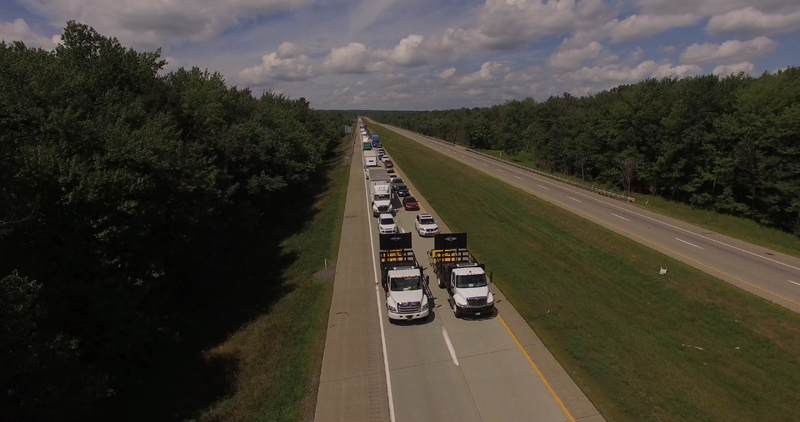 Knowledge of how to appropriately interpret and implement state work zone standards is critical, as each job has unique characteristics that must be addressed accurately and safely. Because of the dynamic and invasive nature of this procedure, advance warning to drivers is of extraordinary importance. Device placement is key, and portable changeable message signage (PCMS), along with other advanced warning signage, must be thoroughly positioned per state standards (e.g. "LANES
BLOCKED AHEAD").
EXECUTING MANEUVERS FOR THE SLOWDOWN
Of course, the key resource in this process is the truck-mounted attenuator. One pacing vehicle with a TMA must be assigned to each travel lane. From a staging point on the side of the road, like the shoulder, the pacing vehicles will merge into the flow of traffic and position themselves
in tandem at least one mile (or, per state standards) in advance of the work area. The pacing vehicles roll toward the work area and gradually slow down, creating a temporary gap in traffic for the work, such as safely pulling a wire
across the roadway.

WASH, RINSE, & REPEAT
It is typical for a job to require multiple slowdowns in a single day. Between each slowdown, the flow of traffic must return to normal pre-stoppage conditions. As the flow of traffic cannot be halted for a long, continuous stretch of time, it's critically important to have maneuvers coordinated correctly across the job.
"What we find is that taking the extra step of positioning a traffic control liaison with the project manager maintains the smoothest and most accurate flow of information throughout the job. This is so important to get our timing just right with each slowdown project," says Brandon Smith, a Quality Specialist at Flagger Force.
Summary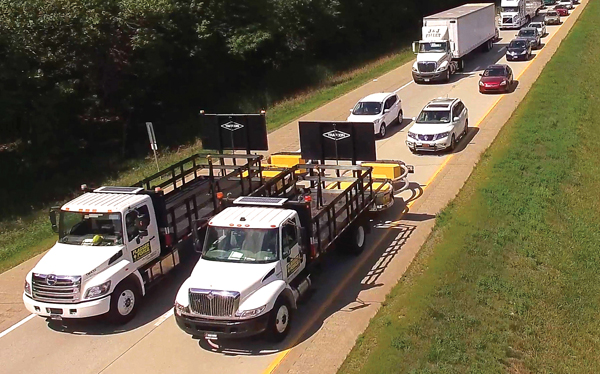 Article Name
Precision Rolling Slowdowns
Description
A rolling slowdown is an example of some of the most precise craftwork in the traffic control industry, requiring training, discipline, excellent choreography and communication.
Author
Publisher Name
Publisher Logo