After joining the Georgia Public Service Commission (PSC) in 2018, Tricia Pridemore was unanimously elected chairman of the Commission by her fellow Commissioners in July 2021. A prior chair of the Telecommunications Committee that focuses on telecom matters, including rural broadband, she also serves on the Advisory Board of the Financial Research Institute at the University of Missouri, the Gas Committee of the National Association of Regulatory Utility Commissioners (NARUC), and the NARUC Subcommittee on Education and Research. She is also the NARUC liaison to the University of Wisconsin School of Public Utilities. In 2020, Pridemore was appointed to the U.S. Department of Energy and NARUC Natural Gas Partnership, a partnership designed to facilitate the exchange of information on emerging regulatory and technological solutions.
Flagger Force: How would you describe the work that the Georgia Public Service Commission does for the community?
Commissioner Pridemore: First and foremost, the Georgia Public Service Commission is the ratepayers' representation to utility companies. So, our job is to not only ensure that the ratepayers get the best value for the services that are being given and purchased, but also that we're investing in a healthy, resilient utility system.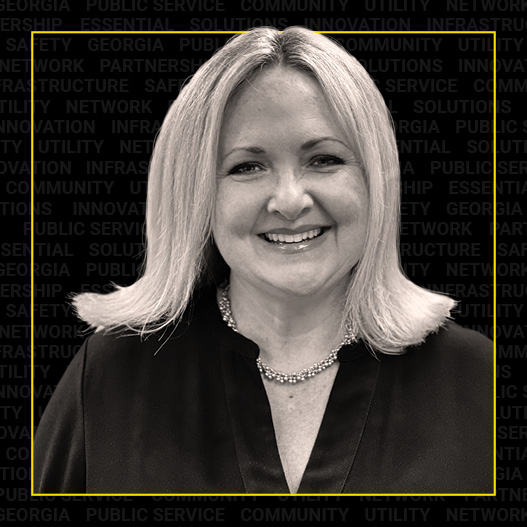 When you look at some of the challenges that states have had just over the last few years with resiliency, whether it be on the electric side, natural gas side, and even landline telephone side, it's really critical that a system gets investment. And the investment is done smartly, thoughtfully, and balances the needs of new technology to improve the system while taking advantage of every previous investment made in the system. I like to say that part of my job is to wring out every bit of worth from previous utility investments, and so that way, the ratepayers get the best value for what's being put into the system that provides them with the best service.
I always look forward to talking with Georgians about what we do because although it's nerdy and I try really hard not to put them to sleep, I do think that we, as people who flip on a light switch and charge a cellphone, just kind of take it all for granted sometimes. But there is a whole system of qualified and capable people making major investments to try to ensure that the system is resilient and strong and that we're doing it all at a fair price.
Flagger Force: What are some of the newer challenges that the PSC are currently presented with that are also facing the utility space?
Commissioner Pridemore: I think trying to work out this balance between what the federal government is doing with energy (particularly electricity and natural gas) and trying to stay ahead of where we think that's going because that's going to help us drive investment in the system. There are some aspects of this that are kind of obvious in that states are not getting scrubber licenses anymore so no one's building new coal plants. But are we smart to invest in natural gas generation for electricity, or is that going to come into peril in the next couple of years? Staying one step ahead of where we think Washington is going to be is important.
In Georgia, we always did a pretty good job of that, but I also think that it's because we're also very bullish about technology and trying to always do new things and push for innovation. Plant Vogtle, which is the first new nuclear plant in the country, is set to come online, one unit next year and then another the following year. It's been a hard project. Building nuclear plants takes time and a lot of money. I know some people wanted the state to give up a while ago, but it's going to produce 24/7 carbon-neutral power for our state for the next 60 to 80 years. And that gives us an edge and some insulation against changes out of Washington.
There is also a necessity for rural broadband. Broadband and the internet, it's not regulated by anyone—not at the federal or state level. Having just come through the pandemic and seen the importance of having high-speed internet connections to people in rural sections of our state, in Georgia, we have 140 counties (out of 159) that have underserved or are unserved populations for broadband. You just can't imagine going through online school and online work, and the very stationary place that our lives were during the height of the pandemic, and not having the internet. So, whether it's through these federal dollars that are now rolling into states as part of the American Recovery Act or through the approximately $370 million in grants we brought in last year for rural broadband expansion into Georgia, we know connectivity is crucial.
All utilities—not just communication utilities—are trying to look at the fiber they have in their networks to see how it can best be utilized to connect more people across the state. Our largest investor-owned, vertically integrated utility is Georgia Power. They have a lot of dark fiber in the ground and on the poles and are trying to understand how best to utilize that to help people and to strengthen our state's communication because emergency communication capabilities is important. So, I think those are some of the big challenges that we face right now.
When we look into next year, we'll go through an integrated resource plan with Georgia Power, where we do the 20-year mapping of their generation as well as transmission needs. Trying to determine where those investments are going to be as we look at fleet retirements, more coal units coming offline, being aged out, and then figuring out how those coal units are going to be replaced is also critical.
Solar's great. We're number seven in the country with solar. We're proud of what we do. But solar is expensive from the transmission side. And we know based upon just the last few months in Washington, that they are expecting states to absorb the cost for increased transmission and grid hardening to put more solar in the system. So, it's definitely a balance.
Flagger Force: Now that you've expressed what the challenges are, how do you collaborate with other state and federal agencies when you're trying to solve these challenges? Are there any shared projects or initiatives between Georgia and other states?
Commissioner Pridemore: There's a shared project right now with other states that we're hoping the FERC (Federal Energy Regulatory Commission) will pass, and that's called SEEM, Southeastern Energy Exchange Market. SEEM is just on the electric side. And it's there to provide a multi-state network of southeastern utilities and regulatory stakeholders like myself, who want to have up to the minute ability to not only transfer electricity, which currently exists but also capability of selling it with pricing markets that go with that.
The original transmission operator is an RTO, (regional transmission organization) which can potentially create an unnecessary layer of complication between the regulator, the utility, and the customer. If there are challenges with the RTO, such as system outages, investments in new lines, and grid security are socialized across those different states. What SEEM does is it takes the best of RTO, but it gives control of the system to elected regulators, such as me. That way, if something goes wrong, there is somebody to contact. We're excited about it and hope FERC approves SEEM over the next few months.
We're also doing a lot on the broadband side with other state agencies. A great deal of collaboration is going on right now—which I'm excited about because I think up until maybe the last year, there were only two state agencies in Georgia that were talking about rural connectivity. And so now, we've got the Department of Community Affairs involved and the university system.
We do a lot with the Department of Transportation as we look to expand the system and keep the connectivity costs low. We want every dollar that flows into the state for connectivity to go to connect someone's house, to connect someone's business. We don't want it to go into fines and permits.
Flagger Force: It seems you may have already touched upon this with rural broadband and the expense of solar and some of those challenges that you face, but name an issue that would benefit from more attention in the utility sector right now?
Commissioner Pridemore: There's a lot. Transmission upgrades and security are really important. I recently met with other state regulators at the Department of Homeland Security where we learned more about the importance of grid security and the steps needed to protect ourselves against attacks or potential attacks on the grid. While I can't speak to what I learned, I can say with certainty that Georgia and the United States are doing the right things. The hackers will always try to get one step ahead of us but whether it's through technology adoption for physical grid security and/or transmission security work, the public needs to understand, that these investments are essential to keep our utilities up and moving.
The hacking attack at Colonial Pipeline this past year was a real wake-up call for a lot of people in the utility industry. We saw just exactly what happens when a foreign government decides to attack your system and how it can wreak havoc. But I do think across the board, all utilities I've worked with and even those that I've talked with from other states, know the critical nature of this issue. It's trying to ensure that the public understands so they're willing to pay a few extra dollars a month to have that additional security in this system.
Flagger Force: What's something you feel many people don't know about the PSC that would benefit from greater awareness?
Commissioner Pridemore: That's a great question because I think that most of the time, people don't even know what the PSC is. When I tell them what we do and offer my office to help them with their individual utility challenges, most of the time, within a matter of a year, I'll hear from that person or somebody that person knows.
The one piece of it that I hope folks always understand is that a regulator is not just there to set rates and work on strategic planning for a utility. We're also there to directly help the consumer and assist them with their problems with the utility when they come up.
We also are very public about the rates of our gas marketers in Georgia. We produce a monthly rate scorecard on our website that anybody in Georgia can go to and see who's got the lowest natural gas rates. I encourage everybody to shop their natural gas marketer once a year. It takes so little time, and you'd just be amazed at how much money you can save. On the electric side, you don't have the ability to shop your provider, but you can shop your plan. I encourage people to do that as well—call their electric provider whether it's a municipal, one of the 41 co-ops in the state, or Georgia Power. Call and shop your plan and see if you wouldn't save money by going onto a time of use plan or maybe a flat bill plan. There are ways to save money with your utility usage, so take advantage of it. It's just money in your pocket.

Flagger Force: Good advice. What does the PSC look for in effective safety partnerships between utilities and utility partners?
Commissioner Pridemore: The PSC oversees safety of gas pipelines. Safety is first—everything stems from safety. We have a county-wide safety plan where a safety analysis is done by a third-party partner who looks at the health of the system. This allows us to work with municipal gas providers who may need additional assistance or resources. On the electric train emission side, our transmission work is shared between Georgia Power, the co-ops, and the municipalities all through the Georgia Transmission Company, who does a great job of managing our transmission assets across the state. We have a very clean green approach to transmission management. All this work is done through a combination of third-party contractors and Georgia transmission company employees. There's a lot of collaboration that happens on the safety side.
Flagger Force: What are the top issues for the utility industry in the next 10 years?
Commissioner Pridemore: I think number one on the electric side is fleet retirement and transformation as we move nationally to a cleaner electricity generation means, but that must come with baseload power. And I think it's that management and that balance that's so critical.
We've had states where their legislatures have passed very aggressive portfolio standards that don't allow anything generated that isn't 100% carbon-neutral, and they've retired their nuclear fleet to go along with it. They're buying electricity from other states that's coal generated. We've got the same challenge right now with solar manufacturing—94% of our nation's solar parts come from the part of China that is 100% coal powered. So, if we're going to make a commitment to a cleaner and greener environment and energy generation, it's time we look at how we're going to make sure that every piece of the supply chain is cleaner, and not just that one piece that some politician wants to get behind.
And I say all that knowing I'm also a politician, but I just think we have to be smart about it and we have to be authentic about it. If we do those things, we can still maintain a positive and effective rate environment for the customer while still transitioning our fleet.
But we still must have baseload, which means we still have to have natural gas and we still have to have nuclear to make all this work. Batteries are important. Solar is important. But we've got to start talking now about decommissioning. And when the time comes to decommission, what are we going to do with these materials? They're not just everyday house refuse that can be thrown into landfills. How are we going to be able to manage and keep that clean disposal when the time comes? These are conversations that the utility industry is going to be dealing with in the next decade. I hope we're smarter about it and maybe get a little bit more out ahead of it than we have been in the past.
Flagger Force: One last thing I was thinking of as we were going through this, especially from the utility standpoint, Flagger Force works primarily with utilities and their subcontractors working on or near the roadways to improve the infrastructure that you've been mentioning. How important is it for communities to understand the work that the utilities are doing? Instead of hearing, "Hey, Georgia Power shut down my power again—what is going on?" what are some ways the community can be more involved in those infrastructure upgrades?
Commissioner Pridemore: That is a great question. So, I will tell you in Georgia there's major construction getting ready to happen up and down Peachtree. They're getting ready to bury the utilities along a long section of Peachtree Street, which has never been done before. People are already aggravated because they're going to have to be detoured. The utilities got together with the city and issued a social media campaign informing the public of what was happening on Peachtree Street. I thought it was effective and clever because they talked about the benefits to the customers when it came to security and safety by burying those lines deeper and replacing the last of the state's bare steel pipe. Plus, they said, "Okay. We're going to improve the fiber that's in the ground too for faster internet." On the electric side, we're adding additional transmission to get to our solar farms that are right outside of Atlanta to provide us with cleaner energy.
By just telling people what's going on, I think that that really helps gain support. People get excited about how they will benefit instead of just sitting in traffic and staring at the workers upset they may be delayed. It gets them psyched. It's just about communicating and letting people understand why things are happening.
CONTACT US
Want to collaborate with us? Have a content idea? Reach out—we look forward to partnering with you to keep our communities moving.
Summary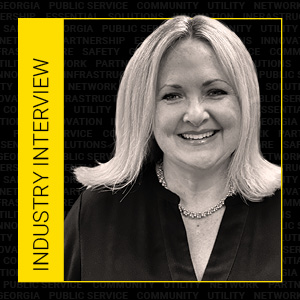 Article Name
Interview with Commissioner Tricia Pridemore, Georgia Public Utility Commission
Description
After joining the Georgia Public Service Commission (PSC) in 2018, Tricia Pridemore was unanimously elected chairman in July 2021.
Publisher Name
Publisher Logo