Since becoming the Secretary of Transportation for the Pennsylvania Department of Transportation (PennDOT) in 2015, Leslie S. Richards has been recognized by both the public and private sectors for her innovative methods of solving some of the problems that present themselves in this industry. When selected by Pennsylvania Governor Tom Wolf, she was a Montgomery County Commissioner with over two decades of experience in the private sector. She has worked tirelessly since becoming Secretary to bring Pennsylvania's transportation industry into the 21st century.
Flagger Force: What is your background as it relates to the transportation
industry?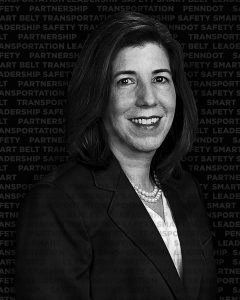 Leslie S. Richards: Before I joined PennDOT as the Secretary, I was vice-chair with the board of commissioners in Montgomery County, Pennsylvania. In addition, I had experience working at a woman-owned civil engineering firm and a consulting firm, working in the private sector for than two decades. I enjoyed what I could do in these private sector positions. From managing multi-million-dollar infrastructure projects to facilitating public meetings about transportation issues in those communities, it was all impactful work that has led me to the current position I am in today.
Flagger Force: With the recent honor of receiving both the Female Innovator of the Year for a Government or Non-Profit with 2,500 employees and the Female Executive of the Year from the International Stevie Awards for Women in Business, how has this recognition impacted you in how you view your career?
Leslie S. Richards: Everything I have done so far as PennDOT Secretary has been accomplished by leading a team, and I am very cognizant of that. On a daily basis our staff works incredibly hard to make a positive difference in Pennsylvania in terms of transportation. Receiving this award is a great representation for everyone who works at PennDOT, even before I took this role. I think it's fair to say that for many reasons women are not always completely comfortable to be outspoken about their accomplishments, so by receiving this recognition, it encourages an important and broader dialogue about leadership in general. Since the award was honored to us, it has had me take a few steps back and reflect on how we at PennDOT recognize our people and our partnerships. I am very proud of this award and the work that has led up to us receiving it. I have noticed more people recognizing our organization for the work we do. People don't usually think of a government entity as a large business, but we are. We are a multi-billion-dollar entity with 11,500 employees, so any type of national or international awards we receive makes me very proud of who we are. This strengthens us as a national leader within the innovative technology sector.
Flagger Force: Upon reflection of your recent awards, what advice or information do you have for aspiring female leaders?
Leslie S. Richards: Everyone has something valuable to share, especially their own personal stories. During my acceptance speech at the Stevie Awards, I mentioned that I lead an agency with a budget of over $9 billion, and so many females in the audience came up to me to share their thoughts about how they found that inspiring. For me, thinking of where I was in my life when Governor Wolf asked me to join his cabinet is an inspirational story. I didn't realize it then, but it is very uplifting for working parents, particularly working mothers who are trying to balance their career with their personal life. Not many people know that I was a stay-at-home mom for seven years. Being able to demonstrate that it is possible to come back and pick up where they left off in their career, is an important message.
Flagger Force: You mentioned becoming seen as a national leader in innovative technology. How are DOTs keeping up with this rapidly growing technology—specifically, driverless/driver-assisted vehicles?
Leslie S. Richards: All DOTs are working hard to build a framework for addressing the development and the potential of automated technology in the transportation industry for the next five, ten, fifteen years down the road. We are trying to figure out how quickly we are going to get there and how we get there. Every time this topic is discussed, especially with all the unknown factors, there are a lot of questions that come out of it: What will our vehicles and roadways look like? How will you insure the vehicles and the driver? When there are accidents, who do you blame? How do we prevent cybersecurity issues? How do we educate individuals on the benefits of having an automated vehicle?
Nationally, there were 37,000 deaths in 2014. Today, we are at over 40,000 deaths on roadways—over 94 percent of those accidents are related to human choices. Automated technology may allow us to remove the human distraction element, which could one day reduce that percentage to zero. It could also bring up other issues and new categories of incidents, but the human distraction element in causing crashes is one that we need to urgently deal with in a significant way.
Flagger Force: PennDOT has created the Autonomous Vehicle Policy Task Force recently to study this type of technology and how it relates to drivers. Can you expand on how you see this group evolving in the next couple of years?
Leslie S. Richards: We formed the task force and had our first meeting prior to the federal guidelines coming out. This technology is moving rapidly, and we must be ready for it. We are working to have relationships with various stakeholders from technology, research, manufacturers, etc. to be sure we are as up to date as possible and are considering all of the elements that are related to this emerging technology. Our task force, established in mid-2016, worked quickly to evaluate all the known aspects of autonomous driving and had a report on my desk by November, which was then released to the public. Our findings show, along with the federal report, that it is important to never compromise safety, but to also allow the room for this technology to develop and mature in an appropriate way. We want to encourage private industry to develop while making sure our roads and transportation networks are safe for all users. Whether it is autonomous or human, public safety is our main priority.
Flagger Force: Recently, Pennsylvania, Ohio and Michigan transportation agencies came together to form a "Smart Belt Coalition"—can you provide us a brief background on this collaboration?
Leslie S. Richards: This collaboration is designed to bring together leaders from all three of the states, and beyond, to evaluate the research, testing, policy, funding pursuits and deployment of automated and connected vehicle initiatives. Currently, participation includes our agency, the Pennsylvania Turnpike Commission, Carnegie Mellon University, the Michigan Department of Transportation, the University of Michigan, the Ohio Department of Transportation, the Ohio Turnpike and Infrastructure Commission and the Ohio State University Transportation Research Center. This coalition allows for all of us to work together to evaluate the technology as well as drive consistency-testing scenarios for the private sector developing this equipment.
Flagger Force: In terms of work zone safety, how does PennDOT see autonomous driving vehicles playing a factor in these areas?
Leslie S. Richards: Work zone safety is something that PennDOT fully supports. We are evaluating methods that keep those traveling or working in our networks, safe and going home safe every night, which is very important. People get distracted very easily, especially teen drivers. You must be fully aware while driving—you never want to just approach a work zone unprepared. As far as the new autonomous technology, we believe it may help drivers move through work zones more safely by consistently managing an appropriate speed of travel.
Flagger Force: What is your point of view on potential partnerships between department of transportation agencies nationwide to improve campaigns for National Work Zone Awareness Week?
Leslie S. Richards: Recently, I was on a panel for TRB (Transportation Research Board) with other members of DOTs in which we discussed what keeps us up at night. The first thing on all our minds is the funerals we attend for workers who have been killed in work zones. We all started talking about this topic and shared information about our safety programs. We look for partnerships throughout the country that help us to better educate the public, motorists and our PennDOT employees, on how to be safe. This panel also discussed some of our ideas on how we can better partner together, and we look forward to discussing this program further. Locally, we work very closely with the Pennsylvania Turnpike on work zone safety and messaging.
Flagger Force: When PennDOT is looking for partnerships, what are some important characteristics that the organization looks for?
Leslie S. Richards: Here at PennDOT, we have the P3 Project, which is a contractual agreement between a public entity and a private entity that has been very helpful in regards to getting our projects done within budget and on time. This also allows us the free-flow of ideas between the both of us, which can bring on new projects. For instance, this has been especially helpful with the planning of all the significant bridge work our department is focusing on. Overall, we have been very pleased with the feedback from this program thus far.
Flagger Force: What would you like to see the transportation industry focus on right now?
Leslie S. Richards: The industry should always focus on safety. But to add to that, I would say technology. There are so many opportunities out there now thanks to real-time data. For example, we have a partnership with Waze, a mobile technology company that provides mapping and travel app services. With this technology, we are able to share and collaborate on information presented to motorists on how to safely navigate our roadways. This technology also receives and reports information back, such as traffic congestion and even the location of hazards like potholes. We want to utilize as much of this kind of data as possible to better focus our resources and improve public safety.
Summary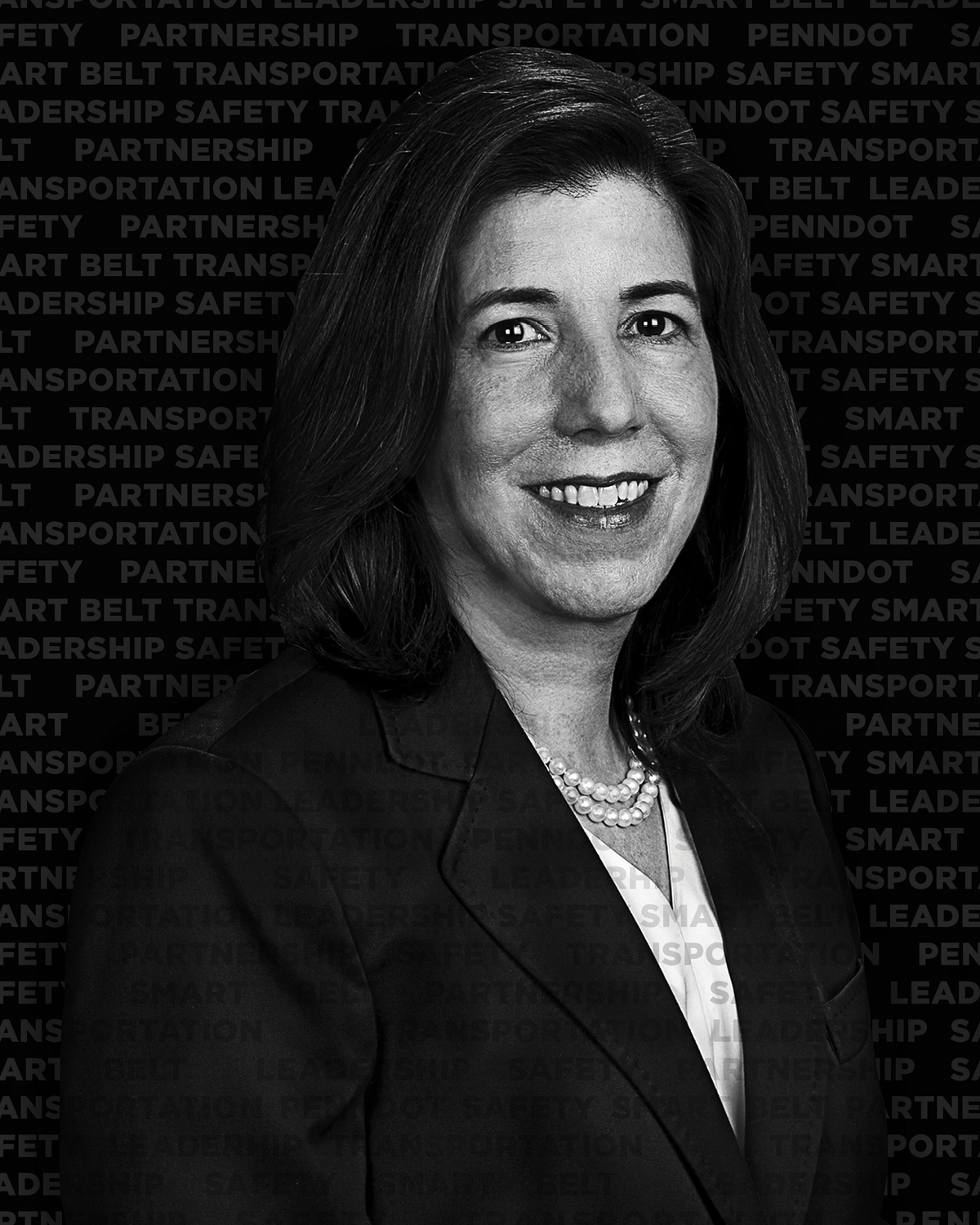 Article Name
An Interview with Leslie S. Richards, PENNDOT Secretary of Transportation
Description
Since becoming the Secretary of Transportation for the Pennsylvania Department of Transportation (PennDOT) in 2015, Leslie S. Richards has been recognized by both the public and private sectors for her innovative methods of solving some of the problems that present themselves in this industry.
Publisher Name
Publisher Logo