Alex Núñez, Senior Vice President of Regulatory and External Affairs for Baltimore Gas & Electric (BGE), has been with the company since 2001. Alex is a native Marylander who is deeply connected and committed to the communities BGE serves across the state. Starting his career with the Maryland General Assembly right out of law school, Alex became well-versed in the mechanisms of government and the needs of the people it serves. Working as legal counsel to the Senate Finance Committee provided him with a detailed understanding of economic development, business regulation, and the energy-utility and transportation sectors—all pertinent to his current role. Flagger Force was recently given the privilege to chat with Alex regarding the remarkable impact BGE has on the Maryland economy and citizenry.
Flagger Force: Alex, what falls under your leadership of Regulatory
and External Affairs at BGE?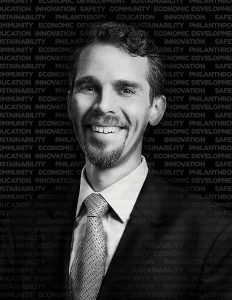 Alex Núñez: Essentially all external relations for the company, such as government affairs, strategy, and regulatory matters, marketing; communications; and philanthropy.
Flagger Force: That is certainly an expansive charge. As an energy delivery company, why does BGE take such a broad approach?
Alex Núñez: It is a broad approach, but so is the scope of our business and the impact that we have in our communities. We serve 1.25 million electric customers and 650,000 gas customers every day. This year marks BGE's 200th anniversary, so we also have a long history of acting in the public's interest, and that legacy guides our future initiatives. BGE has been and remains a company that our customers can trust and believe in. So we need to, and do, engage with our community as a safe and reliable deliverer of energy, but that doesn't define us. We play a critical role in Maryland's economy, and for every dollar that comes into BGE, a dollar plus is created in the Central Maryland economy. We also know that we need to address the diversity of changing needs and expectations of our customers. We are a trusted partner to our customers, which in part means that we are listening to what they need, to what they want, and to what they expect us to be. For instance, we introduced the concept of "smart energy" that has advanced our delivery capabilities to offer a variety of options to save energy, money, and the environment. We are transforming what it means to be a utility company by offering new products and services that allow customers to better manage their energy use now and into the future.
Flagger Force: Would you provide some examples of how BGE accomplishes its goal to support and engage with the community?
Alex Núñez: Sure! How we accomplish that goal is important and evolving. We connect with the community through a wide variety of employee volunteer efforts, nonprofit board support, and financial support to nonprofit organizations. We are always seeking new ways to connect more effectively, efficiently, and directly with our communities—we are focused on getting better every day. For instance, BGE company leaders support and participate in more than 140 nonprofit boards. The value we bring is sharing a wide array of professional experience with these organizations. BGE also donates close to $5 million dollars annually in philanthropic support, and last year alone, our employees logged more than 22,000 hours of volunteer time in the community. Each month, we have at least 20 volunteer opportunities for employees to participate in. They range from volunteering at soup kitchens to supporting community projects and adult learning development programs. Giving back is a large part of being a BGE employee. We want our deep level of engagement to differentiate us, and we are always looking for new ways to improve our efforts and community impact.
Flagger Force: How do you prioritize all these efforts?
Alex Núñez: From a funding perspective, we focus on education, environment, community development, and arts and culture. We see these as core community pillars. We also focus on developing workforce capacity and making new workforce connections. We are constantly looking for the very best talent and see opportunities to further develop the workforce in our community. We implement initiatives in schools across Central Maryland that encourage students to study hard and graduate with an eye to the future, which could even mean a career at BGE. What's more, we engage with educators to inform them about the technical skills essential for a successful career in the energy industry and beyond.
Flagger Force: Alex, what BGE projects do you engage with on a personal level
Alex Núñez: I see a great deal of importance in preparing children for the future. I sit on the board of directors for the Maryland Business Roundtable for Education, which promotes the development of curriculum and students in science, technology, engineering, and mathematics (STEM). The absence of these skills in our younger generations adversely impacts our future economy and workforce. I want to be part of the solution. I feel fulfilled when I see our collective efforts making a positive impact in our economy and in our youth. I'm also mindful of our environment and the need to conserve and protect our natural resources through public engagement. I serve on the board of directors for Audubon Maryland-DC. As a group, we are committed to restoring and protecting natural ecosystems by focusing on the habitat and other needs of birds and other wildlife for the benefit of humanity and the earth's biological diversity.
Flagger Force: How does innovation play a part in your community engagement efforts at BGE? What kind of innovation related to community engagement are you working on at BGE?
Alex Núñez: We prioritize diversity and inclusion as a business practice because frankly, it's the right thing to do. Recognizing the importance of having access to a talented, diverse supplier base that reflects our customer base led to the creation of our Focus 25 supplier development program. This program aims to grow Maryland's minority-owned, woman-owned, and veteran-owned businesses by helping them to successfully compete for service-scalable contracts that advance BGE's mission. Each year, we select a class of businesses and take them through a yearlong educational program centered on our strict standards and regulatory requirements, including safety, financial accountability, and work effectiveness. Launched in 2013, this program has been recognized locally and nationally in the utility industry. Enhancing workforce capacity within our communities adds value not only to BGE, but it paves the way for other businesses to draw on strong local business partners.
Flagger Force: Alex, taking that a step further, who is the ideal BGE business partner?
Alex Núñez: We are looking to work with value-minded partners who are extensions of the community and can help BGE provide distinctive service to our valuable customers. Our partners must understand and strictly adhere to the values that BGE holds for itself. In other words, to the public, it's never a contractor project, it's a BGE project; therefore, who we do business with matters a great deal. Making safety a first priority for those on the job site, and in the community, is a fundamental expectation, and we also want our partners to demonstrate that they are good corporate citizens. We work with those companies that mirror the values that BGE has stood for the past 200 years: distinctive customer service, safety, reliability, innovation and technology, diversity and inclusion, and financial responsibility.
Summary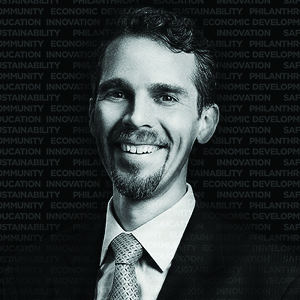 Article Name
An Interview with Alex Núñez, Senior Vice President of Regulatory & External Affairs for Baltimore Gas & Electric
Description
Alex Núñez, Senior Vice President of Regulatory and External Affairs for Baltimore Gas & Electric (BGE), has been with the company since 2001. Alex is a native Marylander who is deeply connected and committed to the communities BGE serves across the state.
Author
Publisher Name
Publisher Logo