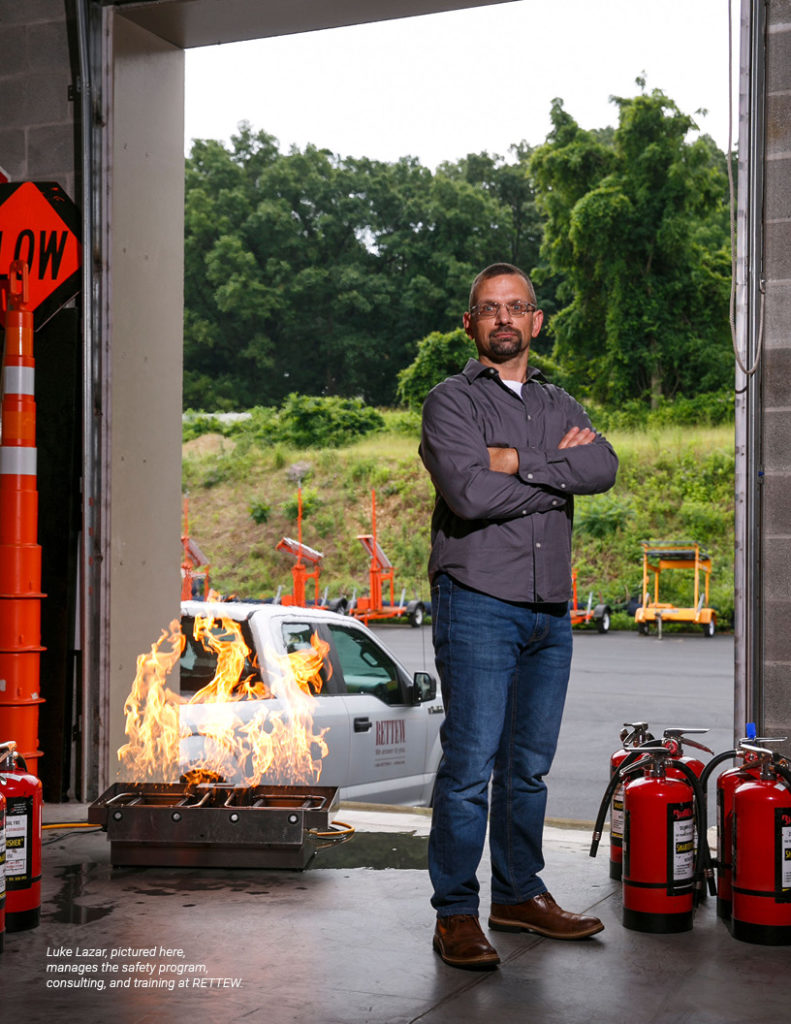 Flagger Force is proud to welcome Luke Lazar to our safety team as assistant vice president of safety. Recently the director of safety for RETTEW, an industry-leading engineering and safety firm, Luke has over 25 years of experience in the safety sector. You can read a bit more about Luke's influence at RETTEW below.
In engineering and construction, safety is the chain that holds the organization together. Every effort is a link that builds and strengthens an organization's risk management program. RETTEW, a top engineering consulting firm headquartered in Lancaster, PA, believes that their company culture is an anchor for their safety chain.
RETTEW, with 11 offices across the country, has been in operation for 50 years. One of their fastest growing service areas is safety consulting, headed by Luke Lazar, certified safety professional. Lazar has leveraged two decades of safety and consulting experience to lead a cross-discipline team of safety professionals for a variety of targeted projects and organizations.
When RETTEW first started in 1969, they focused on civil, municipal, transportation, and land development projects. In 2008, they expanded their presence into the natural gas industry. This meant more time on job sites and an elevated level of risk. As a result, the team at RETTEW quickly realized that they needed to close the gaps in their safety culture.
Creating a Scalable Safety Culture
Lazar was tasked with a single mission—instill a scalable safety culture throughout the company's footprint. Easier said than done. He decided to start with a clean slate—reframing every part of the company's safety mindset, from top to bottom.
Lazar notes that elevating the priority of safety within the culture was vital. Visible and consistent reminders needed to be incorporated into everyday routines, backed up with accountability. This was a sweeping initiative at RETTEW, which meant that Lazar require, and receive, the backing of leadership at every level.

Start Small: The Safety Minute
Beginning meetings with safety and quality messages, called a "Safety Minute," isn't new. But Lazar wanted to make it a foundational part of the culture. Lazar needed to find ways to remind and reinforce the commitment to the "Safety Minute."
He started with reference cards featuring safety messages designed to share in group settings. Over the first weeks and months of the program, repeated use of reference cards helped employees recognize and share safety and quality moments in their work lives. After the initial launch, the culture embraced the "Safety Minute," and reference cards were eliminated.
Consider Every Angle: The First Move Forward Policy
Parking lot accidents are one of the most common causes of fleet vehicle damage. Backing into parking spaces, or reverse parking, improves safety by eliminating the dangers of blind spots and parking lot hazards, like moving cars or hard-to-see pedestrians. It also provides better visibility and control over the vehicle.
Having all RETTEW employees follow the "First Move Forward" policy created a striking visual in the company lots and made a statement that was hard to ignore. The policy was straightforward (no pun intended) to implement and uncomplicated to manage. As more and more employees adopted the practice, it transformed into a cultural proof point and change management lever. Lazar reports, "Once you have large-scale compliance here, it heralds a shift and an opening to expand the culture into other areas."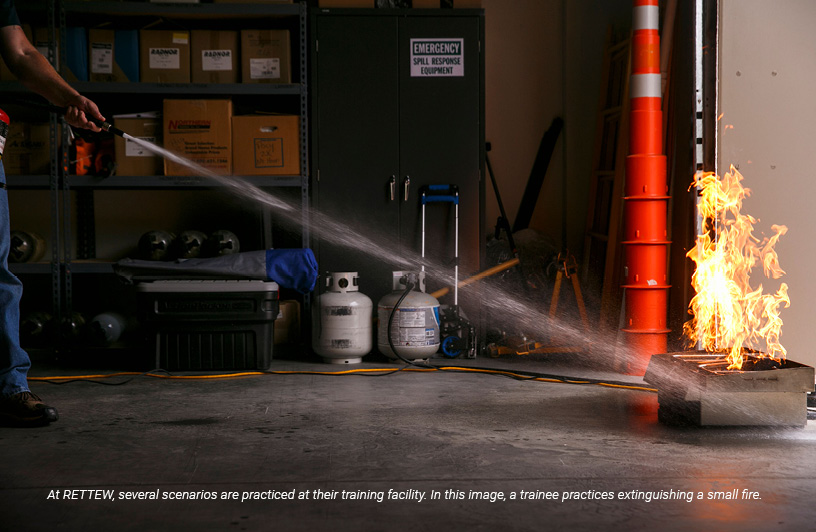 Eliminate Risk With Rewards: The Hazard I.D. Initiative
Finding and eliminating hazards is foundational for any risk management program, but it's not always fun or easy. That's why Lazar gamified the process. To keep employees excited about the hazard identification practice, they were asked to fill out a simple online form whenever they discovered a hazard, from a tripping danger caused by an extension cord to a melted ice cube on the break room floor. They were asked to submit it, even if they discovered it outside of work. Each submission came with a monetary reward. Employees that addressed or fixed a hazard were given an even larger reward.
Lazar notes, "We are seeing an increase in situational awareness across the organization. Sometimes you need to use the carrot method, and this is one great example." Since its inception, about 350 Hazard I.D.s are submitted each year.
Sharing Success: Safety Consulting
Positive enforcement has been a powerful tool. Grounded in the principles of behavior-based safety, RETTEW's strong safety culture is transparent and easy to understand. Once RETTEW saw the potential of the internal program they built, they recognized an opportunity to share what they did and adapt it for their clients.
The Safety Training Facility
While a cultural approach can create a safety mindset, most RETTEW programs are launched using more tangible methods such as hands-on training laboratories, including things like specifying protective equipment and creating improved signage. "Obviously, when the mindset is in the right place," Lazar explains, "we see the willingness to embrace the process, and the results speak for themselves."
RETTEW's safety training facility, located at their Mechanicsburg, PA location, is a state-of-the-art classroom and practical training space. It's the largest facility of its kind not associated with any one manufacturer of safety equipment or industry. This space is used for a wide array of safety instruction, including fall training, air quality testing, hazardous material handling, and fire mitigation, to name a few.
"We have put a ton of thought and resources in our training processes and capabilities," says Lazar. "We try to create realistic scenarios in training environments to get the hands-on physical practice needed."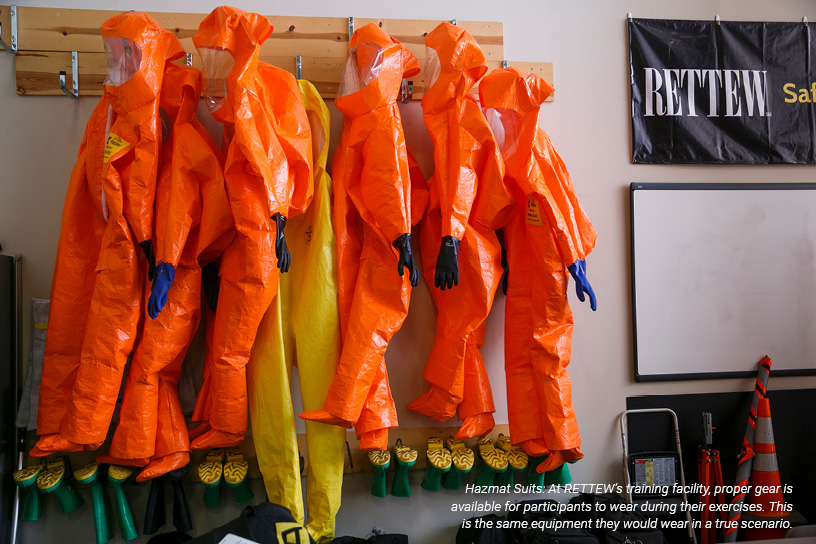 Embrace A Safety Culture
RETTEW's holistic approach started by building a culture core around safety and followed through by adding hands-on training and cutting edge techniques, including realistic training scenarios that are customized for clients.
If your company wants to improve the safety of its employees and customers, it may be time to start building your own safety culture. RETTEW truly understands that companies need to connect mind and hands through safety. Unless you embrace RETTEW's holistic approach, your company may not be able to realize the positive impact that can be made by meeting risk management goals.
Summary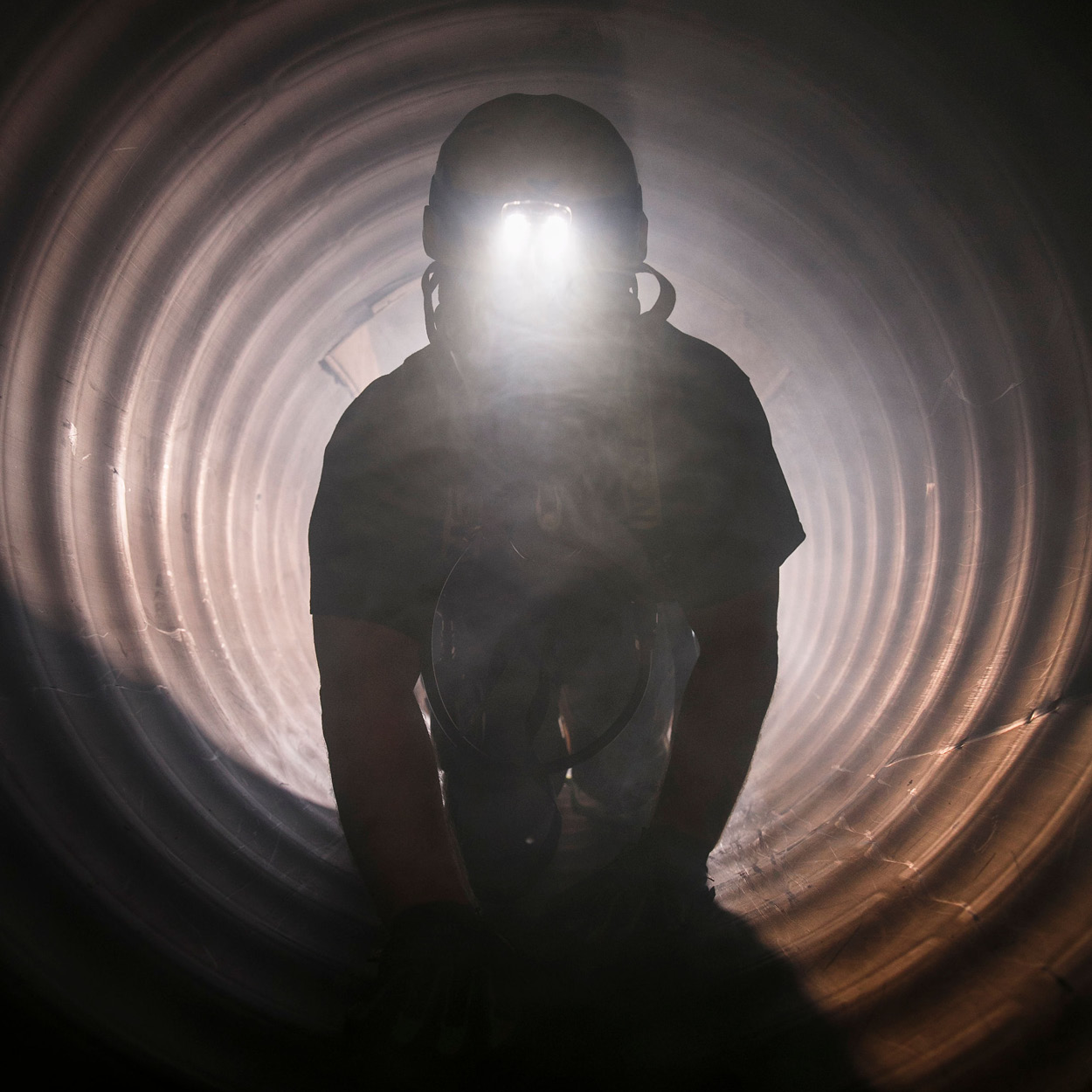 Article Name
Engineering a Safety Culture at RETTEW
Description
In engineering and construction, safety is the chain that holds the organization together. Every effort is a link that builds and strengthens an organization's risk management program. RETTEW, a top engineering consulting firm headquartered in Lancaster, PA, believes that their company culture is an anchor for their safety chain.
Publisher Name
Publisher Logo