If you haven't worked with Rickey Goodwin, advanced crew leader (ACL) out of Maryland, you're missing out. A seven-year veteran of Flagger Force, Rickey has established a solid reputation within the company and with our clients. His cheery attitude and sense of humor lend to his natural ability to mentor his fellow teammates. Read more about his unique story and see if you spot his secret to success.
Flagger Force: Congratulations on winning the Employee Spotlight award and thank you for spending time with us today!
Rickey Goodwin: Thank you, I'm honored. It's not just me that deserves it. I have a team and a family supporting me and they deserve it too.
Flagger Force: You've been working here for seven years! Why do you do this job? What keeps you here?
Rickey: I want to provide for my family and I'm loyal to Flagger Force. They took me in at a time when nobody would, when I thought I didn't have a future, and took care of me. I love what I do. I truly, truly love what I do.
Flagger Force: We're glad to have you on the team! What were you doing before working with us?
Rickey: I was working with a company building what's called a wave paddle. A wave paddle shows a submarine's location no matter where it's at in the world and is used for navigation.
Flagger Force: Sounds like important work. What made you interested in working for us?
Rickey: I was unemployed, and my fiancé was encouraging me to find work. I just happened to be walking into the store when I saw a guy wearing the Flagger Force vest. I applied and got a call the very next day! The phone interviewer told me about the requirements for working—driver's license, insurance, birth certificate, etc.—I had none of them. She said, "Come to the office tomorrow" and it was one of the best things to ever happen in my life. I didn't know then how far and how much this company was willing to help me.
Flagger Force: What happened next?
Rickey: Like I said I didn't have any of the required documents and my license was suspended. Flagger Force said let's get started by getting your birth certificate. They explained I could get a copy at the nearby Division of Vital Records. Once I had a copy, they would help me work through the other things. My fiancé and I left to visit Vital Records and through every step of the way, small miracles kept happening that cleared the way for me to get this job and here I am seven years later and feeling blessed.
Flagger Force: Sounds like there's even more to the story.
Rickey: Anyone who works with me, please ask about it!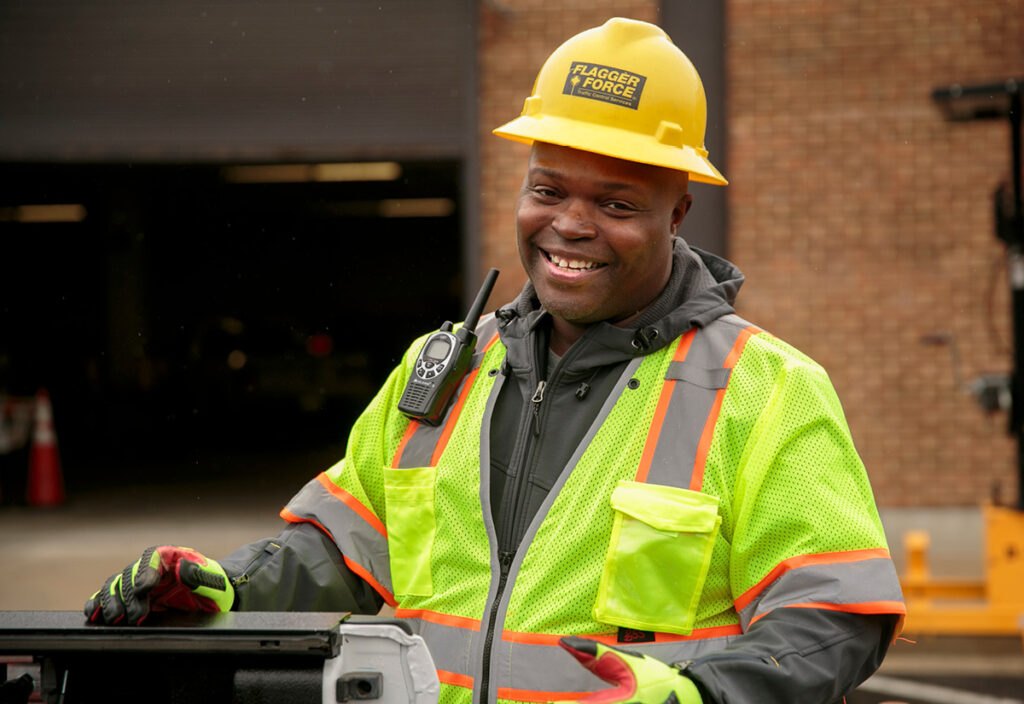 Flagger Force: Do you remember your first week on the job? How did it go?
Rickey: I was anxious, but it was great. My first weeks were working a BG&E job and it taught me a lot. I was so gung-ho to have a job! When it was time for me to take breaks, I kept saying, "No, I'm okay. I don't need them." After a couple weeks the adrenaline wore off and I realized I needed those breaks to stay strong.
Flagger Force: Taking breaks is very important. What is your favorite part of your job?
Rickey: My favorite part of the job is, truthfully, just getting to know the people. Whenever somebody works with me that's not feeling good that day, I like to get them smiling and laughing. When people ask, "Hey, can I get back on your job again?" it makes me feel great. I like to let people know that if they just need to talk, I'm here. I can help them learn the little keys that get them through the day.
Flagger Force: What are these "little keys?"
Rickey: Even if your day is not great, you present yourself as if it were. When you do that, it brings a good vibe to everybody. As a leader, you should present yourself with that great spirit. Also, be understanding and explain to people who are new or intimidated, to follow the simple rules of the work zone and everything will be okay. You have a duty to be engaged with everyone on your site.
Flagger Force: That's great advice! Tell us about one of your more challenging days on the job.
Rickey: A challenging day was when I got a call from an angry client. Normally I worked with this client, but I was on a different job. The client was upset because the job site wasn't set up and he was not communicating well with the job lead. They were behind schedule and if the job wasn't finished that day, they wouldn't be able to obtain the next permit for another three months. Working with the OSC, I was allowed to finish my set up and then travel to the other site, which was close. I helped calm the client and assisted the job lead, who was thankful.
Flagger Force: We are glad the situation came to a good end.
Rickey: As a company, we offer a product. Our product is we'll be there on time, and we'll have you set up no matter what you need. If you do the job right, 90% of the time, you won't have a problem with the client.
Flagger Force: Do you rely on In The Zone (ITZ), our internal communications app, for your job? How do you use it?
Rickey: I use it to contact people and will hop on the Jobs stream for Storm Duty. I mainly use it when I'm training somebody. I open the typicals to show them what we're doing and how we're going to do it.
Flagger Force: What distracted driving are you seeing right now on the road?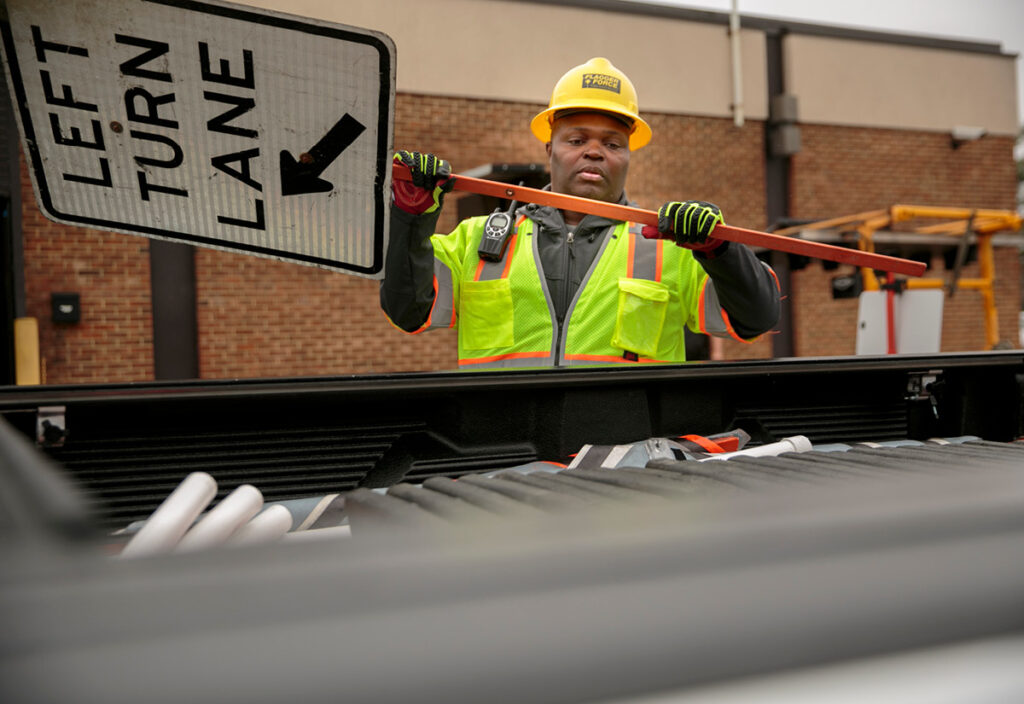 Rickey: 99% of the time, it's phone use. Because that's part of who we are, and we all feel like we can easily pick up the phone to text or call. Just put the phone down and talk to the person later.
Flagger Force: It's a safety message we can't stress enough. What piece of advice would you like to share with new crew members?
Rickey: When someone approaching is distracted, you'll get their attention if you shake the paddle. I've had people say, "I swear, I would have went right through if you hadn't caught my attention." However, you still have to know when to drop the paddle and use your escape route.
Flagger Force: Yes, stay alert to stay alive. What's your favorite part about coming home to your family?
Rickey: It's knowing that I did a great service. I feel proud when I see my daughter.
Flagger Force: If given the opportunity to give a public service message to motorists, what would you tell them?
Rickey: Stay focused!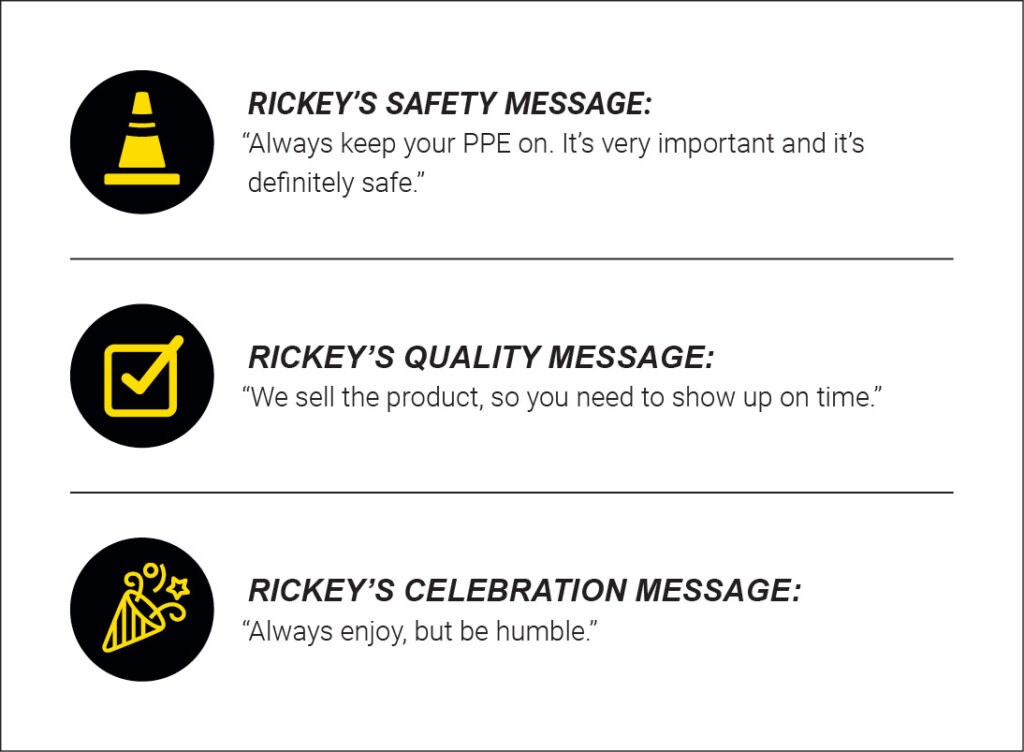 MORE ABOUT RICKEY
Who do you admire the most? At work, Steve Burnham. In my personal life, my sister, Kathy.
What's the best piece of advice you've been given? You know the right thing. Always do the right thing.
If you could meet anyone in history, who would it be? The president.
JOIN OUR TEAM!
Interested in working for Flagger Force and helping us to keep our communities moving? Learn more about our open positions and apply today!
Summary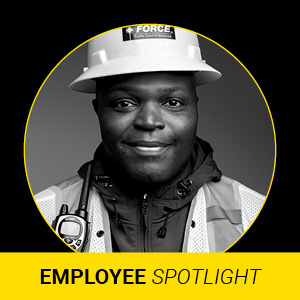 Article Name
Employee Spotlight with Rickey Goodwin
Description
Rickey has a solid reputation within the company and with our clients. Learn more about him and why he's our latest Employee Spotlight.
Publisher Name
Publisher Logo