Kristin Burgard, area supervisor working in northeastern Pennsylvania, quickly moved up the field ranks because of her laser focus on safety, accurate work zone set ups, and stellar client customer service. Her approach to hard work and helping others has earned her a solid reputation and the award for Employee Spotlight.
Flagger Force: Hi Kristin, it's terrific to speak with you today and congratulations on earning the Employee Spotlight! We're curious, when did you start working at Flagger Force?
Kristin Burgard: I joined the team in May of 2019. I came here after spending five years in the military as a tank mechanic.
Flagger Force: Nice! What brought you here?
Kristin: My mom used to work here. She loved it and always talked about how great it was, so I decided to jump on the Flagger Force bandwagon.
Flagger Force: It's a family affair! Did you train with your mom?
Kristin: No, I first worked with Jeff Motter, or "Crocodile Dundee" as we call him. He always has his cup of coffee and a cookie.
Flagger Force: Do you remember what it was like your first week on the job?
Kristin: I didn't know what to think of it my first week. But I found out by the end of the week that I loved it because we were outside all the time.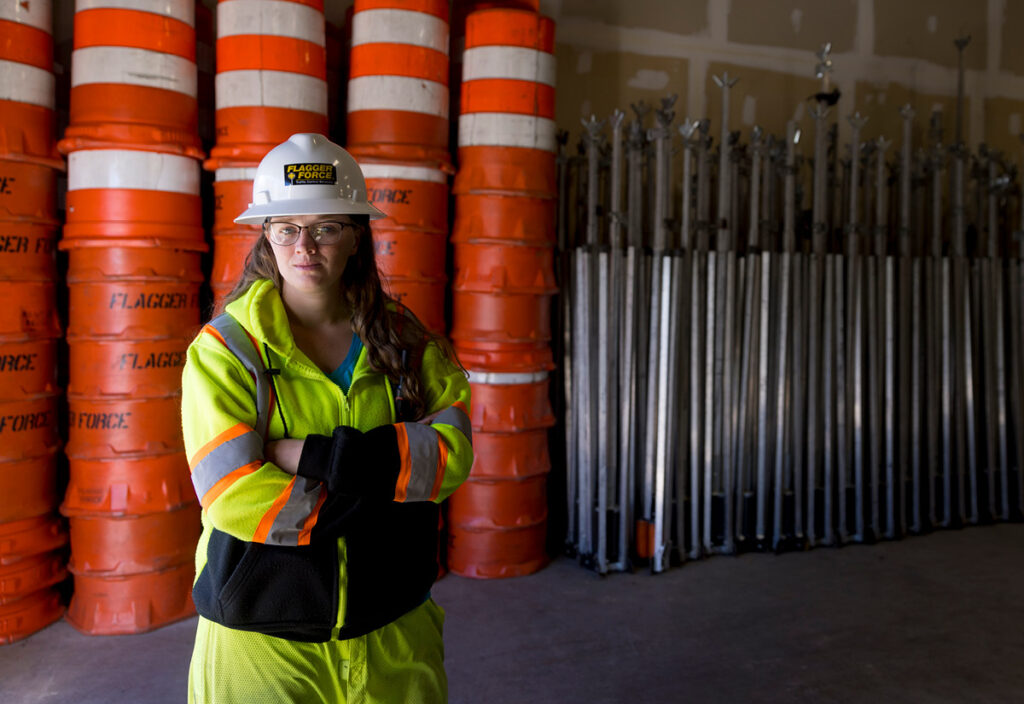 Flagger Force: It wasn't long before you were promoted to crew leader (CL), correct?
Kristin: Yes, and my first job as a CL was a little confusing for me. I had a week of class and after all the training was complete, I got my truck. My first job was working a mobile operation with a Verizon crew, and they went down a street, up a street, then back down a street, all day long. I was confused on what signage to put out because we had to continuously walk with them as they ran lines while moving. It was the first time I worked an operation like that. I got the hang of it, but I'll never forget that first CL job!
Flagger Force: Now as an area supervisor (AS), what's your favorite part of your job?
Kristin: Meeting and connecting with new people is my favorite. I like to help people enjoy their career at Flagger Force and encourage them to move up and be their best.
Flagger Force: Good to hear, because as a supervisor, you are a critical contact for field employees. How does that responsibility shape your day?
Kristin: As an AS, I'm going out and seeing how people are doing every day. I start off being energetic and friendly and offering help. Occasionally, I must correct a setup. I handle it by explaining what is wrong and then talk through how it should be done.
Flagger Force: As an AS, you still spend a lot of your day at work sites. How often have you encountered somebody running through the paddle?
Kristin: Multiple times.
Flagger Force: Is it because the drivers are distracted?
Kristin: Yes, I watched as one guy was leaned back in the driver's seat, newspaper over the steering wheel, and just reading the news like he was sitting at his kitchen table, not driving a car!
Flagger Force: Wow! The news can wait! Speaking of distracted driving, you recently helped Flagger Force, in partnership with the Associated Pennsylvania Constructors, promote Blind Spot Awareness. What's your top tip for blind spot awareness?
Kristin: Always double check your blind spots for other drivers. One look, they won't be there. Another look, they will. Make sure to double check your blind spots before moving.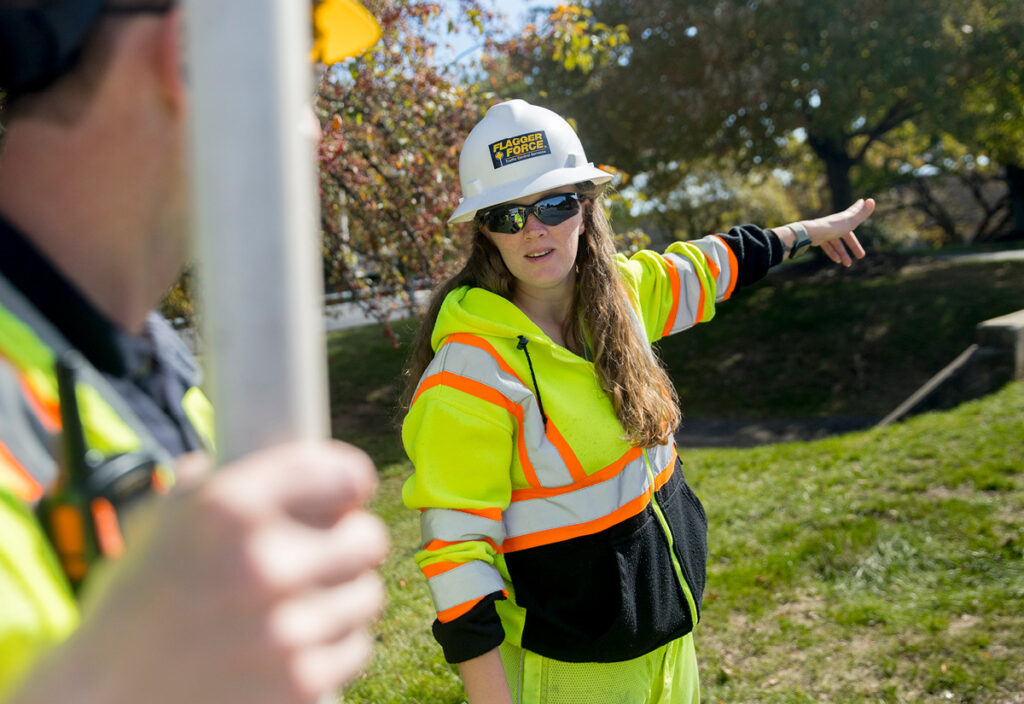 Flagger Force: What other advice would you like to share?
Kristin: For motorists, we're not here to make you late for work or slow you down. We're just trying to make it as safe as possible to go through our work zone. One thing I'm passionate about is getting the job done and getting everyone home safely.
I'd like to share advice for newer crew members—simply, do your job. If you do your job and do it proficiently, you'll move up.
Flagger Force: Solid advice. Is working with newer crew members a reason that keeps you here?
Kristin: Yes, I love the opportunities to work with other people and clients, and to get out and see new places. You're always working with somebody new every day.
Flagger Force: What does this job mean to you and your family?
Kristin: Flagger Force means a lot to me, as does keeping my family safe, literally. My boyfriend worked as a lineman for PP&L, and I used to keep him protected when I was working PP&L jobs.
Flagger Force: Tell us more about your family and who you keep safe.
Kristin: Coming home to my family is important to me. I come home to my 15-month-old daughter. She's a ball of fire and joy and coming home to her is everything to me.
Flagger Force: We love your focus on safety and protection. Of all the training you've received, do you have a favorite class?
Kristin: So far, my favorite training class was my area supervisor onboarding class. It taught me how to do my role in a management position, how to supervise people, and how to handle more situations than what I knew before I went to onboarding training.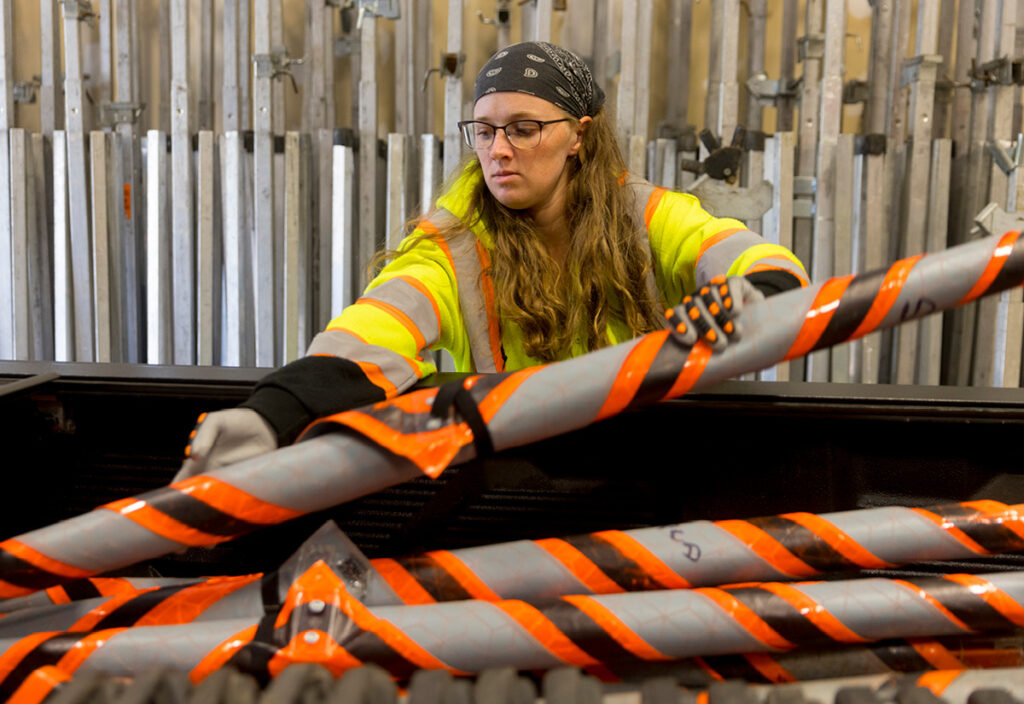 Flagger Force: Do you use In The Zone (ITZ) as an area supervisor?
Kristin: Yes, I like to use it to reach out to employees and answer them when they ask questions or need help. When I was an ACL, I relied on the Jobs Stream to look for more work.
Flagger Force: Makes sense because ITZ connects us to resources and each other. You've worked here for several years; who do you admire most?
Kristin: The person I admired most was my field specialist back when I was a crew lead. She's no longer here, but I respect the way she conducted herself and followed the rules. I looked up to her. She's my inspiration to do my job as an AS.
Flagger Force: Sounds like she had an impact, but you've got your own leadership style too! How would you describe yourself?
Kristin: Energetic, quiet, and inspiring.
Flagger Force: What does earning the Employee Spotlight award mean to you?
Kristin: It's very thoughtful of everybody that nominated me, and I appreciate it. I'm just out here doing my job, but I'm glad to be keeping everybody happy.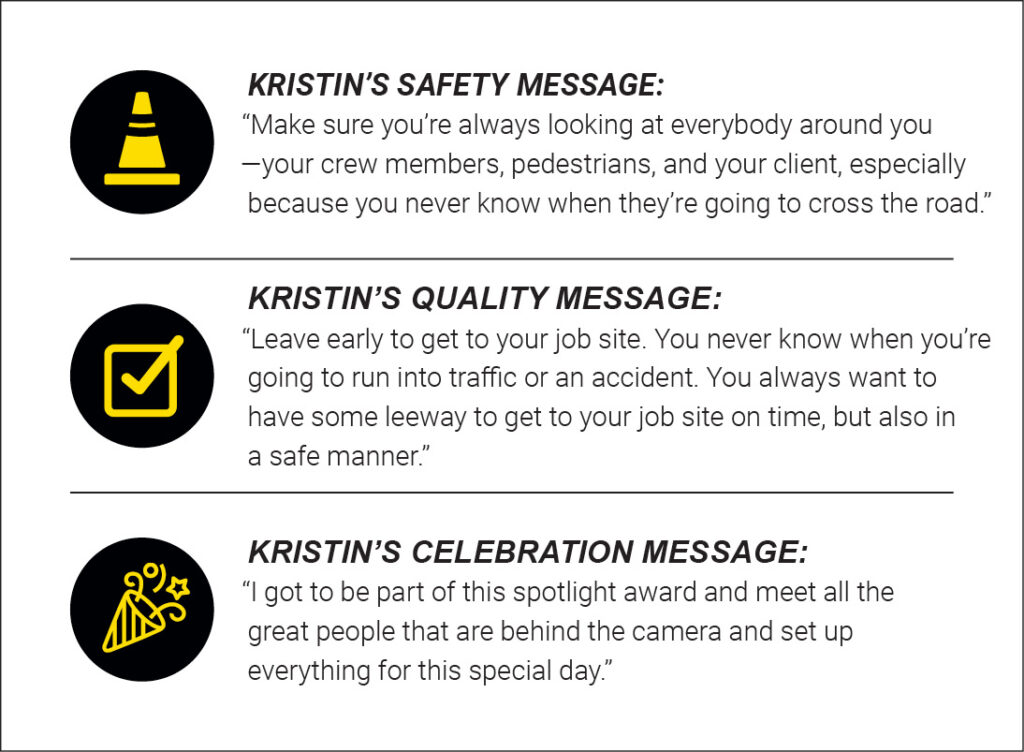 JOIN OUR TEAM!
Interested in working for Flagger Force and helping us to keep our communities moving? Learn more about our open positions and apply today!
Summary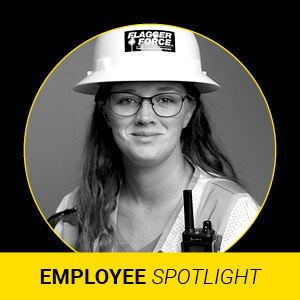 Article Name
Employee Spotlight with Kristin Burgard
Description
Kristin Burgard, area supervisor from northeastern Pennsylvania, has earned the award for Employee Spotlight. Her solid reputation for helping others and approach to hard work are just a couple reasons why she was nominated.
Publisher Name
Publisher Logo