Amber Fatta is a field manager located in South Carolina. Amber, and her team are expanding Flagger Force operations in the Palmetto state and surrounding areas. It's a job that keeps Amber busy as she and the team work diligently to establish Flagger Force as the premier traffic control provider, hire new employees, and streamline training and logistics while her local facility and warehouse are being built. She has been with the company for nearly five years, holding various roles that have built the strong operational skills she relies on in her current position. Learn more about her journey and why she earned the Employee Spotlight award.
Flagger Force: Hi Amber, thanks for joining us, and congratulations on winning the Employee Spotlight award! You've been with the company for nearly 5 years. How did you find out about Flagger Force and what made you interested in working here?
Amber Fatta: I was living in Pennsylvania and I decided it was time to get out of the auto industry. I was frustrated with the company because they didn't care about creating a supportive employee culture. I knew about Flagger Force because I would see trucks everywhere, and my neighbor worked for Flagger Force. At the time, I had uploaded my resume to Glassdoor, and the next thing I know, Flagger Force is calling! I remember the call—I was outside with my dogs.
Flagger Force: What a happy moment—a job opportunity that emerges while you're with your furry family! What was your first job with Flagger Force?
Amber: I worked confirmations in the Operations Services Center (OSC) for the 11:00 a.m. to 8:00 p.m. shift. The OSC had just opened a few months earlier, so it was still in its infancy.
Flagger Force: What was it like working in the OSC in the early days?
Amber: I didn't know any difference. The OSC was very new, and so was I. The other OSC staff and I were working and learning together, which was a great opportunity for me to come in as a brand-new employee. I learned a great deal about our operational processes while working in the OSC, and luckily, I've been fortunate to bring that same knowledge with me to my current role.
Flagger Force: You were part of the process from start to finish. You worked in other departments at Flagger Force, can you walk us through those roles?
Amber: I moved to the 6:00 a.m. to 3:00 p.m. shift at the OSC, which was better for my schedule, and this opened my eyes to a whole new world of experiences. The client and employee support required in the morning was vastly different from the afternoon/evening. Employees would call in for job assignments, ask questions about their jobs, and get help with equipment or replacements. While working at the OSC, I started keeping a notebook of what happened throughout the day, and I would go back to it for any follow-up actions, including if I needed to follow up with an employee. This is a habit I developed and continues to this day, and it keeps me accountable to others.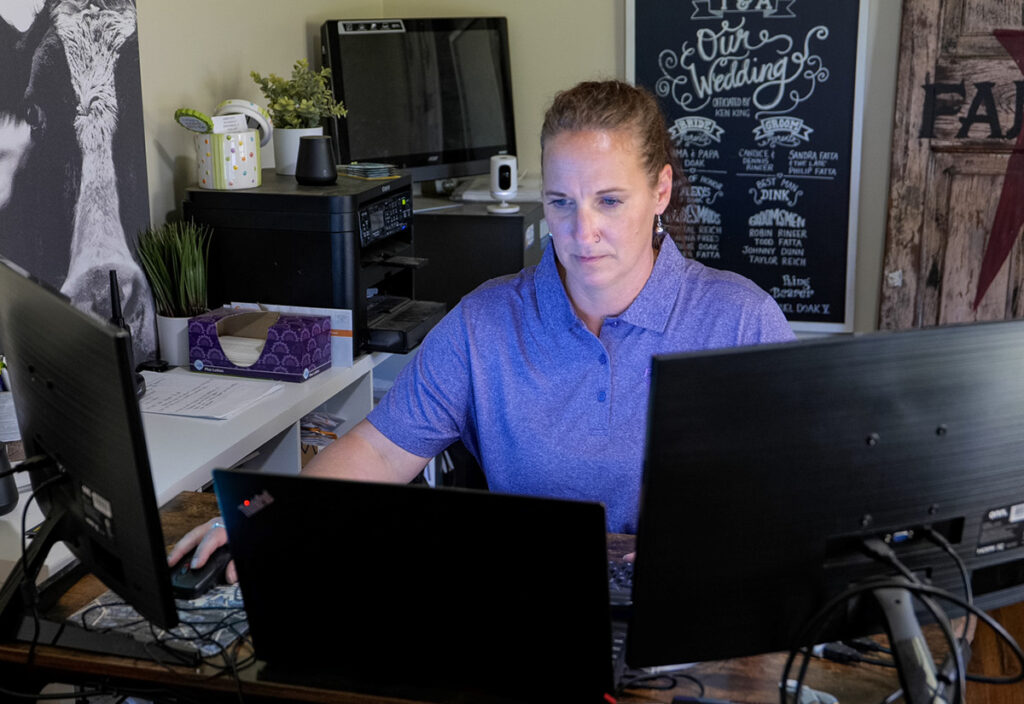 Flagger Force: Great tip on how to manage one's day! What did you do after the morning shift in the OSC?
Amber: I helped the safety department with claims since I had experience with claims while working in the auto industry. It wasn't long after that I transitioned into the Field Operations Support Specialist (FOSS) position. I learned so much from the FOSS role. In fact, everything I learned as a FOSS I use in my current position as Field Manager, particularly time management and project management skills.
Flagger Force: You're currently the Field Manager working in South Carolina, where we've recently expanded. Tell us more about what it's like to help expand into a new market.
Amber: Every day is different, but I always have a game plan! I get up at 4:00 a.m., pour a cup of coffee, open my computer, and start looking at our orders for the day. At 6:10 a.m., I attend a meeting with the morning transition team to go over any client orders that require additional support or changes. From there, I do what is needed to make sure clients are taken care of and the field employees have the resources they need to do their jobs.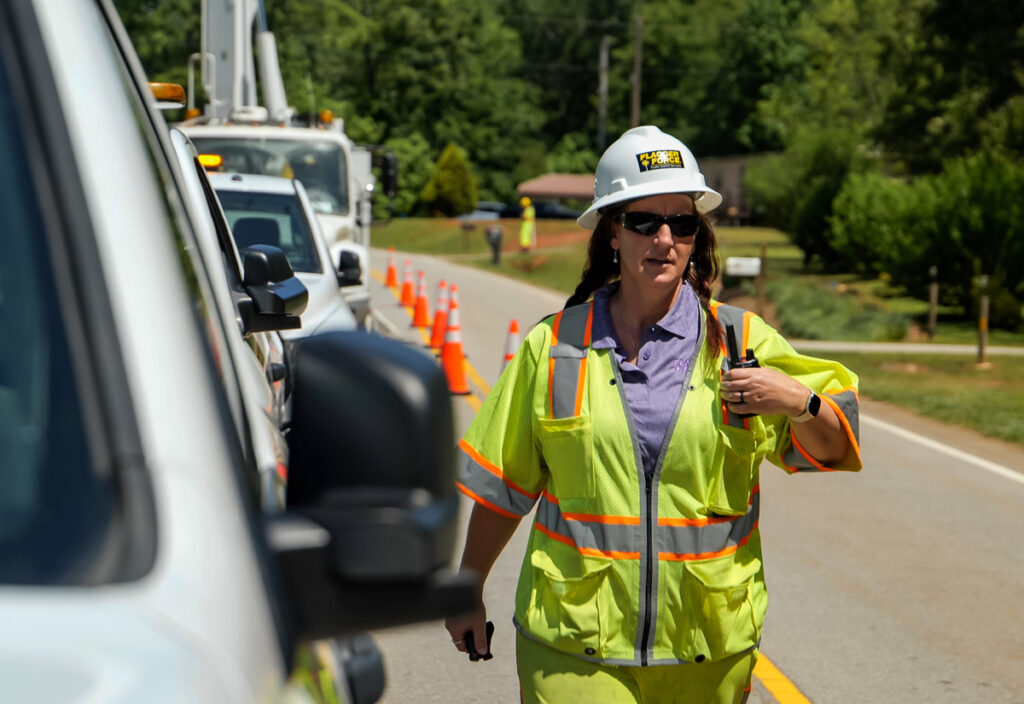 Additionally, I visit our Flagger Force work zones, but I also scout for new clients while I'm out on the road. I like to see who's out there. I don't mind stopping when I see a client we aren't working with and introducing myself, saying, "Hey, I'm Amber. I work for Flagger Force. We want to flag for you."
Flagger Force: We like your confident approach! What are some of the similarities and differences between working in a new market vs. an established market?
Amber: In any market, the field leadership does what it takes to get the job done and help clients. I work closely with the area supervisors, sharing information, or addressing issues. There are some days I'm out flagging, even on weekends to help cover breaks. Everyone needs breaks! Some days I end at 5:00 p.m.; some days I'm still working till 8:30 p.m.
In South Carolina, it's great to see the relationships that we're building with clients that we haven't had in the past. We have phenomenal opportunities and it's exciting to expand into new states. The relationships that we are building with these clients are incredible.
Flagger Force: It's great to see new clients working with us. What's your secret sauce for creating strong client relationships?
Amber: My secret sauce is being willing to walk up to any job site to talk and ask the client, "How's everything going?" "What do you think of Flagger Force's efforts in South Carolina?" It's like a "tailgate talk" to check in and establish rapport.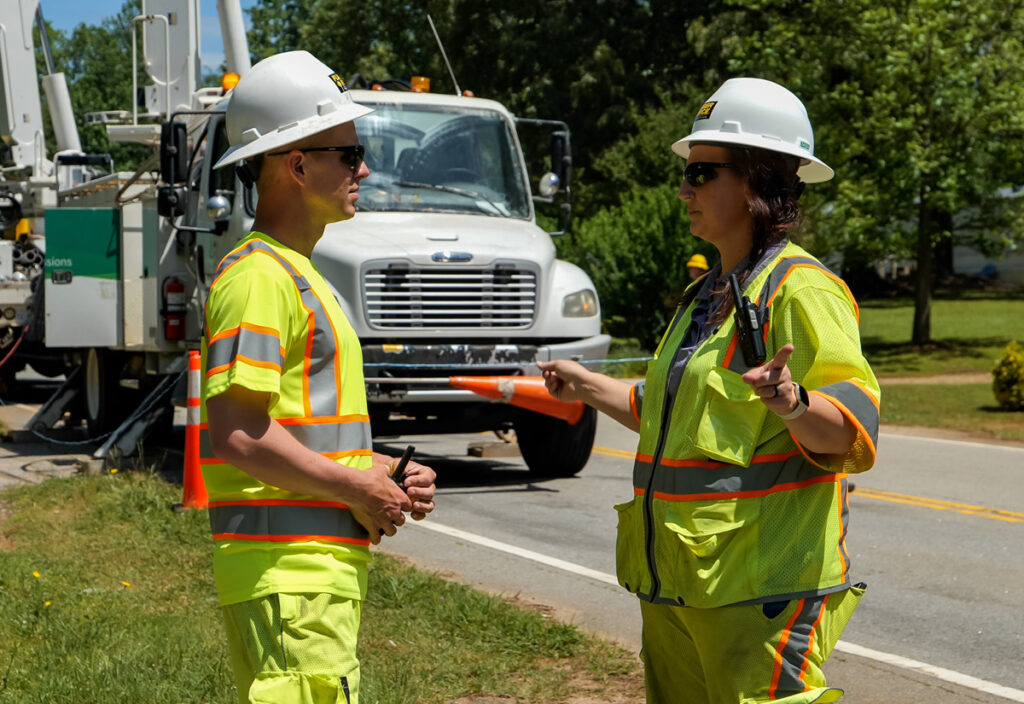 Flagger Force: Your approach is working! What are some ways you help newly hired field employees working in South Carolina?
Amber: All the job leads know and understand if you have a new crew member, you take that person under your wing, and you show them the Flagger Force way. That way, when it's time for them to attend Crew Member Development Training, they already understand the lingo and have already done setups. It helps them to be safe and successful in their jobs.
Flagger Force: It's so important to instill our Safety-Driven culture as we continue to expand. What does this job mean to you?
Amber: This job gave me a purpose. I never felt like I had a reason or a purpose in any other job. I'm so grateful for this job because somebody in the last position believed in me enough that I could do the next position and do it well. There are a lot of people that I've looked up to that have come and gone with Flagger Force or that are still here, but everybody's believed in me enough to help guide me into this. I have made so many friendships and meaningful relationships in this company that I don't think I could list them all.
Flagger Force: What does it mean to be awarded the employee spotlight?
Amber: It's incredible to know that somebody thought so highly of what I'm trying to do. I'm my own worst critic. I think most of us are and feel that 'I could always be doing better.' Receiving the Spotlight means the world to me. I feel honored, very honored.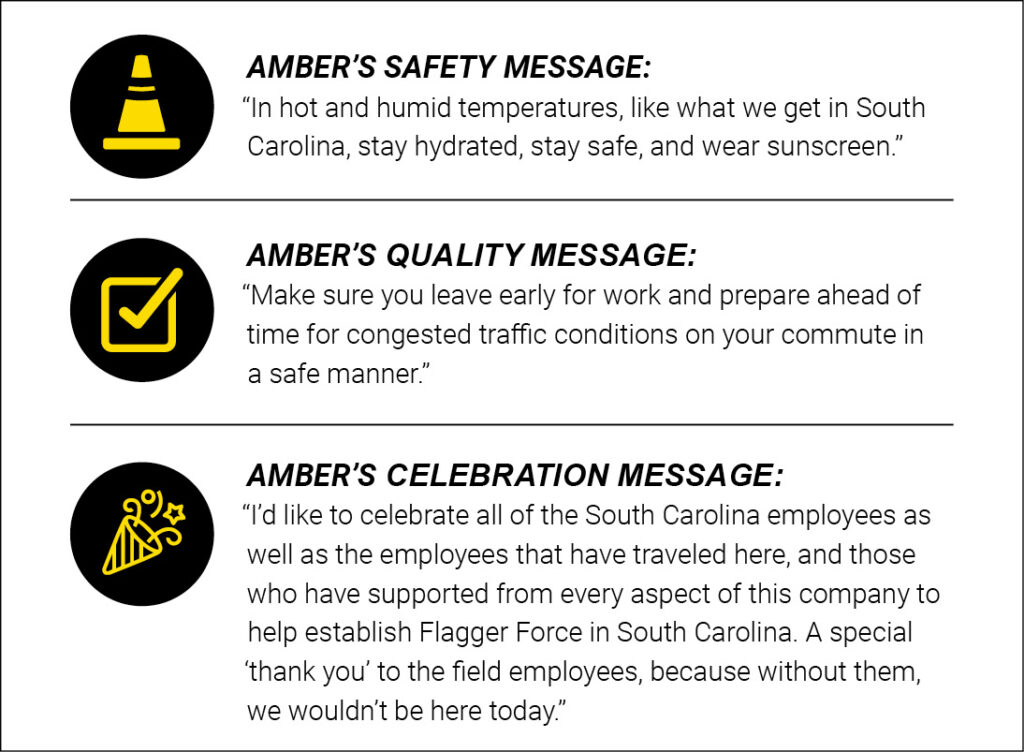 JOIN OUR TEAM!
Interested in working for Flagger Force and helping us to keep our communities moving? Learn more about our open positions and apply today!