Corey Gauker is the Warehouse Coordinator for the Harrisburg Operations & Training Facility. After experiencing some setbacks in life, Corey joined Flagger Force more than four years ago and has worked extremely hard to accomplish all that he has. We recently met with Corey to discuss his experiences with Flagger Force and his plans for the future.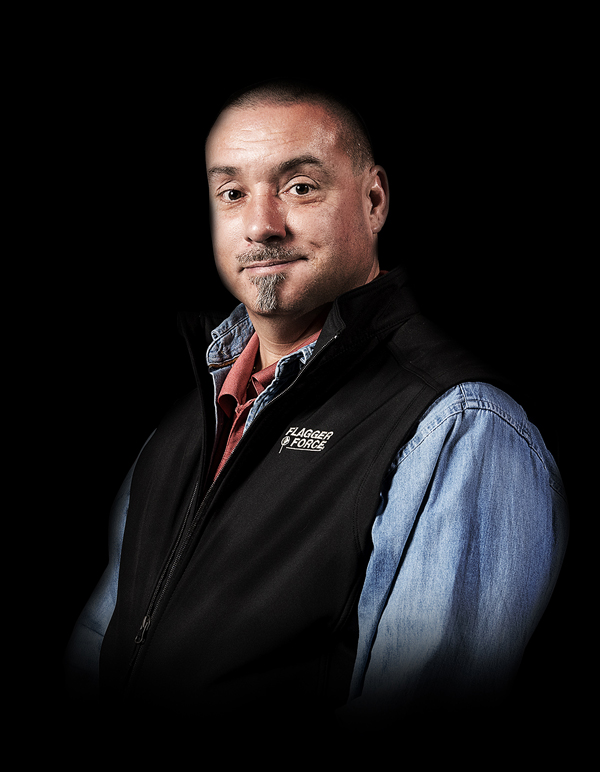 Flagger Force: Thank you for meeting with us today. Can you explain what you do as a Warehouse Coordinator?
Corey Gauker: There is a lot I do every day, and a lot of people don't realize all that goes into a job like the one I have. I work directly with the Fleet Manager to order all the equipment necessary for all of our facilities. Most, if not all, new equipment goes through me for inspection first, and then I identify where it needs to go. I am also in charge of assessing the condition of our equipment such as variable-message signs (VMS) and arrow panels, which could be damaged in their daily use. One of the largest components of my job is equipping our trucks with SmartDrive and GPS Insight. This technology, which is very important to the daily operations of our fleet, provides not only training opportunities, but also assists in keeping our clients informed of where we are in relation to a job location. Since this type of equipment can be difficult to install, I take the time to help the other branches over the phone with troubleshooting their devices when they are having issues. My job is pretty unique, which is one of the reasons I enjoy it so much.
Flagger Force: You definitely handle a lot of responsibility in your role. What other duties do you have?
Corey Gauker: When Crew Members are promoted to Crew Leaders and complete their Smith Driver Training through the Flagger Force Academy, I walk them through the vehicle and make sure that everything is in good condition for their use. As employees work on more complex setups and need more equipment, I have more of a relationship with them. It is really cool to see all the growth these individuals go through over the years.
Flagger Force: Are there times when you work out in the field as well?
Corey Gauker: There aren't many times I will work in the field. I am so busy keeping up with the demands of the warehouse that I don't have time to work a lot of jobs. Sometimes when I am running equipment to various jobs, I will provide relief breaks, but you will find me in the warehouse. Those guys have a tough time out there sometimes. It takes a lot of patience to do what they do, and I want to support them any way I can.
Flagger Force: Tell us a bit about your background, Corey. Have you always lived in the Harrisburg area?
Corey Gauker: Yes, born and raised. I love the area. I have never lived anywhere else, and I never really want to leave.
Flagger Force: What did you do before you joined Flagger Force?
Corey Gauker: I worked as a diesel mechanic for about 17 years for a trucking company, but I unfortunately lost my job due to alcoholism. I have been in recovery for eight years. I stocked shelves at a local grocery store, but that wasn't enjoyable for me. Coming to Flagger Force was just the right fit. It took all of my skills from my previous job and combined them with new learning opportunities.
Flagger Force: Congratulations on everything you have accomplished and overcome, Corey. It sounds like a lot of work was put in to get where you are today. When you are not at Flagger Force, what do you do?
Corey Gauker: I've been focusing a lot of my time on my studies. I am currently applying for a master's program in psychology since graduating with my bachelor's degree in 2014. My daughter works at an animal hospital full time and is out of the house. Unfortunately, I lost my son from a car accident when he was 16. That was pretty rough. I've used a lot of these life lessons and applied them to my studies.
Flagger Force: What do you hope to do once you receive your master's degree?
Corey Gauker: I want to help folks who are in the same boat as I once was. I believe if I am able to help those individuals with drug and alcohol addiction, it would be my way of giving back to the people who helped me when I was in a bad place.
Flagger Force: Do you share your past experiences with other people at Flagger Force?
Corey Gauker: I try to. But mostly, when I see people struggling or doubting themselves, I always tell them to keep working hard and to always take opportunities that are offered to them. If you try something that you aren't comfortable with, you may surprise yourself. Flagger Force is growing rapidly, and there is no reason why you can't succeed if you simply raise your hand.