Flagger Force operates on the critical work of our employees, so ensuring that our team members have opportunities to grow, develop and thrive is necessary to our mission. It's also a core part of the Flagger Force company culture. What makes working at Flagger Force different? Let's count the ways.
A Culture of Promotions and Career Advancement
At Flagger Force, our field leaders are promoted from within, which means advancement opportunities arise quickly, and promotions happen fast. Here's the career lattice for field staff.
Crew Member (entry-level): Responsible for controlling traffic through work zones. They assist crew leaders in setting up and managing work zones. While this is an entry-level position, people in this role get plenty of training to prepare them for the next level.
Crew Leader: Crew leaders are responsible for setting up flagging operations, meeting with clients to conduct a pre-job brief, and being a leader on the job site. With this leadership role, crew leaders are assigned a company vehicle with all the necessary cones, signs, and other safety equipment to keep our communities moving. They also receive a company gas card.
Advanced Crew Leader: With a new role comes new responsibilities! As advanced crew leaders, employees coordinate complex setups on roadways, get access to additional training opportunities, and mentor others to grow in their Flagger Force careers.
Additional Promotions and Jobs: The opportunities don't stop there—the next rungs up the ladder branch out to include field operations, risk and safety, training, and more!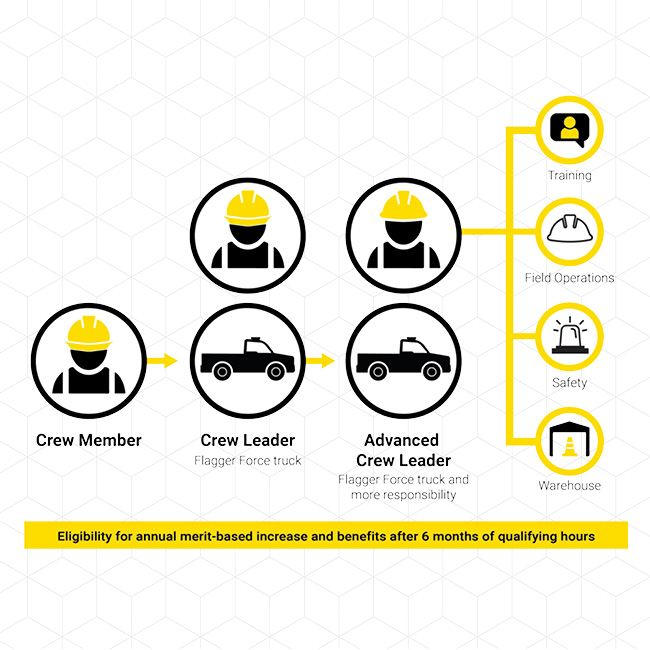 To learn more about our career opportunities, visit FlaggerForce.com/Apply!
Training and Development are Integral to Company Culture
All new crew members receive training through our in-house curriculum. Training programs include flagger certification, basic work zone, lane closure, advanced lane setup, and more. We created educational resources geared specifically toward traffic control professionals to meet the need for standardized and effective safety training. Flagger Force also offers multi-level leadership development courses to prepare staff to grow within the company.
Another Flagger Force development benefit is GEDWorks™, a free program for employees to earn their GED. Flagger Force is committed to helping employees build a solid foundation to grow and become contributing team members. When employees enroll in GEDWorks™, they get customized study plans, access to a bilingual advisor, practice tests, study tools, 1:1 tutoring, and more. This benefit is more than job training, it's a career launch pad!
And training doesn't just happen in person at Flagger Force. With nearly 2,000 professionals dispersed across 11 states, remote training and virtual communication help ensure employees always have access to learning and engagement opportunities. That's why Flagger Force offers an employee communications app, In the Zone (ITZ), to be a one-stop resource for team members. The app also houses our microlearning platform, FF Learn, powered by eduMe, to reinforce learning through personalized lessons delivered straight to their mobile device.
To learn more about our training and development programs, visit FlaggerForce.com/Apply!
Flagger Force Work Culture—It's Different
Flagger Force has a truly unique company culture reflected in our motto, WE KEEP OUR COMMUNITIES MOVING®. At Flagger Force, we believe that keeping our communities moving goes beyond traffic control. Sure, it includes keeping traffic moving, but it's also about keeping communities safe, keeping the water flowing, and making sure the lights are on.
Another foundation of our company culture is our dedication to safety, which is reflected in our commitment to continued training and our everyday practices in the field. We want to ensure our safety culture comes to life on the job and in the everyday lives of our employees. Truly, we are Safety-Driven®.
Benefits and Support
Flagger Force employees are offered a comprehensive benefits package, including health coverage, a 401k with company match, and competitive pay. All employees and immediate members of their household also have access to a 24/7/365 employee assistance program; through a simple phone call or text message, an employee can connect with Master's level clinicians to support them in times of need with things like relationships, life events, child and elder care, legal services, and other supportive services.
While on the job, employees also have on-site support through our dedicated field operations and safety professionals. These trained professionals conduct daily site visits to ensure all employees have the resources to keep everyone in our communities safe.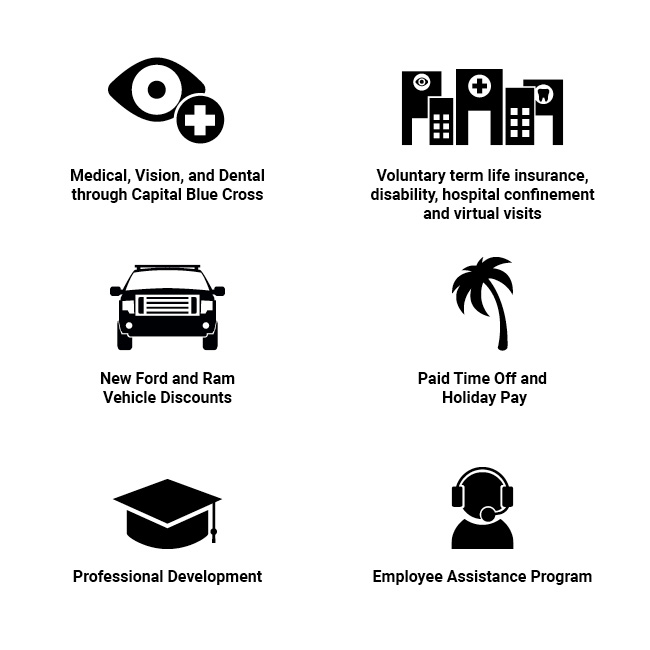 To learn more about our benefits, visit FlaggerForce.com/Apply!
Working at Flagger Force is more than a job, it's an opportunity to build a career protecting and serving others. Here's what two Flagger Force team members say about what it's like to work here.
"With my previous experience in the military, I could bring a lot of my experience and relate it to this job. Being able to make decisions quickly and safely, staying determined throughout the day and having respect and values of our company are just a few experiences that come to mind." Danny Rice, field manager, North Carolina
"I love it. Every day there's something different and that's what I like most about it. I also enjoy being a role model and helping future SEOs and crew leaders as well as teaching the crew members about our jobs." Tianna Mongold, area supervisor, Pennsylvania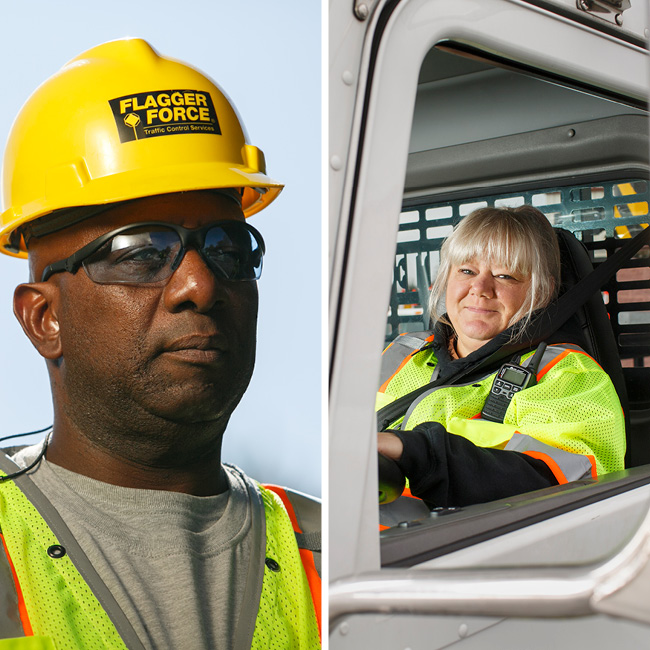 "Being the industry leader in traffic control means more than just keeping people safe. It is also about providing valuable resources and support to employees to meet them where they are," says Karen Parody, vice president of human resources. "Through our dedicated personnel, technology, and Safety-Driven mindset, we strive to be the best employer in the eastern United States."
Interested in applying? Visit FlaggerForce.com/Apply to fill out an application!