Did you know that according to the Common Ground Alliance (CGA), an underground utility line is damaged once every six minutes nationwide because someone decided to dig without first calling 8-1-1? With spring finally blooming and construction projects beginning to increase, it is time to recognize April as National Safe Digging Month, which is a reminder to all residents throughout the United States to always dial 8-1-1 at least three business days before any digging project. This will mark the 10th Annual Safe Digging Month.
Utility companies work with over 20 million miles of underground utilities in the country. That figure equates to more than one football field's length (105 yards) of buried utilities for every man, woman and child in the U.S.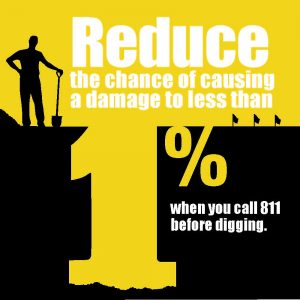 According to a national public opinion survey of homeowners conducted in March 2017 by CGA, 64 percent of homeowners would factor in avoiding injury as a reason for calling 811—followed by 39 percent who responded with keeping their utilities connected. The most popular planned projects cited among surveyed homeowners include:
Planting a tree or shrub (47 percent)
Building a fence (24 percent)
Building a patio or deck (23 percent)
Installing a mailbox (11 percent)
As part of National Safe Digging Month, Flagger Force encourages homeowners to take the following steps when planning a digging project this spring:
Always call 811 a few days before digging, regardless of the depth or familiarity with the property.
Plan ahead. Call on Monday or Tuesday for work planned for an upcoming weekend — providing ample time for the approximate location of lines to be marked.
Confirm that all lines have been marked.
Consider moving the location of your project if it is near utility line markings.
If a contractor has been hired, confirm that a call to 811 has been made. Don't allow work to begin if the lines aren't marked.
Visit Call811.com for complete info.