At Flagger Force, we believe our promise to keep our communities moving goes well beyond traffic control. While we literally keep vehicles moving safely through active work zones, we recognize that to deliver on our purpose, we must do more as a company and as community members. From providing career opportunities to a diverse group of individuals from all backgrounds, ethnicities, and experiences to volunteering with organizations in the communities we serve, Flagger Force is passionate about keeping our communities moving and ensuring they have what they need to keep growing and thriving.
One organization Flagger Force has a strong, ongoing partnership with is The Salvation Army. They provide diverse programs, including basic needs assistance, self-sufficiency mentoring, workforce development, a choice shopping food pantry, Family Table nutrition education, youth programs, and emergency disaster services to help meet the needs of our community without discrimination. Flagger Force is honored to support this organization financially and with our hands as we volunteer our traffic control services at th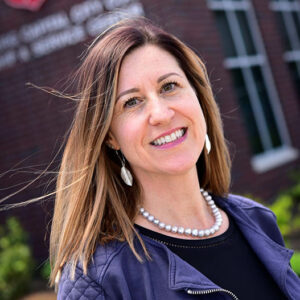 eir events, donate items to their programs, and work together to help individuals connect with and cultivate careers.
Recently, we connected with Jenny Gallagher Blom, director of programs and operations at The Salvation Army Harrisburg Capital City Region, to discuss the organization's mission, programs, and role in keeping our community moving toward a brighter tomorrow. With more than 20 years of experience in human resources, community, and organizational development leadership, as well as youth community engagement, nutrition, and self-sufficiency education programs, Jenny has the skill sets to help community members grow and thrive. She has spent the past 16 years with The Salvation Army Harrisburg Capital City Region, overseeing many different facets of program development, evaluation, implementation, and supervision. Jenny was instrumental in formulating the education and enrichment programs and curriculum currently being provided. She also has extensive experience in self-sufficiency initiatives that focus on life coaching, mentoring, and education to move clients from dependence toward greater self-sufficiency.
See what Jenny Gallagher Blom shared during our recent conversation to learn more about how Flagger Force and The Salvation Army keep our communities moving.
Could you speak to the impact The Salvation Army Harrisburg Capital City Region has on community members?
Jenny: The Salvation Army offers a broad range of services focused on meeting the individual needs of those in our communities. We can provide assistance with rent and utilities, or help families facing a crisis obtain food and clothing. We offer case management support to those looking for employment, education, or financial support, and much more. When I first started at The Salvation Army, there were five full-time staff members. Now, we have over 30. We also have part-time staff who assist with seasonal programs, such as after-school care, summer programs, and more. Our headcount with all our education programs is about 108, so there has been tremendous growth internally to help support our community. Our service area includes Dauphin, Perry, and Eastern Cumberland Counties, but the majority of who we serve live within the greater Harrisburg area. For our previous fiscal year, we served just under 37,000 different individuals!
One of the best ways to understand our role in the lives of those we serve is through real-life impact stories. A more recent story that I like to share is about "Ruth." Ruth was a single mom who enrolled her young son in The Salvation Army's Summer Youth Enrichment (SYE) program several years ago. During an interview to determine her eligibility for a scholarship to assist in covering the program fees, she met one of our case managers, Pastor Scott. The two developed a rapport, and Ruth enrolled in our Pathway of Hope case management program to work on achieving self-sufficiency and financial independence. Through the program, Ruth learned budgeting techniques. Pastor Scott provided her with a computer to use to manage household bills, which she still uses to this day. With hard work, Ruth raised her credit score, stayed financially disciplined and, within a year, was able to purchase her own home in a great school district!
But that was not the end. Years later, Ruth reached out to her case manager, an ordained minister, for pre-marital counseling. He was able to walk her and her fiancée through eight sessions to prepare for their marriage. This past fall, Ruth had the wedding of her dreams with over 100 guests, officiated by our own Pastor Scott.
The Salvation Army is honored to help Ruth, and many other individuals and families, realize and achieve their dreams.
Employees have been referred to Flagger Force through your Road to Success program. What is it and how does this program help individuals find employment opportunities?
Jenny: Road to Success is a program The Salvation Army offers in partnership with the United Way of the Capital Region and other local entities, including Flagger Force. We have two case managers who help facilitate the program, which focuses on helping people become employable and developing a career pathway with an organization so that they can continue to grow professionally.
Individuals can be in the Road to Success program for up to one year once they are employed. Through the program, they will learn soft skills and receive transportation, childcare, and short-term housing support. Several individuals in the program do not have their license, which can become a real barrier to employment, especially in areas where public transportation is limited. We can help individuals get their permit, enroll in driver education, pass their driver's test, and even purchase a car since our program will match up to $2,000 toward a vehicle.
Individuals progress step-by-step through the program. This intentional approach ensures that by the time the individual graduates, they have financial stability and know how to budget for transportation, childcare, and housing.
Community partners are critical to our ability to provide support and career opportunities through the Road to Success program.
How does The Salvation Army build life skills and employment opportunities?
Jenny: In addition to Road to Success, we offer other support that builds life skills and employment opportunities. For example, we work hard to match available jobs to the right candidates. We have people who come in seeking job placement support with all types of backgrounds and experiences. An important part of the service we offer is to make job referrals that are personalized to each individual. Our support also ensures those we help have what they need while at work, including something to eat. We provide to-go food for those individuals who secure employment. Several people rely on our hot meal program for their food, so ensuring they have a meal to eat while at work is important to their success.
We strive to build life skills and career exploration as early as possible. We talk about careers in our education programs for children. In fact, during our summer program, we have a career exploration component. Every week, students go on a field trip, or a company comes to our space to talk about different careers and employment opportunities. All possibilities are discussed, including going into employment, the military, technical school, college, and more.
We also host a career fair during our summer program, and even kindergartners attend this event. It is set up like a scavenger hunt, so students must ask each employer questions about their work and experience. All different types of companies are present, from veterinarians to state troopers and even construction companies. Exposing children to their options and helping them understand the experience they need to achieve their dreams is important to helping them plan for the future.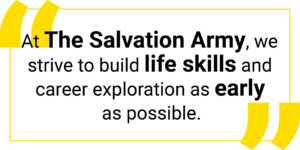 The Salvation Army helps people overcome circumstances to reach their full potential. Could you explain how helping an individual succeed positively impacts their family and the community?
Jenny: Helping individuals find employment, overcome transportation barriers, become financially secure, and develop independence has a positive effect on the community at large. First, every household that is more self-sufficient and empowered regarding their income has an impact on everyone because then they are paying taxes. Additionally, the more we can influence the home environment, the better. When we help parents become more self-sufficient and successful, their children see that. That legacy and what they are teaching their children expands far beyond just getting a job. It changes the whole dynamic of the household and instills lessons that can last a lifetime.
At The Salvation Army, we do a lot of parent and family engagement. We spend a lot of time with children in our before- and after-school care and our summer program. What these students learn can only go so far if we cannot connect and work with their families. All our youth programs have a parent and family component where we conduct surveys with the parents and children about their satisfaction with the program, asking about the needs of the children the family, so that we can plan helpful workshops around their specific wants and needs.
Our goal is that through our programs, we are preventing young community members from needing to utilize a soup kitchen or short-term housing. We want to see them be the next generation of engineers, teachers, pastors, CEOs, or whatever their interest and potential is.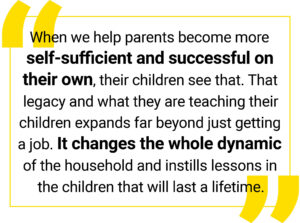 How can businesses best support your organization? What are good partner characteristics?
Jenny: We look for partners with different knowledge, skills, and expertise than our team. For example, this year, we have 4,000 children registered (and more on a waitlist) for our Christmas distribution program. For this program, individuals and businesses sponsor children by purchasing gifts on their wish lists. Then, we have volunteers come in and check all the donations and wrap them up for each child. Parents arrive and go through a drive-thru to pick up the presents for their children. This is a big event with lots of people and vehicles. Since we are not traffic control professionals, we partner with Flagger Force to help plan logistics, such as parking and traffic flow for the drive-thru. It is very efficient, and families are in and out within 10 to 15 minutes.
We also look to partner with organizations that holistically inspire and serve folks with dignity and respect while they are going through a difficult time. We want to work with groups with a similar mindset to our organization and with those that can bring something to the table that we do not offer.
In recent years, how has the approach to providing services to the community evolved? Moving into the future, what changes do you predict will happen to continue meeting the evolving needs of the community?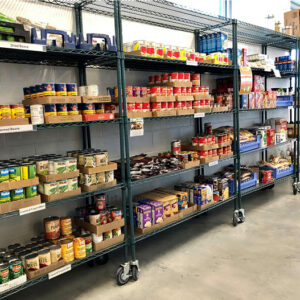 Jenny: One of the things I love about The Salvation Army is that we can evolve and be responsive to community needs. Since COVID-19, a lot of our programs have transitioned or changed to meet new demands. For example, during the peak of COVID-19, we shifted all our operations to strictly food services, which at the time was a significant community need. We went from serving 400 individuals in our pantry each month, to almost 4,000. As our community navigated the pandemic, there was a lot of instability and panic. People did not know where they would get their food from, so we transitioned based on our community's needs at that specific time. Additionally, an off-site team performed phone calls to support prayer. During the crisis, there were a lot of individuals who needed pastoral care. They wanted prayer and someone to listen.
For the education components during COVID-19, we shifted to packing kits with everything children would need for enrichment and academics. These kits were delivered to their homes and we also did Zoom sessions. As soon as we were able, we transitioned back to in-person learning. Many of our families did not have the luxury of staying home and working remotely. They were frontline workers who still had to report in person and faced the difficult choice of having to quit their job to stay home and supervise their children who were learning remotely or leave their children alone. In response to this community need, we opened a school day program where kids could participate virtually in their school. We provided meals, recess, time in the gym, enrichment, and more. We had 21 different schools represented in eight school districts.
As a result of the necessary changes in how kids learned during the COVID-19 pandemic, many experienced learning losses. We saw firsthand how kids were struggling because it is hard to learn through a screen, especially at a young age. To help the families we serve navigate this new challenge, we created a new position within our organization for a certified reading specialist dedicated to providing literacy support to the children and their families. This summer, we had a goal for the kids' fluency and comprehension to increase by 50%. Our students exceeded this goal; on average, we reached a 67% increase between our sites. Success is possible with the right support, direct instruction, and interventions!
It is hard to predict what the future holds, but we conduct focus groups and surveys to better understand the exact needs of the people we serve, our community, volunteers, and funders. I do believe employment will continue to be an issue. Education will also be key as we see many individuals (not just children) with social and emotional needs. We also recognize that food insecurity will only continue to increase. The sticker shock and costs are much higher due to inflation, so our food services are in high demand. This year alone, we have provided 814,000 meals from our food pantry. Last month, our pantry served 2,000 people and there were many others who we were unable to serve and had to refer to other pantries. Unfortunately, I think those numbers will continue to go up.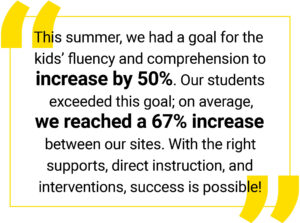 How can an individual or family access The Salvation Army's services?
Jenny: For individuals or families looking to access The Salvation Army Harrisburg Capital Region's services, the best thing to do is call our office Monday through Friday between 8 a.m. and 4:30 p.m. We have two employees dedicated to our phone lines who can offer support. These individuals are bilingual and can speak both English and Spanish. In October 2022, we received 4,600 incoming calls!
Our office specifically serves individuals in Dauphin, Perry, and Eastern Cumberland Counties. Some programs have different eligibility requirements. For example, our food pantry requires a declaration of need because we typically serve folks that are at 180 to 200% of the federal poverty level or much lower. Our education programs are first come, first served. It is best to call and speak with a receptionist who can complete a basic screening to see which programs the individual or family may be eligible for. In some instances, there may be another program in our community that is a better fit for their needs, so we would make a referral to that program. We strive to deliver a personal touch and help as many community members as possible.
At The Salvation Army, we recognize we cannot serve and meet the needs of 37,000 individuals annually by ourselves. Our community partners, volunteers, and donors play a large role in the positive impact we have on the region, and we are very grateful for their support!
For individuals who reside in areas outside our geographic coverage area, we recommend visiting www.salvationarmyusa.org/usn/contact/. You can enter your city, state, or zip code to find your local Salvation Army.
---
At Flagger Force, we are honored to partner with an organization who shares our unwavering commitment to providing fair chances for a diverse group of individuals from all backgrounds, ethnicities, and experiences without discrimination. Building a thriving community has a ripple effect on all, and we are proud to be a part of this positive change. From working with The Salvation Army to employ individuals in their Road to Success program to our crew members volunteering to support traffic control at their Christmas gift distribution event, we are grateful for the opportunity to work together to keep our communities moving.
Flagger Force thanks The Salvation Army Harrisburg Capital City Region for making this thoughtful discussion possible. And we thank Jenny Gallagher Blom for her commitment to creating a moving, growing, and thriving community.
Summary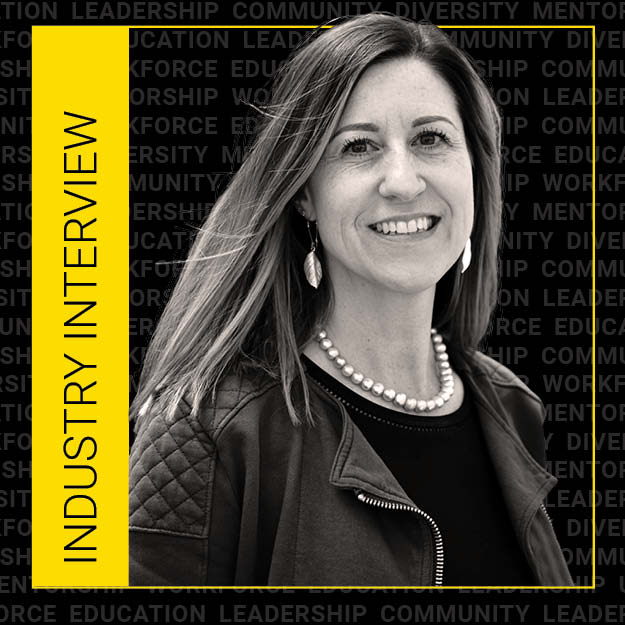 Article Name
Keeping Communities Moving, Growing, & Thriving
Description
In this industry interview, Flagger Force connects with Jenny Gallagher Blom, from the Salvation Army Harrisburg Capital City Region to discuss community engagement.
Publisher Name
Publisher Logo