At Flagger Force, we pride ourselves on our Safety-Driven® culture. Safety is so important to us that we have entire departments dedicated to safety, quality, and training who educate employees on the latest safety trends and processes using innovative, cutting-edge tools and technology. Safety is always at the forefront whether our workforce is setting up a work zone, driving a company vehicle, or working in the office.
Each year, Flagger Force participates in National Work Zone Awareness Week (NWZAW), an annual campaign that brings together industry-leading organizations, safety professionals, and communities across the United States to educate individuals on the importance of work zone safety and safe driving. This year, the event will be held Monday, April 17 through Friday, April 21, and focus on the theme "You play a role in work zone safety. Work with us." The Missouri Department of Transportation (MoDOT) is hosting this year's NWZAW. We recently had the opportunity to connect with their Highway Safety and Traffic Engineer, Nicole Hood, to discuss the role NWZAW plays in enhancing work zone safety, her advice for motorists to keep themselves and traffic control professionals safe, and the emerging technology that can help improve work zone safety.
Nicole Hood, PE, became the state highway safety and traffic engineer for MoDOT in June 2017. She champions statewide highway safety efforts to reduce serious injuries and fatalities on Missouri's roadways and provides direction and support for traffic management and operations. Nicole graduated from the University of Missouri at Columbia and has held various positions in planning, design, traffic, project management, as well as her leadership role as an assistant state design engineer. She has embraced safety and innovative concepts throughout her career on several transportation projects. Nicole is a member of MU's Academy of Distinguished Alumni and is a registered professional engineer.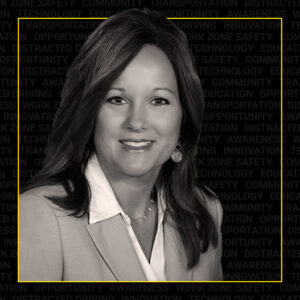 See what Nicole Hood shared during our recent conversation to learn more about how MoDOT is striving to make work zones and roadways safer for our communities.
What role does the Missouri Department of Transportation have in this year's National Work Zone Awareness Week campaign?
Nicole: We are excited about the opportunity to host National Work Zone Awareness Week here in Missouri. In large part, it is all about heightened awareness and encouraging safe driving through highway work zones not only in Missouri but across the nation. During the spring, as the roadway construction season ramps up, we are going to start seeing more orange cones and barrels out there, so this is an opportunity to increase awareness of safe driving in work zones.
In Missouri, we currently have the highest level of funding for road and bridge work in our history. This means motorists are going to encounter more than 20,000 work zones this year during their travels, a record number for the state. During National Work Zone Awareness Week, we want to remind everyone that every time you approach a work zone as a motorist, you play a crucial role in the safety of highway workers and yourself as the driver. The theme for this year's campaign is "You play a role in work zone safety. Work with us," which emphasizes the importance of communities working together to ensure everyone makes it home safely each and every day. MoDOT is pleased to host National Work Zone Awareness Week and be able to advocate for work zone safety and bring attention to the importance of everyone's safety as they travel through work zones.
What roadway safety issues are important to address during National Work Zone Awareness Week?
Nicole: In Missouri, over the past five years, we have had over 13,000 work zone crashes. Unfortunately, 92 people have been tragically killed. In general, we have seen a rise in reckless and aggressive driving, especially since the pandemic. Speed is a top contributor to work zone crashes. In our St. Louis district, we are currently working on an interstate project and drivers have been cited for going over 100 mph in a 50 mph work zone. In fact, one motorist was clocked traveling at 124 mph. Distracted driving is another safety issue that is important to address. In Missouri, distracted driving contributed to 400 work zone crashes in 2022. Impaired drivers also pose safety risks. Marijuana is legal for recreational use in the state, so we have been trying to educate members of the community on the importance of not driving high. It has added an element that we must be cognizant of.
Every day of the week and during all hours, we have speeding motorists, distracted drivers, impaired drivers, and the list goes on, which have made our work zones more dangerous than ever before. It is important we protect roadway workers, but also emphasize that drivers need to protect themselves too. Last year in Missouri, 71% of individuals killed in work zone crashes were not wearing a seat belt. We all know a seat belt can be the best defense in any crash. National Work Zone Awareness Week is an opportunity to educate and emphasize the importance of making smart and cautious driving choices.

What advice would you offer to traffic control professionals?
Nicole: I would urge traffic control professionals to expect the unexpected when they are planning their daily operations. That really is due to some of the driving behaviors that we are seeing out on the roadways. It is so important that we always evaluate and mitigate the risk. Also, traffic control professionals should make sure they are providing protection where they can, such as wearing personal protection equipment (PPE) to make sure they are visible, as well as ensuring all team members are properly trained.
What programs or initiatives has the Missouri Department of Transportation implemented to enhance work zone safety?
Nicole: One program that MoDOT continues to promote for all motorists, regardless if they are in a work zone or not, is the "Buckle Up Phone Down (BUPD)" initiative. Founded in 2017, the program urges drivers to take two simple and impactful actions that can protect themselves, and of course, those that are working along the highways. It is simple—wear your seatbelt and put your phone down. The BUPD initiative has spread steadily across Missouri and to more than a dozen other states. The current program focuses outreach to drivers through educational materials and a BUPD pledge, which is available to individuals and businesses at www.modot.org/bupd. We want to inspire others across the nation to adopt BUPD, with the hopes we will have more widespread recognition and engagement and ultimately, safer roads across the country.
At MoDOT, we continuously work on improving the safety culture and have several other strategies we have implemented to make Missouri's work zones a safer place. One innovation I am super proud of is called a truck-mounted attenuator (TMA) automated flagger assistant device (AFAD). The TMA AFAD improves the safety for our workers by removing the human traffic control professional from the roadway and putting them safely in the cab of a truck, which is protected by a truck or trailer-mounted attenuator. Truck and/or trailer-mounted attenuators are safety devices that are installed on the back of work zone vehicles to absorb the impact of potential rear-end collisions and save lives. Traffic control professionals can operate the device from the cab, which can also be used to alert drivers. There is actually a sign on the back of the truck that shows messages such as "stop" or "slow down" when they are in work zones or approaching lane reductions. This innovative initiative is being promoted across the state and has tremendous value.
Additionally, slow-moving operations, such as lane striping, sweeping, bridge flushing, and pothole repair create a threat in the form of vehicles crashing into the TMA that protects the workers. In Missouri, we are continuing to pilot our autonomous TMAs, which basically functions as a leader-follower system to reduce worker (e.g., operator) injuries in TMA crashes. With this system, the worker can be removed from the follower vehicle to allow connected and automated vehicle technology, like GPS data, to guide the vehicle in following the path of the leader vehicle.
Could you discuss the role technology plays in enhancing work zone safety?
Nicole: Technology plays a huge role in enhancing work zone safety. As mentioned earlier, autonomous technology and truck-mounted attenuators (TMA) would improve safety, but also help with workforce issues because the TMA could be driverless. We do not have legislation in Missouri at this time for driverless vehicles, so that is something we would have to pursue.
Technology has also opened the door for us to utilize real-time digital alerts. We have more than 500 of our MoDOT emergency response and work zone trucks across the state equipped with alert systems. The way it works is when one of our vehicles turns on their fleet lights, the vehicle sends an alert to motorists through apps, such as Apple Maps and Waze, and in-vehicle navigation systems, so motorists are alerted early about the upcoming work zone. Since April of 2021, we have alerted 8 million drivers—all thanks to technology!
Another important area of technology to mention is the Work Zone Data Exchange, a national initiative through the Federal Highway Administration and the U.S. Department of Transportation. It is all about having a consistent language for communicating work zone activities across all states. My understanding is they will take work zone data from various local jurisdictions and departments of transportation and make the data available to third parties who can share it with the traveling public.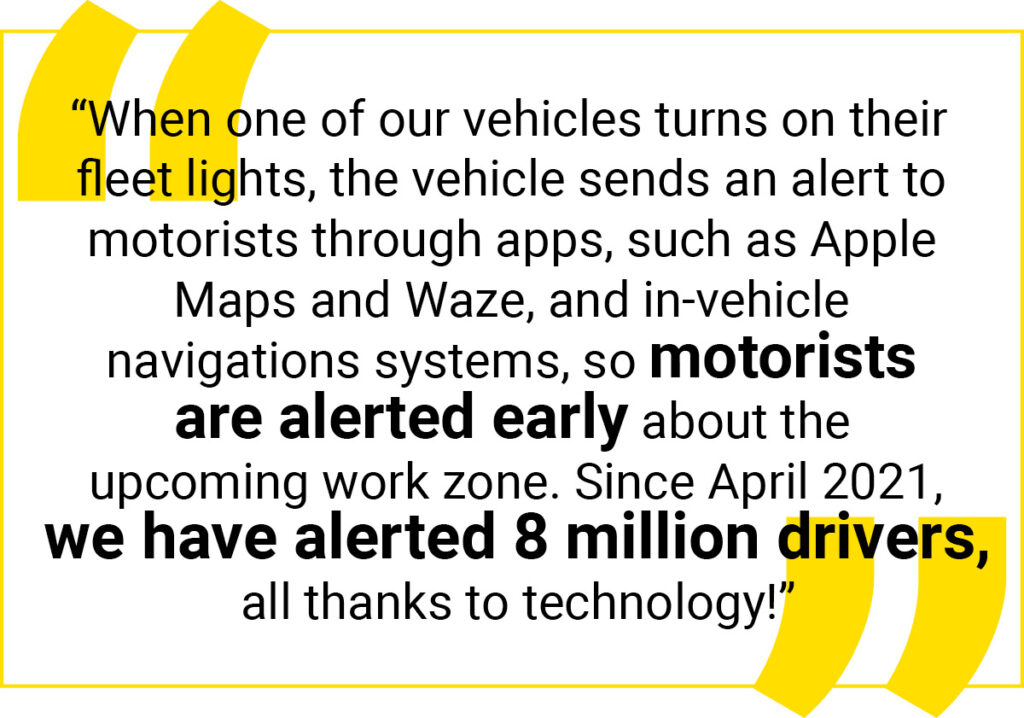 Are there any emerging trends in work zone safety that are important to highlight?
Nicole: Behavioral driving issues, such as speeding and distracted driving, have resulted in some unfortunate trends with several of our protective vehicles. Those protective vehicles that we have with TMAs on them are getting hit more often, and that is a real concern for us. This is why we continue to promote innovations like the autonomous TMAs because they can help minimize those risks by removing the worker from the roadway.
In general, in Missouri, our overall traffic fatality trends have increased. In 2022, 1,057 people were killed, which is the highest number we have seen since 2006. Last year was the third year in a row that traffic fatalities have increased. In fact, in the last 10 years, Missouri's fatal crashes have increased by almost 40%, with the largest spike occurring during the pandemic. We hope to see these trends moving in the opposite direction this year.
Does the Missouri Department of Transportation utilize technology to train their traffic control professionals?
Nicole: We are partnering with the University of Missouri at Columbia to explore the use of virtual reality technology focused on training our employees on work zone safety. Employees can wear a set of virtual reality goggles and experience a simulation in which they drive through a work zone. While they are experiencing the simulation, they can look for techniques or methods in the setup of the work zone, including how the signs were executed, the quality of the sign, and more. Our team is still evaluating this innovative training technique, but there could be some real value in virtual reality as it would ensure traffic control professionals are properly trained before they even set foot in a live work zone.
---
At Flagger Force, we are honored to collaborate with an organization who shares our unwavering commitment to safety. When industry-leading organizations and safety professionals work together, our nation's roadways become safer for traffic control professionals and motorists. Let's make every week National Work Zone Awareness Week and come together to keep our communities moving safely!
Flagger Force thanks the Missouri Department of Transportation for making this thoughtful discussion possible. And we thank Nicole Hood, PE, for her contributions to making work zones safer.
To learn more about National Work Zone Awareness Week or to view the calendar of events, click here.
Summary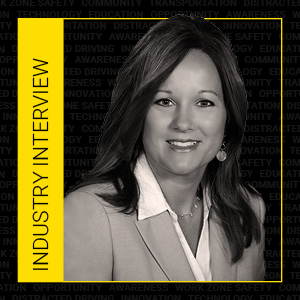 Article Name
A Collaborative Effort Enhances Work Zone Safety: An Industry Interview with the Missouri Department of Transportation
Description
In this industry interview, we connect with the state highway safety and traffic engineer for Missouri's Department of Transportation (MoDOT), Nicole Hood, to learn more about how MoDOT is striving to make work zones and roadways safer for our communities.
Publisher Name
Publisher Logo