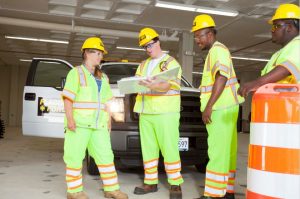 Every day, road construction workers and drivers on the road interact with traffic control employees at various sites. Our Flagger Force field crews are trained to control and maintain the safe passage of traffic through work zones allowing drivers to get where they need to go while providing the time and space for construction crews to do their job safely.
When we're planning out the traffic control and work zone safety of your road construction site, we follow and apply the guidelines provided by each state.
The Flagger Force field crews are responsible for many different aspects of traffic control, depending on the type of roadwork or interruption:
Standard Flagging Operations include lane restrictions and temporary closures. These operations often include high volumes of traffic and require careful communication between traffic control flaggers and construction laborers doing their jobs. Our flaggers are trained to alternate vehicle movement and avoid traffic building up in any one direction, while also giving construction crews the time they need to complete their required work.
Highway / Freeway Operations often mean warning motorists well before a lane restriction, deviation or closure to keep traffic and contractors safe. Work zone safety on highways requires special attention for signage and space, due to the high-speed and high-volume of traffic that pass. This is especially important at night, and is why construction crews and traffic control team members all need to be highly visible and aware of moving traffic.
In all cases, Federal and State standards, regulations and guidelines all need to be followed carefully. At Flagger Force, we have spent years studying the standards related to temporary traffic control and have the resources available to meet all regulations.
While many of the road construction site safety standards are similar across the states in which Flagger Force operates, there can be some differences. These are often related to factors such as the amount and placement of signage, duration of working periods and lane reductions and traffic stoppages.
Safety Involves Everyone
The safety at a road construction site involves construction laborers, motorists, and traffic control employees, who need to take safety precautions while in the work zone:
Construction Laborers: The laborers at a road construction site need to stay focused on their job. They have specific tasks they need to accomplish within a certain amount of time. Their tasks can include working on foot or moving around the site with equipment or vehicles. Job site safety is important to construction laborers, but the high stress and quick pace can mean crew members don't always pay close attention to general traffic passing through, which can cause dangerous situations.
Motorists: The general public simply wants to pass through a construction zone and continue on their way. Some people view road construction sites as a hassle, though it's important to remember that road construction now means better, safer roads. While most drivers in construction traffic are careful to respect lane reductions and restrictions, impatient drivers sometimes try to pass through when it isn't safe and can create dangerous situations for other traffic and construction site workers.
Traffic Control Employees: Flagger Force temporary traffic control crew members (flaggers) are a key component of road construction site safety. Not only do they have to watch out for their own safety, but they also have the important task of ensuring construction laborers and drivers know when it's safe to advance and when they need to slow down or stop. Our employees ensure this safe movement of traffic and workers by employing high-quality operations, clear signage, and constant communication with other crew members.
We work hard every day to ensure safe temporary traffic control operations all across PA, MD, NJ, DE, VA, WV, and NC. In understanding and applying all state standards and guidelines, we ensure work zone safety, help keep traffic flowing and make sure construction laborers, motorists, and our own traffic control employees all make it home safe and sound.
"The Flagger Force Operations team has done a great job at providing me consistency on my job site this week. I appreciate all the hard work."
- Owen Crouse, Foreman, Riggs Distler
"Today, Flagger Force did an excellent job on our work zone. I was very impressed with their level of professionalism and knowledge in traffic control. They did some great work."
- Phil Vigue, Foreman, Cianbro Corp.
"The crew from Flagger Force did a great job today. These two were professional, patient, and pleasant to work with."
- Charles Curtis, Foreman, Verizon
"Flagger Force has some of the best crews. They are always attentive, listen to what is needed and they all have been a pleasure to work with."
- Donnie Hoffer, Foreman, Brubacher Excavating
"Flagger Force employees are polite, courteous, and very professional. It is always nice to have them on our site."
- Scott Gates, Foreman, UGI
"Our Flagger Force crew did an outstanding job today. I am impressed with the quality of the level of service they provided. They were safe, courteous, and were a pleasure to have worked alongside of our crew."
- Steve Krizan, Foreman, BGE-Underground
"The crews at Flagger Force are great to work with. We had a complicated rolling slowdown and they had the operation down to a science. I am very pleased with the job they performed."
- Andrew MacPherson, project manager, CW Wright Construction
"The crew with my team today was outstanding. My employees made sure to tell me how knowledgeable, polite, and hardworking each member of this crew was throughout the day."
- Damon Barbour, Supervisor, Reg Operations Line & Sub, West, Potomac Edison
"I want to thank Flagger Force for providing us with an outstanding and professional crew. The dedication your employees show on the road is very gratifying knowing they are the ones protecting our crew. Thank you for keeping us safe."
- Shane Satterwhite, foreman, Pike Electric