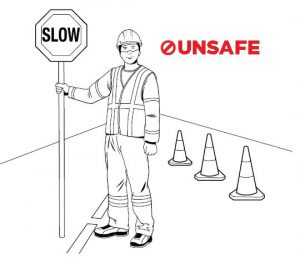 The flagger in this illustration is standing in the middle of a roadway…He should be positioned at the shoulder of the roadway.
Safety is a vital part of traffic control. Many distractions and hazards at a road construction site such as traffic, pedestrians, construction crew employees and moving equipment and vehicles combine to create a busy and complicated situation. Other potential hazards include electrical lines, open trenches and gas lines associated with the actual work area.
At Flagger Force, we incorporate safety into everything we do. We've built our reputation on offering high quality temporary traffic control services that ensure the safety of everyone in and around our work zones. Never satisfied, we meet all state and federal requirements to create the safest road construction traffic flow possible.
Training Is the Key
The best way to ensure the safety of utility and roadwork projects is to provide thorough and continuous training to our employees. Every member of our team passes through our Flagger Force Academy training programs, which are the foundation of our Safety-Driven culture. Here are a few important factors:
Every meeting at Flagger Force begins with a safety and quality message. This serves two functions: it highlights new or important safety developments and also maintains a safety mindset as one of our company's core values.
We continually analyze and evaluate our work zones and crews with thousands of unique data points every year. We enforce all standards and determine where we can make improvements.
Safety training isn't only for crew members. Every single Flagger Force employee has regular safety training. We want safety to be an intrinsic part of our corporate culture and integral to everything we do.
Our corporate employees are well versed in all federal and state requirements for PA, DE, MD, and VA work zone safety. We always strive to surpass the minimum requirements for safety.
We follow the guidelines set forth by the federal MUTCD and state DOT standards. We follow the best practices in the industry. Every employee is provided the resources needed to stay informed and make the best safety decisions possible.
Safety isn't a catch phrase that is shared with employees once and forgotten. At Flagger Force, every member of our team understands their individual impact on themselves, client construction crews, and the community in general. We are committed to safety, and we work hard every day to ensure it.
Important Resources
Our organization includes a role of Safety Professional, who is tasked with ensuring safety practices, procedures and training are followed by all employees. The Safety Professional draws on many different resources to create our Safety-Driven culture:
Legal requirements at the federal and state level are respected. Working across the Mid-Atlantic area (including PA, DE, MD, and VA) means we adhere to specific standards that can vary state to state, along with the American Traffic Safety Services Association (ATSSA) and DOT standards.
Standards in the MUTCD produced by the Federal Highway Administration (FHWA) are an excellent resource for our safety mission. We also consider accepted industry practices and participate in traffic control safety service industry meetings and seminars to ensure we're well informed.
As an industry leader, Flagger Force sets safety trends. We are a go-to resource for industry regulators who respect our commitment to safety and through our understanding of the safety implications and requirements of the temporary traffic control industry.
Safety Is No Accident
Road construction safety doesn't happen by chance. It takes a consistent and dedicated approach, as well as continuous training for all employees. We provide safe temporary traffic control at all times, which is how we've turned Flagger Force into the industry leading force it is today.
"The Flagger Force Operations team has done a great job at providing me consistency on my job site this week. I appreciate all the hard work."
- Owen Crouse, Foreman, Riggs Distler
"Today, Flagger Force did an excellent job on our work zone. I was very impressed with their level of professionalism and knowledge in traffic control. They did some great work."
- Phil Vigue, Foreman, Cianbro Corp.
"The crew from Flagger Force did a great job today. These two were professional, patient, and pleasant to work with."
- Charles Curtis, Foreman, Verizon
"Flagger Force has some of the best crews. They are always attentive, listen to what is needed and they all have been a pleasure to work with."
- Donnie Hoffer, Foreman, Brubacher Excavating
"Flagger Force employees are polite, courteous, and very professional. It is always nice to have them on our site."
- Scott Gates, Foreman, UGI
"Our Flagger Force crew did an outstanding job today. I am impressed with the quality of the level of service they provided. They were safe, courteous, and were a pleasure to have worked alongside of our crew."
- Steve Krizan, Foreman, BGE-Underground
"The crews at Flagger Force are great to work with. We had a complicated rolling slowdown and they had the operation down to a science. I am very pleased with the job they performed."
- Andrew MacPherson, project manager, CW Wright Construction
"The crew with my team today was outstanding. My employees made sure to tell me how knowledgeable, polite, and hardworking each member of this crew was throughout the day."
- Damon Barbour, Supervisor, Reg Operations Line & Sub, West, Potomac Edison
"I want to thank Flagger Force for providing us with an outstanding and professional crew. The dedication your employees show on the road is very gratifying knowing they are the ones protecting our crew. Thank you for keeping us safe."
- Shane Satterwhite, foreman, Pike Electric