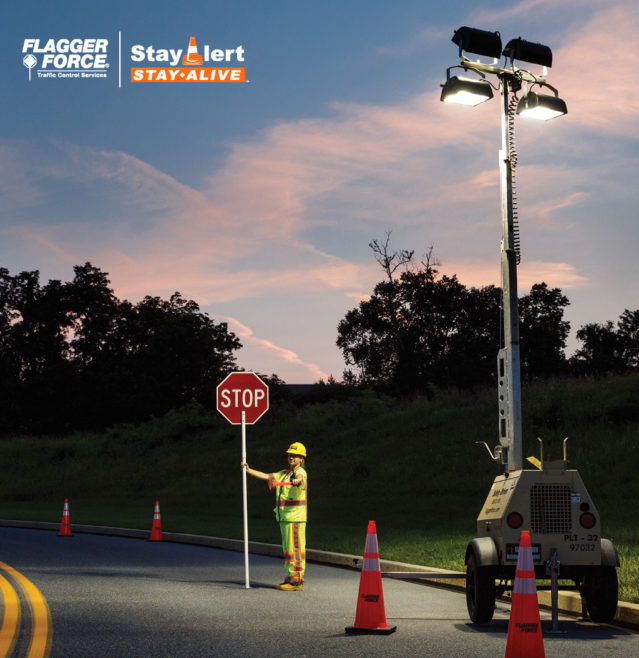 Harrisburg, Pennsylvania (April 20, 2020) — As the nation's utilities and essential businesses work tirelessly to keep critical infrastructure maintained during unprecedented healthcare and economic crisis, Flagger Force Traffic Control Services is working alongside other essential businesses to ensure communities are safe while on or near these work areas. That is why during National Work Zone Awareness Week (NWZAW), April 20-24, 2020, Flagger Force is reinforcing important reminders to drivers everywhere to slow down and avoid distractions while behind the wheel.
"We are here to support the essential needs of our utility and infrastructure partners so together, we keep our communities moving during these unprecedented times," says Mike Doner, president, and CEO of Flagger Force. "Our employees consistently report witnessing drivers focusing on their cell phones while driving instead of the road. During times like this when mental stress and anxiety are heightened, we are asking motorists, not just during NWZAW and this crisis, but every day to be more aware while driving and to focus on arriving at their destination safely and healthy."
NWZAW, in its 20th year, is an annual spring campaign organized by the American Traffic Safety Services Association to encourage motorists to drive safely through work zones. This year's theme is "Safe Work Zones for All. Protect Workers. Protect Road Users. We Can Do It!" During a pandemic, motorists need to hear this message more than ever. Now more than ever, our utilities and other essential businesses are critical. Traffic control is centered around public safety and protecting those maintaining the security of the essential infrastructure. In order to rely on the telecommunications, electricity, clean water, and everything else we have grown accustomed to, especially during times of uncertainty, traffic control must continue to shield that work from danger on and near the roadway. Flagger Force will be on the frontlines with their clients ensuring that the "new normal" we are coming to terms with as a community does not impact our means to the very infrastructure, we all depend on.
As is the situation in most emergencies, people are more distracted than ever. In the case of the coronavirus, folks are dealing with a health and economic crisis that is changing every few hours. And though there may be less traffic on the roads, the anxiety from the crisis does produce more distracted driving. If a utility worker, traffic control professional, or driver gets hurt, it means a trip to the hospital, and our healthcare providers are already burdened with supply shortages and managing COVID-19 face-to-face. Reducing patient demand on our health care system is a common goal and one shared by Flagger Force.
Statistics from the National Work Zone Safety Information Clearinghouse shows a total of 671 work zone crashes that resulted in 754 fatalities in 2018. 124 of those fatalities were road workers. The National Highway Transportation and Safety Administration report that in 2018, 2,841 people were killed while driving because of distracted driving. Also, in 2018, 97% of Flagger Force employees reported witnessing distracted driving such as using cellphones and watching videos.
Flagger Force is committed to continuing to educate drivers about the hazardous conditions in work zones. These safety messages urge drivers to:
Slow down;
Avoid distractions such as texting and driving; and
Obey all posted signage.
In response to COVID-19 restrictions, NWZAW will be promoted through a social media campaign with the hashtag, #NWZAW. The Flagger Force Facebook, LinkedIn, Instagram, and YouTube pages will be featuring content and safety tips to share throughout the week.
For more information about NWZAW, please visit NWZAW.org.
-30-
Flagger Force Traffic Control Services® is recognized as an industry leader in temporary traffic control. In 2002, the company was founded by entrepreneurs with a handful of employees; one pickup truck; and the signs, stands, and cones needed to control traffic in a work zone. Today, Flagger Force establishes safe work zones throughout the Mid-Atlantic region with a fleet of approximately 900 trucks and 1,600 full-time employees. Their quality and safety standards have been embraced by industry stakeholders and has allowed them to continuously expand their geographic reach. Flagger Force is headquartered in Hummelstown, Pennsylvania and has the resources and expertise to help support the Mid-Atlantic's infrastructure, utilities, and other service industries—providing career opportunities throughout the region. For more information, visit FlaggerForce.com.