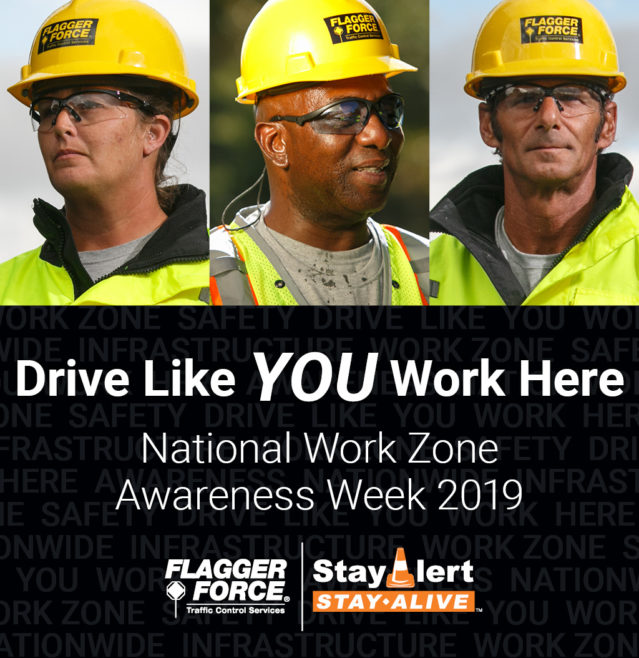 For the official kick-off of construction season, Flagger Force Traffic Control Services® is joining the nationwide movement to bring awareness to work zone safety during National Work Zone Awareness Week (NWZAW), April 8-12, 2019. NWZAW is an annual spring campaign organized by American Traffic Safety Services Association to encourage motorists to drive safely through work zones.
"Our Safety-Driven® passion is the driving force behind everything we do at Flagger Force," said president and CEO Mike Doner. "For more than 15 years, safety has been our number one priority for not only our employees but for motorists in our communities. During NWZAW we want to remind everyone of the importance to 'Stay Alert. Stay Alive. ™' When motorists succumb to driving distractions, they are not only putting themselves and other drivers at risk, but also the workers who are working diligently to improve the infrastructure in our communities."
The statistics are alarming. According to the National Work Zone Safety Information Clearinghouse, there were 132 work zone fatalities in the United States in 2017. In 2018, 97% of Flagger Force employees reported witnessing distracted driving such as using cellphones and watching videos. The National Highway Traffic Safety Administration released that 1 in 4 accidents in the U.S. are caused by an inattentive motorist.
Flagger Force is committed to educating drivers and workers about the hazardous conditions in work zones through radio public service announcements, social media content, and supporting regional events. These safety messages urge drivers to:
• Slow down;
• Avoid distractions such as texting and driving; and
• Obey all posted signage.
Doner added, "According to the Governors Highway Safety Association, 47 states have banned text messaging for all drivers. This is a good step in the right direction, but there is more work to do."
The NWZAW kick-off event will be held in Washington D.C. on April 9 at the Frederick Douglass Memorial Bridge with the theme of "Drive Like You Work Here." For more information about the event, please visit NWZAW.org.
To learn more about Flagger Force and their support of NWZAW, visit: FlaggerForce.com/Safety.