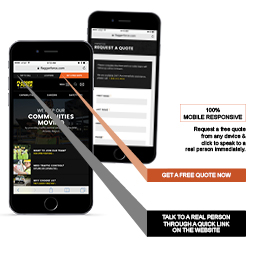 HARRISBURG, Pa. (February 28, 2017) – Since 2002, Flagger Force Traffic Control Services has established safe, quality work zones throughout the Mid-Atlantic region. Today, the company announced its newly-designed website that more closely reflects the company's mission and provides in-depth resources and safety-driven content to its employees, clients and partners in the construction and transportation industry. Flagger Force partnered with Harrisburg-based, WebpageFX, an award-winning, web-development agency, to lead the redesign of the website.
In addition to a refreshed design, FlaggerForce.com has several new design and functionality features that make the site a go-to resource for industry stakeholders in the temporary traffic control market:
Relevant Content: The site features a blog, Traffic Control Insider, that includes fresh content from the company's industry publication On the Move, such as industry executive interviews with clients and partners like Virginia Tech Transportation Institute (VTTI), Baltimore Gas & Electric (BG&E) and Virginia Department of Transportation (VDOT). In addition, the blog will highlight employees throughout the company and tell their unique stories. The website also features
Safety 101 content from Flagger Force's Safety Driven Video Series.
Mobile Responsive Design: When an industry professional visits the site, based on the device they are using, the website will adjust to those dimensions. The website also makes it easier for individuals in need of traffic control services to request a free quote from an easily
identifiable button.
Employee Portal: Flagger Force continues to support their employees by offering comprehensive training sessions and providing them with the latest resources. The website now features real-time Flagger Force announcements and the ability to read the most recent internal employee newsletter, In The Zone, which includes employee spotlights from all facilities, important information and safety content.
"Flagger Force prides itself on being a leader in the traffic control industry through all its endeavors," says Sean Lightner, Vice President of Sales and Marketing. "The newly redesigned website not only makes it easier to do business with Flagger Force, it also enables us to better share our traffic control knowledge and safety expertise with our utility, construction and transportation industry partners."
In August 2016, Flagger Force partnered with Harrisburg-based WebpageFX, a full-service Internet marketing, SEO and website design and development agency offering integrated web solutions for businesses, to design a website that would not only solve the company's functionality needs, but also the needs of the company's audiences. Like Flagger Force, WebpageFX has been recognized as a Top 50 Fastest Growing Company by the Central Penn Business Journal and by Inc. 5000 magazine. To learn more about WebpageFX, you can find them online at http://www.webpagefx.com.
"WebpageFX was proud to partner with Flagger Force on their website redesign project, given their shared values of customer satisfaction and positive employee engagement," says Tyler Bouldin, Director of Web Strategy at WebpageFX. "We have helped global brands improve their web presence, so it's always a pleasure to work with another local company who, like WebpageFX, has also grown rapidly from their Central PA roots. As Flagger Force continues to expand their footprint across the Mid-Atlantic region, we are excited to help them continue to tell their brand story through the web."
The website will continue to be updated with the latest content in work zone safety. The company invites you to explore its new site by visiting: www.flaggerforce.com.
-30-
About Flagger Force
Flagger Force Traffic Control Services provides safe, quality work zones throughout the Mid-Atlantic region. Flagger Force provides careers to more than 1,600 full-time employees with a 24/7 operational capability and two-hour emergency response time. Flagger Force "Keeps Our Communities Moving" safely through work zones, while their clients work to keep the power on, water flowing and bridges safe for the traveling public on a daily basis. They also support the communities they work and live in by donating time, resources and dollars to local organizations. The company is a certified women business enterprise by the Women's Business Enterprise National Council (WBENC). To learn more about Flagger Force, visit www.flaggerforce.com.
About WebpageFX
WebpageFX is a full-service Internet marketing, web design, and web development agency offering integrated web solutions for businesses around the world. With some of the brightest minds and most talented individuals in the industry, they provide exceptional results for all of their clients.