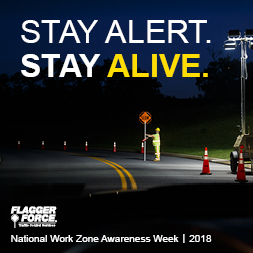 National Work Zone Awareness Week Kicks off Official Construction Season with Vital Safety Messages
Flagger Force Traffic Control Services joins the nationwide movement to bring awareness to work zone safety during National Work Zone Awareness Week (NWZAW), April 9-13, 2018. NWZAW is an annual spring campaign organized by American Traffic Safety Services Association (ATSSA) to encourage safe driving through work zones.
"We share our Safety-Driven passion every day of the year, especially during NWZAW, by encouraging motorists of the importance to "Stay Alert. Stay Alive.," says Mike Doner, president and CEO of Flagger Force. "Motorists need to put their phones down and pay attention to what is going on around them. They are not only putting themselves at risk, but also other drivers and the workers who are working diligently to improve the infrastructure in our communities."
According to the National Work Zone Safety Information Clearinghouse, 683 fatal crashes occurred in work zones, nationally, in 2016. The Federal Highway Administration reports in 2016 that roughly 85 percent of work-zone fatalities are travelers, not workers. Distracted driving and speeding primarily cause these fatalities.
To underscore the importance of work zone safety in Philadelphia, PECO will illuminate the Crown Lights in orange from April 9 – 11. Doner added, "We are grateful to PECO for helping us to bring greater attention to this important safety message for all Philadelphians."
Flagger Force is committed to educating drivers and workers about the hazardous conditions in work zones. Radio public service announcements will air throughout the company's footprint and social media posts, focused on safety awareness, can be found on its YouTube, Instagram, LinkedIn, and Facebook channels. These safety messages urge drivers to:
Slow down;
Avoid distractions such as texting and driving; and
Obey all posted signage.
Additionally, the company will partner with several departments of transportation at press events throughout the eastern United States.
The NWZAW kick-off event will be held in Illinois on April 10 at the Jane Byrne Interchange Reconstruction Project in the Chicago metro area with the theme of "Everyone is Responsible for Safe Work Zones." For more information about the event, please visit NWZAW.org.
To learn more about Flagger Force and their support of NWZAW, visit: FlaggerForce.com.
-30-
About Flagger Force
Flagger Force® is recognized as an industry leading, short-term traffic control company in the eastern United States. The company was founded in 2002 by entrepreneurs with a handful of employees; one pickup truck; and the equipment needed to control traffic. Today, Flagger Force establishes safe work zones with its crew centric model with an employee base of 1,900 full-time professionals. Their safety standards are embraced by industry stakeholders and allow them to continuously expand their geographic reach. Flagger Force has the best-in-class resources and expertise to help support the nation's infrastructure, utilities, and other service industries. For more information, visit FlaggerForce.com.