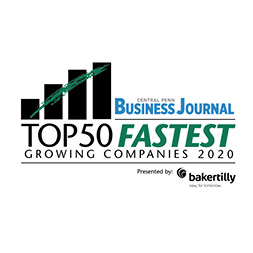 Flagger Force Traffic Control Services has been ranked #41 on the Top 50 Fastest Growing Companies in Central Pennsylvania by Central Penn Business Journal (CPBJ) during a virtual awards ceremony on Wednesday, September 9. CPBJ and their Top 50 Fastest Growing Companies program identifies the region's most dynamic companies that have made significant contributions to the strength of our local economy.
"Our company is honored to be recognized for the past nine years by this publication as a fast-growing company," said Mike Doner, president, and CEO of Flagger Force, "This year has been challenging for our nation, and to have a moment to celebrate our team's accomplishments is very welcomed. Flagger Force has consistently used our business to improve and protect the lives of others. Our organization is fully focused on creating opportunities for employment to support the development of our workforce, our business, and our communities."
To be eligible for this recognition, companies were required to show revenue of at least $500,000 in each of the fiscal years ending 2017, 2018 and 2019. For-profit entities that are headquartered in Adams, Cumberland, Dauphin, Franklin, Lancaster, Lebanon, Perry, or York County were eligible for nomination.
The presenting sponsor of the program, Baker Tilly, calculated the nominations and then ranked the companies according to revenue growth over the three-year period. Both dollar and percentage increases were taken into consideration. This ranking formula led to the list of 50 winners.
To view the full list of the winners, visit www.CPBJ.com/events.
-30-
Flagger Force Traffic Control Services® is recognized as an industry leader in temporary traffic control. In 2002, the company was founded by entrepreneurs with a handful of employees; one pickup truck; and the signs, stands, and cones needed to control traffic in a work zone. Today, Flagger Force establishes safe work zones with a fleet of over 1,100 vehicles and 1,800 full-time employees. Their quality and safety standards have been embraced by industry stakeholders and has allowed them to continuously expand their geographic reach, throughout the eastern United States. Flagger Force is headquartered in Hummelstown, Pennsylvania and has the resources and expertise to help support the nation's infrastructure, utilities, and other service industries. For more information, visit FlaggerForce.com.