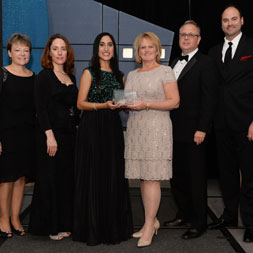 Harrisburg, Pennsylvania (November 10, 2016) – Flagger Force Traffic Control Services received the Business of the Year Award for 101+ employees from the Central Penn Business Journal at an awards ceremony Monday, November 7, 2016. The Business of the Year Award recognizes top companies and individual leaders for outstanding contributions to Central Pennsylvania's business community.
Flagger Force was nominated along with five other companies, which were determined based upon a panel of judges that are local to the Central Pennsylvania region. Flagger Force was selected for not only providing jobs for over 1,600 employees throughout the Mid-Atlantic region, but also for their annual average of 20 percent growth since opening in 2002. This has allowed the company to give back to the communities they serve by providing safe, quality work zones, as well as providing employees with the proper training and making the commitment to continue to service the markets they are currently in.
"Flagger Force has changed the industry by making short-term traffic control a profession and a skill similar to any specialized category of work," said Michele Doner, president, CEO and co-founder of Flagger Force. "Flagger Force was able to receive this recognition because of our dedicated employees, in our 11 operation and training facilities across the Mid-Atlantic region. They are all working tirelessly to make a difference in the safety and lives of others, and striving to continue our Safety Driven mission and passion to improve the construction industry every day."
The company has made several commitments to continue making the region their headquarters home for the foreseeable future. In January of 2016, Flagger Force completed renovating the first floor of their current corporate building, located in Hummelstown, PA. Originally, the first floor of the building housed vacant offices, and the second floor was home to Flagger Force. The company partnered with Keystruct Construction, Inc. to refurbish the first floor to allow expansion of various departments within the company, as well as house their in-house training facility, Flagger Force Academy®.
In October of 2016, Flagger Force purchased a vacant building directly next to corporate headquarters, which will be refurbished and rented out to other companies in the area. In the future, Flagger Force plans to use the building for office space as their corporate staff continues to grow.
###
Flagger Force Traffic Control Services provides safe, quality work zones throughout the Mid-Atlantic Region. The company provides careers to more than 1,600 fulltime employees with a 24/7 operational capability and two-hour emergency response time. Flagger Force Keeps Our Communities Moving safely through work zones, while their clients work to keep the power on, water flowing, and bridges safe for the traveling public on a daily basis, but they also support the communities they work and live in by donating time, resources, and dollars to local organizations.